Preventing overdose: Google parents share their stories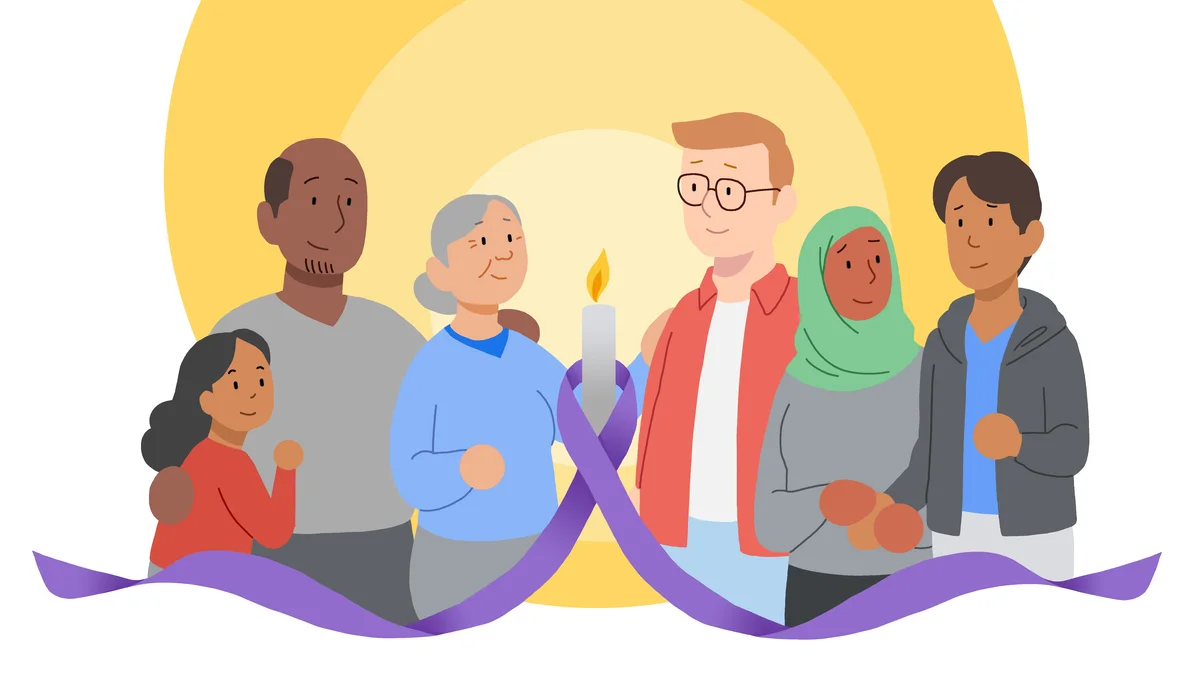 Note - this blog post includes stories of loss, and may be upsetting for some readers.
Google is committed to improving the lives of as many people as possible. This includes promoting awareness to prevent drug-related overdoses and deaths, and highlighting recovery support services for people in or seeking recovery from addiction. For parents like us who've lost children to drugs, this mission to help and heal families is deeply personal. 
We've chosen to share our stories today, which is International Overdose Awareness Day, a global event to bring attention to the issue of drug overdoses and to reduce the stigma associated with both drug-related deaths and non-fatal overdoses. The Centers for Disease Control and Prevention (CDC) reported overdose deaths in the U.S. accelerated during the COVID-19 crisis, as people struggling with depression, anxiety and substance use disorders experienced increased isolation, fear, desperation and hopelessness.
More than 93,000 people died of a drug overdose in the U.S. in 2020 ー the highest number of overdose deaths ever recorded in a 12-month period. As Google employees and fathers who recently lost our own sons to overdoses, these numbers are more than just statistics to us. They are our children's lives cut short, their futures stolen. We're sharing our stories here in hopes of helping others gain the knowledge and find the resources to prevent future overdose deaths.

Jan's story: Remembering Linus

Linus on the beach in Santa Cruz, holding his little brother, Lucas.
Our beloved son Linus passed away on July 22, 2020, when he was only 17-years-old. He was the victim of fentanyl poisoning, along with tens of thousands of other victims in 2020. He had purchased a pill that he thought was Percocet, but it contained a lethal dose of fentanyl. When we discovered Linus, it was too late to revive him. A first-born son, big brother to two younger siblings, a grandchild, a cousin, a wide-hearted, accepting friend, brave and humorous human being, was now gone forever.
Like so many others in the time of COVID-19, Linus struggled with substance abuse issues. Nevertheless, he was a high-functioning teen and a great athlete. He was a charismatic and positive human being with a wide network of friends. His life was tragically taken away when he took that fake pill.  
Sadly, what happened to Linus isn't an isolated case: Around 60% of fatal overdoses in 2020 were caused by fentanyl ー a synthetic opioid that is 100 times stronger than morphine. Fentanyl is mixed into street drugs because it's cheap and highly addictive. Brennan's son Aidan also fell victim to this deadly drug. 
Brennan's story: Grateful for Aidan
Aidan in Zion on a family trip.
Tragically, on November 25, 2020, our son Aidan Leaf Mullin passed away from fentanyl poisoning. He had just turned 18, was getting ready to start college in the spring semester and was spending time in Idaho before school began. He was mailed pills he thought were Percocet, but were instead "fentapills" ー counterfeit pills containing fentanyl. He purchased the pills via a social media interaction. Aidan was passionate about the outdoors and playing guitar; he was funny and caring toward his friends and family. Our family is grief-stricken and learning to live with this unexpected loss.
We talked to Aidan about the risks of drugs and were hyper-vigilant at home. The truth is that a loving family, a good education and knowledge about these risks is too often no match against peer pressure and anonymous, friction-free accessibility to dangerous drugs.
Like so many families, neither of ours was fully aware of the prevalence of counterfeit pills. The Drug Enforcement Administration (DEA) warns of an increase in accidental poisoning and overdose deaths related to counterfeit pills containing fentanyl. Just one pill can kill your child, even if they are not using drugs regularly. 
Talking to your kids about the dangers of fake pills 
Both Jan's family and mine have been through a period of deep grief, and we now realize how little the general public knows about the deadly dangers of fake pills. Ask your children what they know about this issue. So often kids are simply unaware that these pills are not prescribed by a physician, but manufactured in an illegal lab – most often with fentanyl as their main ingredient. 
As a parent or caregiver, it's worth paying attention to what your child is doing and who they're communicating with on the internet. Emphasize to your kids that people who buy drugs on the street or online are being duped. Drug dealers only care about profits, not lives.
Resources
Parents and caretakers are faced with the challenge of protecting their loved ones from the risks associated with opioids. Here are some resources to help:
The Substance Abuse and Mental Health Services Administration (SAMHSA) operates a free, confidential, national hotline for people looking for help addressing substance use at: 1-800-662-HELP (4357) and a list of licensed treatment providers at findtreatment.gov.
The Partnership to End Addiction is a long-standing nonprofit helping parents and caregivers find support addressing their children's substance use. They offer a text-based hotline (text CONNECT to 55753), and a free online support community for parents and caregivers. 

Google's Recover Together provides resources for Americans in or seeking recovery from addiction. Search for recovery resources for individuals and families in your community, learn what to expect in the recovery process and hear stories from the voices of those who've recovered – and rediscovered hope and purpose in their lives.  

If you have opioids or other potentially harmful medicines to dispose of, Google has incorporated drug disposal locations into Google Maps and Search; queries like "medication disposal near me" will display disposal locations.