The She Word: Sissie Hsiao, helping developers level up their apps businesses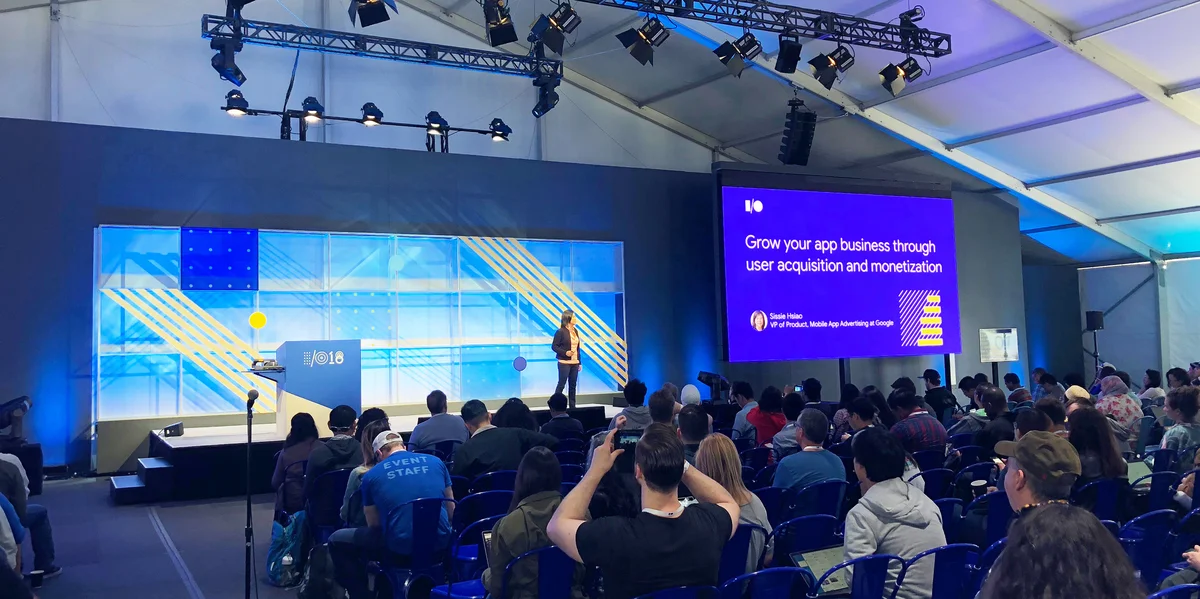 Editor's Note: The She Word is a Keyword series all about dynamic and creative women at Google. After recently speaking at Google I/O about the rapidly expanding world of apps, we sat down with Sissie Hsiao, VP of Google's mobile app advertising division, who spends her days helping developers build sustainable apps businesses.

How do you explain your job at a dinner party?
My job is to help app developers build successful businesses. I do that in two ways: 1) enabling developers to find great users by advertising their apps and 2) building healthy and sustainable app businesses by enabling developers to monetize their apps through advertising.

How did you start working in the app industry?
I was tasked with leading Google's mobile app advertising business roughly six years ago when the broader app industry was in its infancy. No one knew how big the apps economy would become at the time, but since then it's seen rapid growth and we've been able to create products that make a big difference for our developers and users. For instance, with machine learning we can help developers automatically optimize ad campaigns to find the right Google channels for potential new users to install their app, instead of spending time manually adjusting marketing tactics.

Have you always been into tech?
I actually almost went into finance, but changed my major at the last second to computer science because I thought games and computers were cool. I had this affinity toward computer science as a consumer, but unlike all of my (mostly male) peers at Berkeley, I hadn't written a single line of code before college.

So, you're into gaming, then?
I'm a huge gamer—I can remember walking into a local department store when I was around six years old and watching kids play Mario on the original Nintendo. Since then games have been my go-to for entertainment. My current favorite gaming app is Mobile Legends. I love the storytelling and the competitive nature of games.
How has your interest in gaming translated to your career?

I understand the way these games are designed and how they attract users, because I'm one of them! I can appreciate the balance between creating games that are fun and engaging, but are also a sustainable business. Developers today know that people have so many choices with apps, it's critical they find a balance that doesn't ruin the user experience. That's why we acquired and rebuilt AdMob—to give all developers a way to monetize their apps with ads in a thoughtful way that respects the end user. For example, with rewarded ads, people exchange attention for digital goods and services, benefiting both the user and the developer.

It seems like everyone is making an app these days—what's so appealing about apps?
Lots of things! For example, apps can blend the real world and the digital world, like when you order on your Starbucks app and your coffee is there waiting for you when you arrive, or how Pokémon GO created an interactive AR gaming experience. Many also offer a more elegant user interface than traditional websites—for example, I do a lot of my shopping through retail apps (Farfetch is one of my favorites) because the payment flows are seamless. Apps also enable businesses to deliver a personalized experience to consumers, like Uber or DoorDash. There are a lot of great apps out there doing all of this and more—and our job is to help developers with these great apps find users who will enjoy them the most, which we're enabling with Universal App Campaigns.

What's one habit that makes your successful?
I always think there's something more I can do to improve and be better—I'm never satisfied and it's helped me succeed in my career. For example, early on I wasn't good at public speaking, but I worked at it tirelessly and now I do presentations regularly for large groups of people (like I did a few weeks ago at Google I/O).

Who has been a strong female influence in your life?
My old boss, Amy Chang, who ran Google Analytics for many years. She is fearless risk-taker with incredibly strong moral principles that guided her through her career. She's always stayed true to herself—and that's something I look to embody in my own career.

What advice do you have for women starting out in their careers?
Always add value and make sure you get what you deserve. The big moments in my career have been when I've created substantial value and taken a risk, such as launching Universal Apps Campaigns. Additionally, getting what you deserve is something women struggle with—to me the fairness principle is very important. So, take action to drive real value, then show the value you brought to the table so it's attributed to you.