This talking Doogler deserves a round of a-paws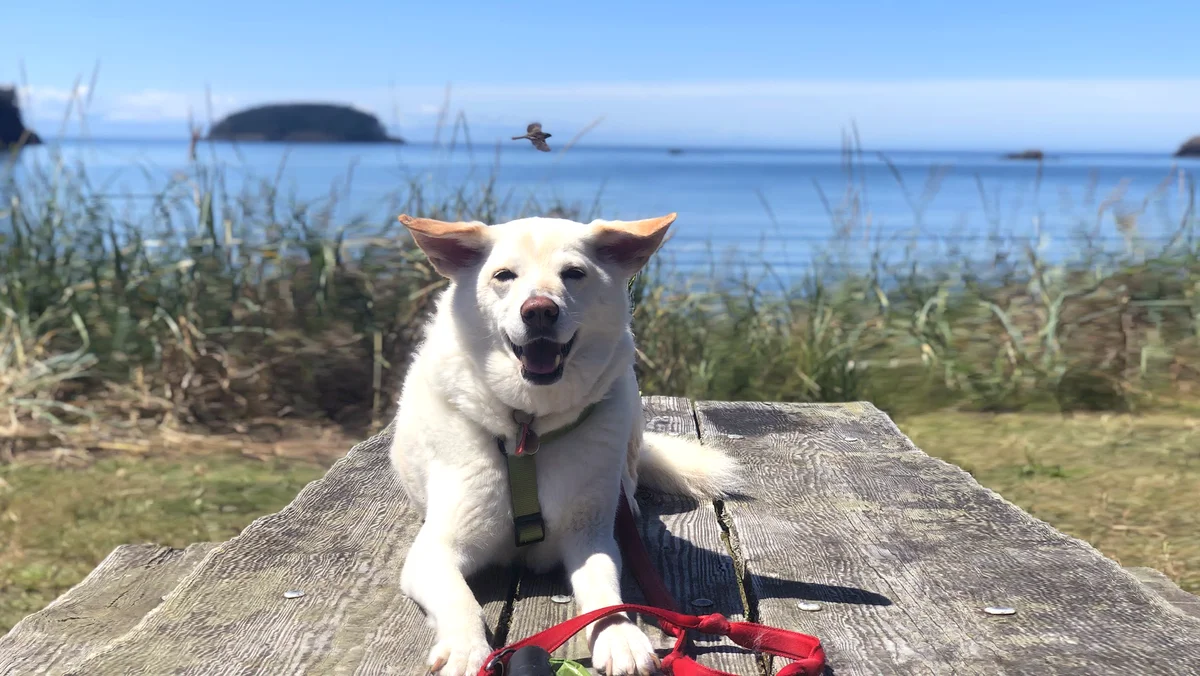 Ever wonder what your dog is thinking? You're not alone. Over the last year, dog "talking" buttons have taken the pet world by storm. With the push — er paw — of a button, dogs are now "telling" their humans what they need, whether that's water, food or to go outside. Some pups have even become social media famous for their impressive vocabulary, inspiring dog owners everywhere to pick up a set of buttons. Or in the case of Rutledge Chin Feman, a software engineer for Google Nest, to try building their own DIY versions.
"I know I'm biased, but Cosmo is obviously the best dog in the world," says Rutledge of his pup. When he and his wife adopted Cosmo, a German Shepherd mix and the first dog for both of them, they noticed right away he was skittish. "He was afraid of everything and would do a lot of lunging and barking. It was kind of a forcing function to learn a lot about positive reinforcement training techniques and desensitization…which is how I stumbled on all of this."
After Rutledge saw a video of dog-talking buttons that blew his mind, he started to build his own set for Cosmo — the perfect hobby to blend his passions for engineering and animals.
He used an electronics prototyping board (a "breadboard") to hold the buttons, and a small computer (a "Raspberry Pi") to activate them with light, sound and notifications. The first model, made from a wooden wine box, had just three buttons: "food," "water" and "outside," which Rutledge recorded with his own voice. Now, Cosmo's up to seven buttons — with "ball," "later," "love you" and "scritches" (otherwise known as "belly rubs") added to the mix.
Using a wine box and a "breadboard," a prototyping board for electronics, Rutledge created his own set of dog "talking" buttons.

Cosmo's first board featured three buttons: "food," "water" and "outside."

Cosmo's board now features seven buttons, including his favorite — "scritches" (belly rubs).
At one point, Rutledge even set the board up so that he received text messages whenever Cosmo pressed a button. "I've been in meetings where I'm like, 'Hold on a sec, I need to silence my phone. My dog is blowing me up right now.'"
Rutledge and his wife will add a "baby" button to Cosmo's board next, now that their newest family member has arrived. And the wheels are already turning for Rutledge: "I think it will only be a few months before a baby could push buttons and say things — ask for more food or whatever. I think that will be a fun experiment."
For now, he's focused on Cosmo and continuing to strengthen their bond using the button board. "I think it's a really powerful way to see your pet. It really reminds you that they're intelligent beings who are capable of profound thought, in a way. And they're constantly observing their world in a way that we don't usually really give them credit for."
"It's a really simple device, it's all just for fun," he adds of the process. "And obviously, Cosmo's a very good boy."