An ultramarathoner running so others can "rise"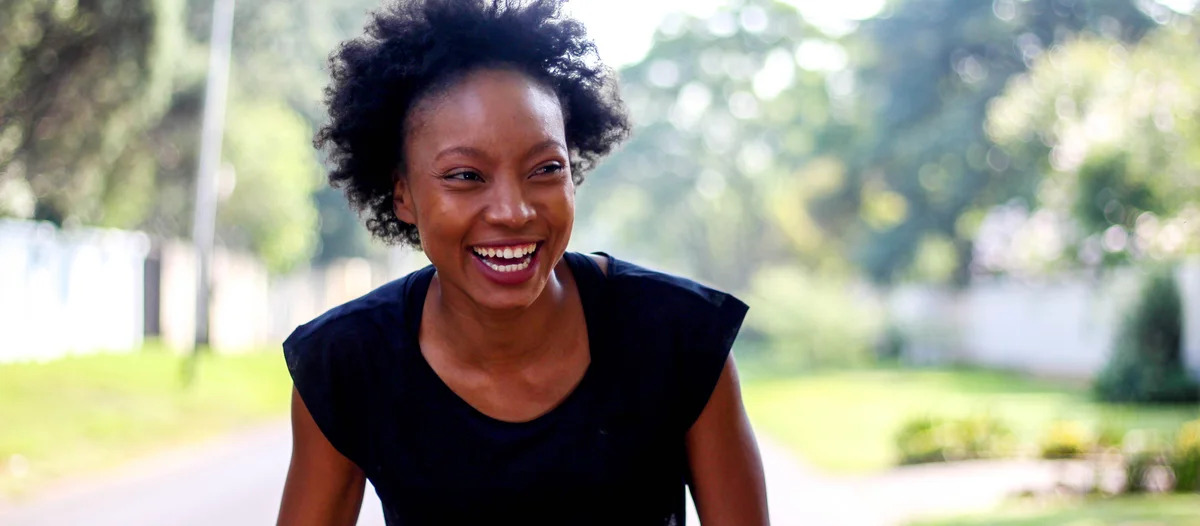 Editor's note: Passion Projects is a new Keyword series highlighting Googlers with unexpected interests outside the office.
If you had asked Zanele Hlatshwayo several years ago if she'd ever go on a run for 10 days straight, she'd probably laugh. But these days, that's exactly what she's training for—and she changed her mind about running for a deeply personal reason.
Zanele, an ad sales specialist based in Google's Johannesburg office, turned to running to cope after a tragedy in her family. In 2010, her father committed suicide, and she needed to find a way to deal with her grief. She already went to the gym to work out, but one day she decided to check out the running track there, and that changed everything. Even though she used to hate running, the sport became a crucial outlet for her. Pushing through the pain of a long run taught her she could overcome anything.
"I got tired of feeling sorry for myself and crying and trying to make sense of the reason why he actually committed suicide," she says. "Running became my sacred space, so to speak, a space where I could really clear my mind." She started to run races with a few former colleagues, and she was hooked.
The self-described "adrenaline junkie" wasn't content with just some 5Ks, though. She tried half marathons, then tried full marathons, and then entered the Comrades ultramarathon, which was a whopping 90 kilometers (55.9 miles). At that point, she was running to test her own limits, but wanted to do more. "There's no point for me in running all these races and just running for medals," she says. "I wanted to actually run for a purpose."
Inspired by her father's legacy, and also by a friend who was going through depression, Zanele decided to start a campaign called Rise 18 last year. In 2018, she ran 18 races to raise money for a suicide prevention help line, the only one of its kind in South Africa.
Zanele says there's a major stigma around depression and suicide, not just in South Africa but around the world. "It's really a state of emergency at the moment, because there aren't enough resources to assist people who may be struggling," she says. "And people are too scared to speak out because they don't want to be made to feel as if there's something wrong with them."
The longest, and final, race of Rise 18 was 100 miles long, and took 26 hours to complete. She showed up to the race injured from her previous long-distance runs, and never stopped to sleep the entire race, but she was still determined to finish. For her, the race was mental, not just physical.
Zanele running the Washie 100 Miler ultramarathon.
"The sun rises while you're still on the road, the sun sets while you're still on the road, and that takes a lot of mental preparation," she says. "For me, what really kept me going was the goal I had made to myself, and the commitment I made to myself. I don't want somebody else to go through what my father did."
She finished that race, and went above and beyond her campaign's goal. Her initial aim was to raise R 180,000 ($12,716) to support the help line, but she exceeded that, ultimately raising R 210,000 ($14,575). When she donated the money to the charity, they told her that money would fund 11,000 calls to the hotline, which is entirely run by volunteers. "That's 11,000 lives," she says. "It's truly, truly amazing."
An experience like that makes you realize how powerful the human mind and the human body is.
Now that Rise 18 has completed, Zanele is setting her sights on even bigger goals. She's working on building an app to connect South Africans to therapists, and plans to raise funds for the project through her next set of races, which will include an Ironman triathlon. (You can find out more on her campaign page.)
But her biggest challenge is still ahead of her: a 10-day run from Johannesburg to Cape Town this May. She'll travel with a group of 12, who will take day or night shifts on the road, for the Ocal Global Journey for Change. And through it all, she'll have her larger mission in mind: The group is raising funds to help provide wheelchairs to children with disabilities.
"An experience like that makes you realize how powerful the human mind and the human body is. We're able to take so much pain," she says. "And for me, when I'm running, the pain I go through really signifies the pain people go through when they have challenges in their lives. That small pain I feel does not amount to the challenges those people have to face on a daily basis."
If you or someone you know needs help, you can contact the National Suicide Prevention Lifeline in the U.S. at 1-800-273-TALK(8255), or, in South Africa, the South African Depression and Anxiety Group's Suicide Crisis Line at 0800 567 567.