Honoring Veterans Day as a Googler and Reserve Officer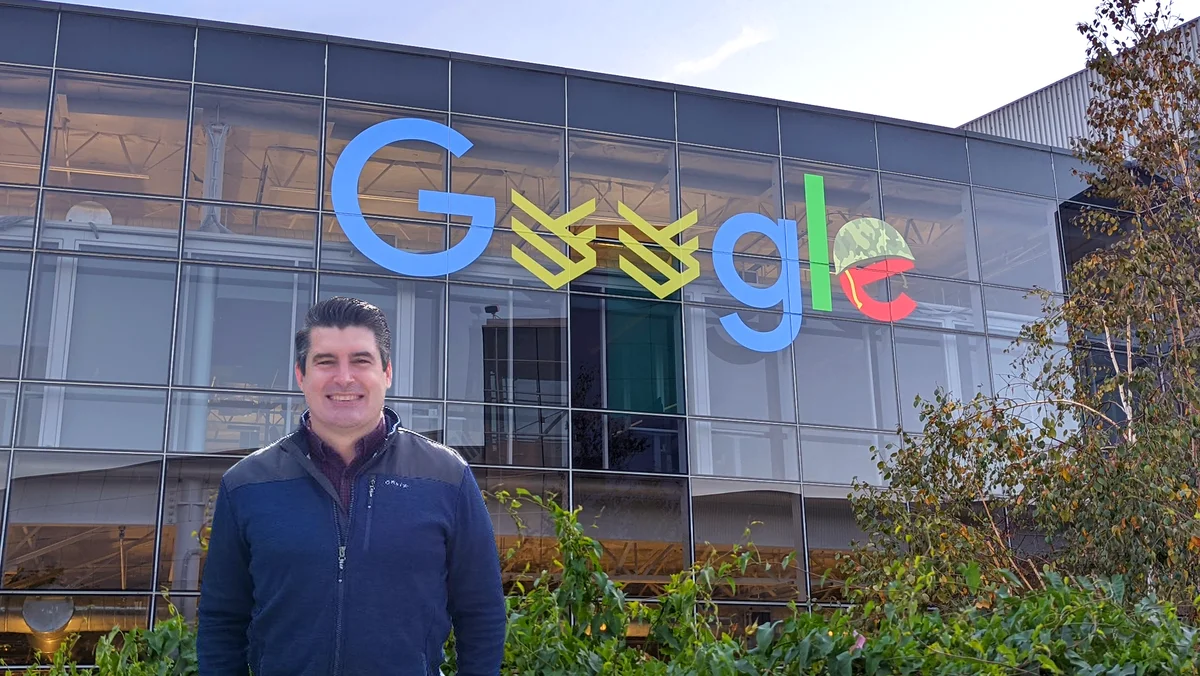 At Google, I'm on the Law Enforcement and Information Security (LEIS) team, where I work on a variety of legal issues, from physical security to cybersecurity. But every four months, I hand off projects to my teammates and fly across the country to my other office — the Washington Navy Yard in Washington, D.C. There, I'm the commanding officer of a unit in the United States Navy Reserve Judge Advocate General's (JAG) Corps that represents sailors and marines appealing a conviction in the military court system.
Throughout my four years at Google, my team has been incredibly supportive of my Navy Reserve career. They cover for me while I'm away on assignments with no questions or fuss. Whenever I bring up an upcoming assignment, my director tells me to take as much time as I need. And when I got promoted to my current rank of Commander, the entire LEIS team attended the ceremony. I simply couldn't continue my work in the Navy Reserve without their generous support and willingness to lend a hand.
If you head over to the Google homepage today, you'll see Google's annual Veterans Day Doodle, illustrated by Army veteran and guest artist Steven Tette. And Google doesn't honor veterans only on Veterans Day. We're committed to this community year-round through support for veteran and National Guard or Reserve employees, and through programs and training for transitioning service members, veterans, and military spouses.
In fact, last week, we announced that Google.org is providing $20 million in grant funding and in-kind product donations to support economic empowerment for veterans and the military community. This includes a $10 million cash grant to Hiring Our Heroes to launch Career Forward — an initiative to train 8,000 transitioning service members, veterans, and military spouses for in-demand jobs through Google Career Certificates. These certificates are a great resource for the military community because they're portable, industry-recognized credentials that prepare people for high-growth jobs across state and international boundaries — no degree or relevant experience required. The Career Forward program will also place certificate graduates in 12-week, on-the-job fellowships at one of over 400 employers in the Hiring Our Heroes network, and provide full-time job placement support.
Over the next year, our own Google Veterans Network — a community of veteran, military spouse, and civilian ally Googlers who support the career advancement and mental wellness of veterans — will volunteer with Hiring Our Heroes to host free career development, resume support, and job search workshops for thousands of service members. I'll volunteer at one of the workshops myself, helping job applicants prepare for upcoming interviews.
Last week's announcement builds on years of support for veterans and military families. Countless veterans have started and grown their own businesses with help from free Grow with Google resources. Last year, Google also became an official partner of the Department of Defense Military Spouse Employment Partnership and announced five days of paid leave for military spouses each time their service member receives orders. Google also works closely with the Cybercrime Support Network, an organization that helps consumers, including those in the military community, recognize and protect themselves against cybercrimes like employment scams.
Throughout my career, many people have helped me recognize the unique strengths I bring to a team because of my military service. Camaraderie and teamwork don't end when we hang up our uniforms. And like many other current and former service members, I'm eager to pay it forward. Whether it's by helping transitioning or retiring military members build a civilian career, providing resources for veteran business owners, or making it easier for military spouses to succeed in their careers despite countless moves, I'm proud to be a part of a company that puts its honor for the military community into action.