When the war in Ukraine started, these Googlers pitched in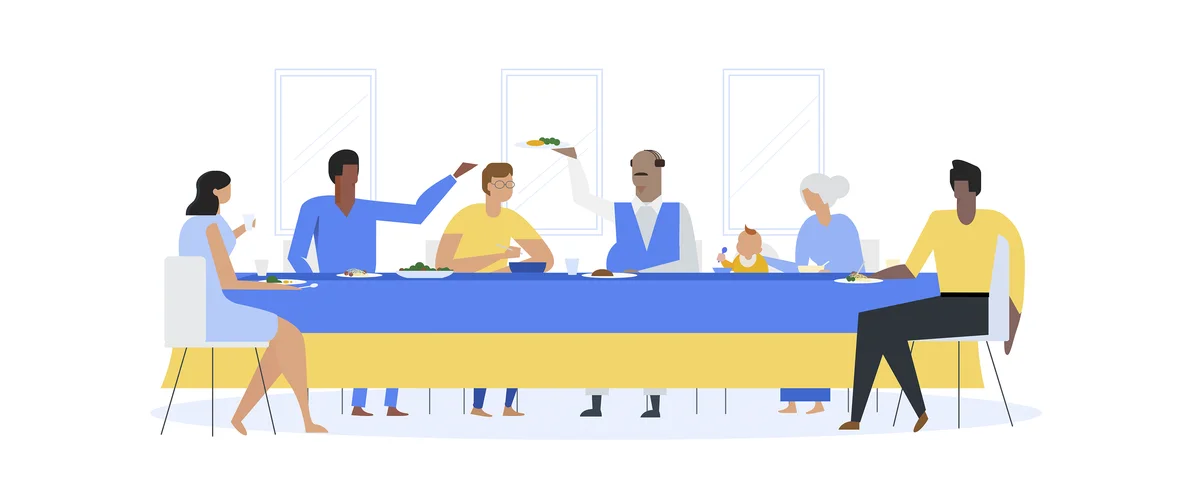 The day Russia invaded Ukraine is seared into Agata's memory. Compelled to act, the Warsaw-based Googler put her name into a Google Doc that listed employees offering their homes to those fleeing Ukraine. The next day, Agata's household grew from six to 11 people. A Ukrainian Googler in the Czech Republic had gotten in touch about lodging for five loved ones who had escaped to Poland but were unable to find housing.
"You're just so happy that you're doing something because the feeling of helplessness is the worst," Agata said. She not only spent the day before her guests arrived prepping the house but also found the time to buy a cake. "We wanted to celebrate; we wanted them to feel welcome."
As Agata's family settled into their new routine with 11 people under their roof, Russia's war in Ukraine continued. Today, more than 7 million refugees have fled Ukraine — the majority of them women, children and the elderly — making this Europe's biggest refugee crisis since World War II. Googlers like Agata have stepped up to help those affected by the war, from hosting refugees and transporting people across the border to providing supplies and starting aid organizations.
Initially, the most immediate need was to help people fleeing the country find a safe place to stay. Googlers were using Docs — like the one Agata put her name into — to connect those in need with those willing to help. Those connections helped Dublin-based Googler Olga get her mother, sister-in-law, nephew and niece out of Ukraine and into safety.
"When the war began, the hardest thing was convincing families to escape. Nobody wants to head into the unknown — they're leaving everything behind and don't know if they will come back," said Olga, who has a brother who had to stay behind in Ukraine. "I needed them to know they had somewhere to go."
Thanks to Mária, who was working for Google while based in Bratislava, Olga's family did have somewhere to go once they'd made a harrowing, days-long drive to the Slovakian border. After other Googlers connected the two women, Mária arranged for her father to pick up Olga's family at the border crossing with a cardboard sign and the promise of a place to sleep. Mária's family hosted them until they were able to reunite with Olga in Dublin.
"I will always be grateful to Mária and her family," said Olga. "It was so incredibly kind — far beyond the kindness you expect from strangers."
The goodwill of strangers has been a running theme throughout the war, as was the case when a group of four Googlers based in Italy joined together with a desire to help. Giovanni, Federica, William and Jacopo funded and coordinated a multi-day mission to drive more than 40 hours to pick up a family of 10 at the Ukrainian border and unite them with their grandmother in Rome.
Federica helped drive from Venice to the refugee center at the Polish-Ukrainian border to meet the group. "These were two mothers leaving their kids with us, and they'd been traveling a week to get to this point. To watch them say goodbye — knowing that they were going back into a warzone and their kids were going away with people they had never met before — was an image that almost goes against nature," she said. "Eventually, using Google Translate, the two mothers told us: 'We are so happy you are bringing our kids to their grandma.' Saying goodbye to these two women was the most difficult part of the whole journey."
"When we were organizing and planning the trip, I was full of stress and fear. But once we started, that fear was replaced by energy," said Giovanni. "When we got back to Rome, and I saw their grandmother opening the doors of this big house a friend had given her for the family to stay in, and the kids rushed to her and embraced — that was a different kind of energy. To see this human connection was so fulfilling. You feel like you did a little to help — you gave back."
These four Googlers weren't the only ones packing cars with people and supplies to help out. Warsaw-based Googler Slawek loaded groups of eight people — and their luggage and pets — into a borrowed station wagon multiple times while leading a convoy of five cars into Ukraine. Together, Slawek and the other volunteer drivers transported refugees stuck at the overcrowded railway stations in Lviv to border crossings.
The initial urge to support those affected by the war spread well beyond Googlers living in Europe. When the war broke out, Mike, a Polish-born Googler based in Michigan, felt pulled to return to his home country. After a month of fundraising, he spent April in Poland near the Ukraine border. There, Mike clocked over 6,000 miles of driving to deliver food, toiletries and other supplies to centers that needed them. And he always made room for sweets to cheer up the kids.
Early in his trip, Mike met a 14-year-old boy who had arrived in Poland a week earlier. The boy, whose dad stayed behind to fight, hadn't heard from his father in days. "I had a soccer ball with me and gave it to him — his eyes absolutely lit up," Mike said. "It wasn't just food and water that was needed. Giving him something that brought joy and seeing how he reacted will stick with me forever."
Beyond the initial support, some Googlers like Isa have focused on long-term rebuilding efforts. Isa, based in Germany, worked with a small Ukrainian-German team to create Lighthouse Ukraine. Lighthouse Ukraine hosts events that gather dozens of NGOs in one place to provide information and direct support for refugees. The first event was in Isa's hometown of Berlin, and, in May, they took Lighthouse Ukraine global. Over the past few months Lighthouse Ukraine has reached more than 20,000 refugees.
For Ukraine-born and Berlin-based Googler Nina, the work to rebuild is deeply personal. Most of her family members were in the country when the invasion began, and many still are with no way out.
Just days after the invasion, Nina — alongside a group of volunteers — created United for Ukraine (UFU), a nonprofit that helps thousands of displaced people find services and support for things like temporary housing, legal aid and psychological support. Today, the nonprofit has grown to more than 150 volunteers and includes Googlers like Dublin-based, Ukraine-born Ella. By the end of summer, United for Ukraine had provided vital information to more than 200,000 people — helping over 10,000 people into temporary accommodations and supporting over 4,500 people with legal aid.
Resources on unitedforukraine.org, the site that gives people fleeing the Russian invasion access to trusted information and services when they enter a new country.
"We need to think beyond the important work of rebuilding the economy and helping displaced people. There will be a lot of trauma that people will be going through for years into the future," Nina said. "I know this myself. My mom got out, but my stepfather, two brothers and grandparents are still there."
While the effects are long-lasting, so are the stories that provide a beacon of hope and a reminder to act. As Agata learned, something as simple as putting your name in a Doc as someone willing to help can make all the difference.
"I understand we cannot stop the war, but we can do something for one person, for two people, for five people," Agata said. "It matters what you do as an individual. Every one of us is making history with our choices."