Off the court: how the NBA spent a day at Google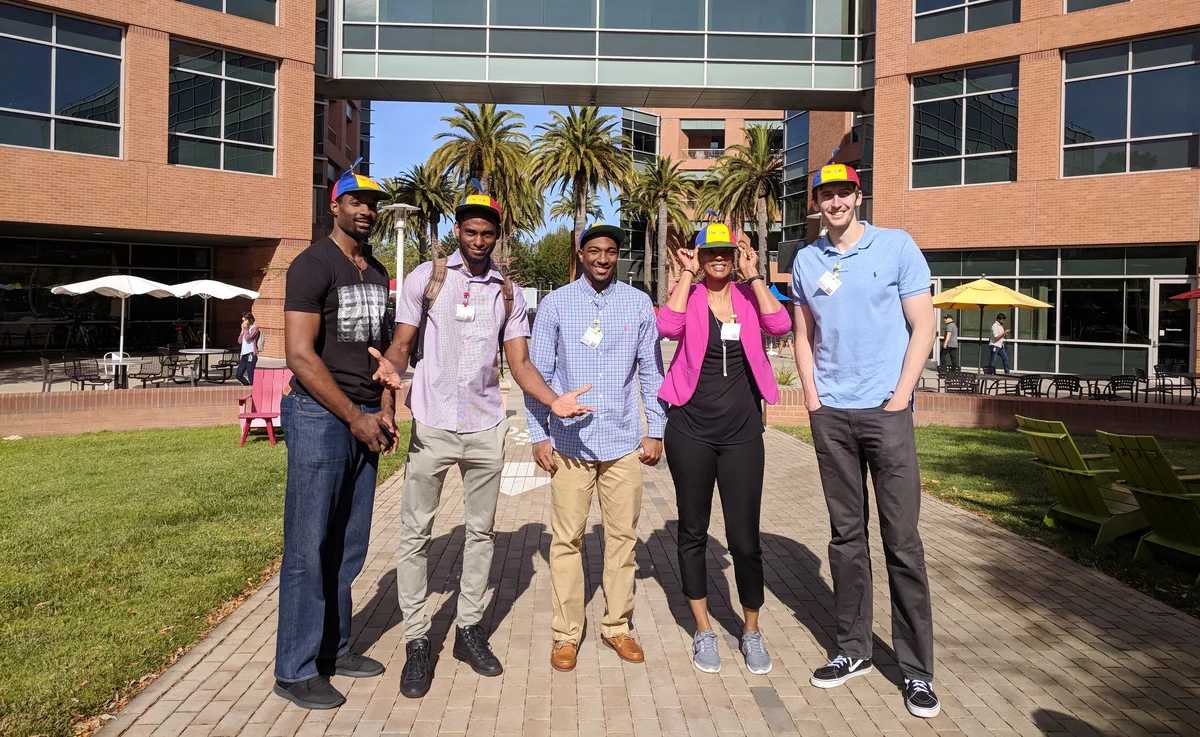 A few weeks ago we were tipped off that some pro basketball players would be in the house at Google HQ. The occasion? The third year of Google and the NBA's partnership on the #NBACareerCrossover program, which pairs players with companies for an "externship"—a full day spent educating and immersing players in fields outside of basketball. The program has offered options ranging from real estate to media, and this month it was Google's turn to present tech as a valid next career choice when players decide to hang up their jerseys. In the lineup this year were Luke Kornet from the New York Knicks, Kevin Hardy from the Rio Grande Valley Vipers, Roger Moute A Bidias from the Raptors 905, former NBA player Gani Lawal, and former WNBA player Stacey Lovelace.
The day kicked off with a talk from our People Operations team, where the players got a sense of the various paths to Google and how to prepare for their next career move. We also held a resume workshop, where everyone was able to ask specific questions and discuss how skills developed on the court translate to careers off of it. During this particular session, Stacey shared that in the WNBA, the pairing of self-reflection and colleagues' assessment are crucial: "You have to learn how to be comfortable in your work, [but] it's OK to ask for feedback." Kevin agreed, pointing out the importance of knowing yourself and being honest, whether as a player, when writing a resume or in your day-to-day life: "I always felt that I was self-aware—I reflect on the different things I'm doing, and I try not to paint something fictitious."

But the day wasn't all workshops and talks. The players met with our YouTube team, played an interactive game using Daydream, toured the campus, ate lunch at a Google cafe, and rode in Waymo's self-driving cars. When asked what lessons they had learned from the day, Gani threw this at us: "In the real world, failure isn't 'failure,' it's something that didn't work. To succeed in real life, you have to step outside your zone and push forward." Luke spoke to other methods of leadership off the court: "Service is the best way to be a leader."
We also learned that everyone has a story to tell, and sometimes that story isn't what you expect. Roger, explaining why he wanted to visit Google, told us: "I studied industrial engineering, and use Google for everything, so I want to know how Google works—how things go on behind the scenes." We also discussed how there isn't one clear path to working at Google. Jason, one of the Googler presenters, is a former NFL player. Other Googlers shared their diverse backgrounds, including a former Marine, school teacher, journalist, diplomat, and several first-generation college graduates. The stories from the players and presenters demonstrated that no matter your beginnings, you can define the outcome.
We had a blast meeting Gani, Kevin, Luke, Roger and Stacey, and hope there was a future Googler in the mix. Thanks to the NBA and our visitors for making this year's #NBACareerCrossover a day to remember. If you'd like to find your path to Google, head to our Careers site.