Army vet Eric L. Smith helps Cloud customers solve big problems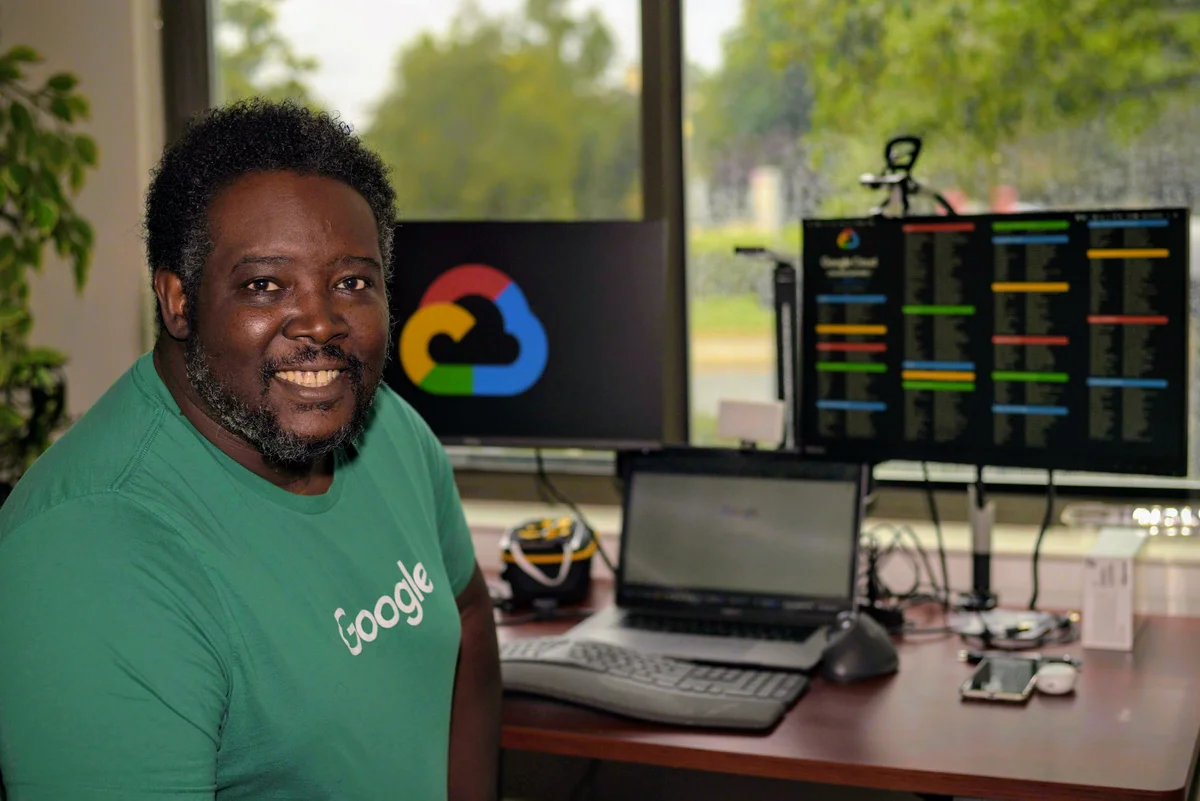 Welcome to the latest installment of our blog series "My Path to Google." These are real stories from Googlers, interns and alumni highlighting how they got to Google, what their roles are like and even some tips on how to prepare for interviews.
 Today's post is all about Eric L Smith, who got his first taste of computer science in high school, served in the U.S. Army, and now works on the Google Cloud team.
How did you initially get interested in technology? 
I was born and raised in Wilkes-Barre, a small city in Pennsylvania, and got my first introduction to computer science in high school. I continued exploring computing while attending Wilkes University as a Business Administration major through work-study at the campus computer lab.  
My fledgling interest in technology took a hiatus when I left college early and joined the U.S. Army, where I served as an Infantry Scout/Sniper in the 10th Mountain Division based at Fort Drum, New York. I just missed Desert Storm, but I deployed to South Florida as part of Joint Task Force Andrew, Somalia for Operation Restore Hope and Haiti for Operation Restore Democracy.  
After leaving the Army, I renewed my interest in computing, started earning industry certifications and became a help desk analyst. Starting in that role gave me an incredible opportunity to learn, as I worked my way through positions ranging from systems administrator to network engineer to IT director and cloud consultant before coming to Google. 
What's your role at Google?
I'm a
Technical Account Manager
(TAM) in
Google Cloud
's Professional Services Organization (PSO). I'm based out of the Google office in
Reston, Virginia
. What I enjoy most about my role is working closely with customers at all levels—strategic, tactical and operational—to get the most value out of Google Cloud Platform and help solve their biggest problems. One exciting project I'm working on is helping a global energy company that is using Google Cloud to help accelerate their growth and transition to more sustainable and renewable power.
Eric at Noogler (new Googler) orientation.
Why did you decide to apply to work at Google?
As cloud computing grew, I set a personal goal to work for one of the top cloud service providers. Google was at the top of that list because of what I knew about the innovative culture and talented people. Just as I was preparing to apply, a Google recruiter reached out and asked if I was interested. The timing was perfect and I felt like my career was coming full circle especially since I moved to Washington, D.C. and started my IT career the same year that Google was founded!
How did the recruitment process go for you? 
The recruitment process was exceptionally smooth. My recruiter was great at answering any and all questions, giving feedback and providing tips on the interview process. While the interviews were tough, it was the best hiring process I've experienced.
What do you wish you'd known when you started the process?
Google is great for veterans! After I came onboard, I joined the Google Veterans Network (VetNet), an internal community of military veterans and civilian allies, dedicated to unifying, connecting and serving the military community. Also, I'm currently helping mentor veterans interested in Google Cloud Certification through a program called VetsInTech. When fellow Vets ask me about jobs at Google, I tell them what a supportive environment it is and send them to g.co/vets.
What inspires you to come in every day?
Every day I'm inspired by the opportunity to help customers succeed, work with amazing people, and help grow Google Cloud.
Do you have any tips you'd like to share with aspiring Googlers?
Preparation breeds confidence. Interviewing at Google can be stressful, but if you prepare and practice it is much less so. Don't be afraid to ask questions throughout the process, including during the interview when you need clarification.