Introducing the Google for Startups Accelerator: Women Founders Class of 2022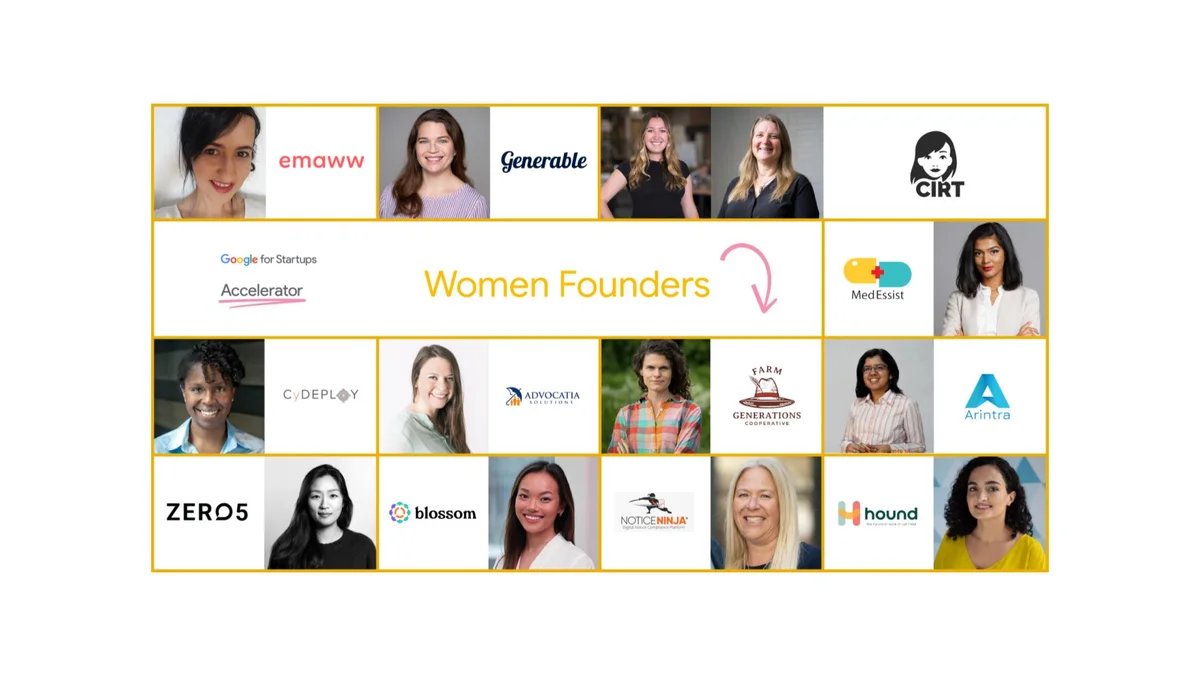 Gender bias and systemic discrimination create barries to entry for women in business. In the startup ecosystem, women founders are less likely to receive financing than men, despite some startups ultimately delivering higher revenue compared to male-led startups.
In fact, a recent report found that women tech entrepreneurs travel longer routes from startup to scale-up, with women delivering more funding pitches than men and taking longer to raise Series A financing.
Despite these challenges, women leaders across North America continue to build successful startups. Businesses like Knix, Mejuri and Clearco, are just a few examples of women-led companies in Canada who have faced these challenges head on, and overcame barriers to success.
As part of our continued commitment to create a more inclusive startup ecosystem in North America, we put a call out for women-led startups to apply for our third Google for Startups Accelerator: Women Founders program. The accelerator provides women founders with technical support and mentorship opportunities to help grow their business.
Today we are thrilled to announce the 12 startups joining our class of 2022, including Blossom Social, Emaww, and MedEssist, three startups from Canada.
Learn more about all of the women-led startups below:
Advocatia (Lake Bluff, Illinois): Advocatia powers healthcare organizations with the ability to engage and enrol their customers into programs that reduce costs and improve outcomes.
Arinitra (Austin, Texas): Arinitra helps hospitals and clinics save time and maximize reimbursement by automating their medical coding.
Blossom Social (Vancouver, British Columbia): Blossom is building Canada's first social brokerage, combining mobile-first stock trading with a social community for investors. On Blossom, users can see the portfolios and trades of friends and top investors and discover new investment ideas and insights – empowering people to not only make trades but learn from and discuss investments with the community.
CIRT (Athens, Georgia): CIRT builds software and uses AI to digitize the circularity of products and packaging for the modern world, helping customers go to zero waste.
CyDeploy (Baltimore, Maryland): CyDeploy provides an intelligent, automated configuration and patch testing solution that positions customers to make security changes quickly and with confidence.
Emaww (Montreal, Quebec): Emaww provides the most advanced and least intrusive emotion analytics for websites to better user experience and improve their digital well-being with emotional intelligence.
Farm Generations (Germantown, New York): Farm Generations Cooperative builds fair technology for the future of small farms.
Hound (Denver, Colorado): Hound is building the future of work in veterinary medicine through verticalized and consolidated technology. Hound provides solutions for modern recruiting, veterinary employee engagement technology and distributing of at-home veterinary care.
Generable (New York, New York): Generable develops best-in-class Bayesian machine-learning models to improve efficiency of Oncology drug-development.
MedEssist (Toronto, Ontario): MedEssist is a healthcare delivery platform enabling digital health, diagnostic, and pharmaceutical companies to leverage a pharmacy's physical space and trusted health professionals to scale innovative solutions.
NOTICENINJA (Fort Myers, Florida): NOTICENINJA is a Digital Notice Compliance Platform that is innovating the way companies manage and resolve agency notices. It converts paper notices and manual processes into automated digital workflows that provide resolution pathways for users to follow.
Zero5 (San Mateo, California): zero5 transforms parking garages from simple storage spaces into tech-enabled mobility service hubs through automation.
The Google for Startups Accelerator: Women Founders is a 10-week intensive program that brings the best of Google's programs, products, people and technology to women-led tech startups across North America. Startups from our cohorts receive technical mentorship from Google experts along with deep dives and workshops focused on product design, customer acquisition and leadership development for founders. The accelerator also focuses on nontechnical programming for founders that addresses some of the unique barriers faced by women in the startup ecosystem.
Since launching the Women Founders accelerator in 2020, the program has supported 24 women-led startups across North America, who have collectively raised $61.7M USD since graduating from their cohort. We are excited to welcome 12 new women-led businesses to our Google for Startups Accelerator community and can't wait to get started with them this fall.