Google for India 2021: Paving an inclusive growth path for India's digital economy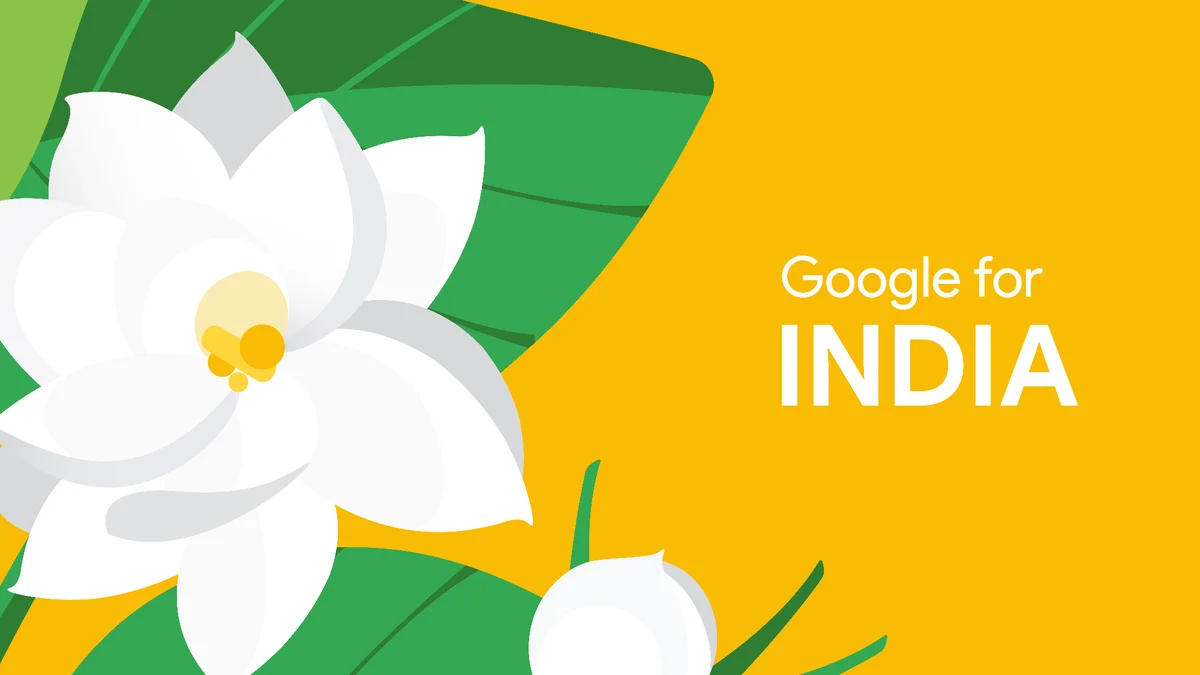 The COVID-19 pandemic has taken people's reliance on the internet to unprecedented levels. Indian businesses are turning to digital tools as they transform for the future and a new generation of startups is powering the next wave of home-grown innovation.
We are privileged to play a role in supporting India's digital transformation journey. Over the past several years, we have launched many India-first efforts to make the Internet more helpful and safer for all of India.
Last year, we announced the $10 billion Google for India Digitization Fund to invest in the country's digital momentum and support local efforts that expand the opportunity of connectivity to more users. We're delighted that, in the first year of the Fund, we have collaborated with Reliance Jio to introduce the Made-for-India smartphone, JioNext, that will enable millions across India to experience the power of the Internet.
We have also forged several other exciting alliances with Verse, Glance, DotPe, and Open in areas that have potential to solve for the opportunities and challenges of the country's diverse internet base, whether it be fostering the local language content ecosystem or re-imagining the way rural India shops online, or transforming the way small businesses digitize. As we look ahead to 2022, we will continue to create meaningful, transformative, and longstanding relationships with Indian companies of all sizes and at different stages, and actively support their technology-driven missions.
The digital momentum underway has also brought into focus the existing digital divides. Today, at our seventh Google for India event, we are building on our commitment to make India's digital economy more inclusive by launching several new key product and platform enhancements.
Together, we hope these will further propel India on its trajectory of a truly digital-first economy. As we build on this momentum, we are also very focused on helping businesses and job seekers succeed in the new digital economy of India.
We are announcing two critical initiatives to address this.
Bridging the digital skills gap for job seekers and employers
As more businesses in India embrace digital ways of working, career opportunities in high-growth fields are on the rise, and employers are seeking to bridge the gap for trained talent. Nasscom estimates that, by 2024, there will be 20 times more jobs requiring digital skills than adequate talent in India. Google Career Certificates, available on Coursera's online platform, support learners to become job-ready for technology-based roles such as IT Support, IT Automation, Project Management, Data Analytics, and UX Design.
Today, we are further strengthening the Google Career Certificate program In India by launching 100,000 scholarships to make acquiring new digital skills accessible to more people. To distribute the scholarships, we are collaborating with NASSCOM Foundation, Tata STRIVE, and Safeducate who will help in identifying underserved learners across the country for a free enrolment to a Google Career Certificate of their choice. They will also provide additional support for the learners, such as equipping them with soft and business skills, and offering support in resume building and interview preparation.
Recognizing the importance of connecting job seekers with employers who have an ongoing demand for these job-ready skills, we have joined hands with an initial set of companies that recognize the certificates. Along with Google India, Accenture in India, Tech Mahindra, Wipro, Genpact, Times Internet, and Better.com will recognize the certificates, and we will continue to invite others to sign up to expand the employer pool.
Empowering micro-enterprises with access to credit
Small businesses serve a crucial role in India's economy, employing millions all across the country, supplying goods and services crucial to their neighborhoods, communities, and local industry. In India, as globally, these businesses have been disproportionately impacted by COVID-19. Earlier this year, we launched a $200 million investment fund as part of our $800+ million commitment to support small businesses in the face of COVID-19, in addition to the tools and services we provide to help small businesses succeed and grow every day.
Today, we announced that we have joined hands with SIDBI to launch a INR 110 crore financial assistance program especially targeted at micro-enterprises. Under the program, SIDBI will disburse loans between INR 25 Lakh to INR 1 crore at competitive interest rates to micro enterprises to scale up and increase their capacity by purchasing new machinery, equipment, and production infrastructure, and for working capital requirements. The program will prioritize women-owned businesses and those that are engaged in production of equipment for the country's fight against the pandemic, and benefit from SIDBI's recently introduced digital lending process.
In a truly digital economy, we know how important it is that we earn and uphold the trust of our users, especially women, children, and those who are newly connected. We are also very conscious of our responsibility to invest in programs and capabilities that promote internet safety whilst addressing India's literacy and linguistic diversity. In August, we announced we are stepping up our commitment to online safety in India through a slew of new resources, programs, and initiatives, and we look forward to working alongside partners in the Indian industry to continue this critical work.