Today, we #ShareTheMicInCyber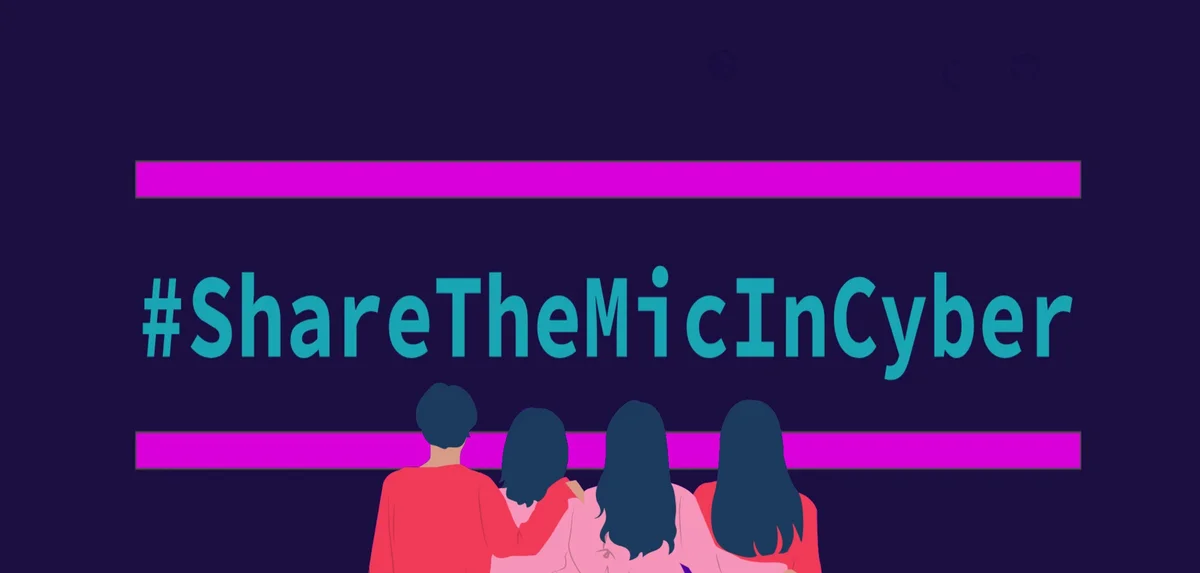 We know diverse security teams are more innovative, produce better products and enhance an organization's ability to defend against cyber threats. 
This is part of why Googler Camille Stewart cofounded #ShareTheMicInCyber, an initiative that pairs Black security practitioners with prominent allies who lend their social media platforms to the practitioners for a day. The goal is to break down barriers, engage the security community and promote sustained action to eradicate systemic racism.
Today, cybersecurity and privacy practitioners across Google and industry are elevating the voices and expertise of Black women who specialize in cybersecurity and privacy as part of #ShareTheMicInCyber's Women's History Month campaign. 
I'm honored to #ShareTheMicinCyber with a few of the Black women security and privacy practitioners I work alongside everyday at Google.

Camille Stewart, Head of Security Policy, Google Play + Android
"I work in this space to empower people in and through technology by translating and solving the complex challenges that lie at the intersection of technology, security, society and the law. 
Security is core to everything we do here. As creators of technology, we work to be intentional about how we build and educate users on safety and security. To do this effectively, we must be more intentional about diversity. More often than not, I am the only woman and only person of color in meetings where decisions are being made. To make truly inclusive technology and combat abuse, we need a diverse workforce.
I believe technical and policy mitigations to cybersecurity challenges will never reach their full potential until systemic racism is addressed and diverse voices are reflected among our ranks at all levels. That's why I co-founded #ShareTheMicInCyber. "
Brooke Pearson, Program Manager for Chrome Privacy Sandbox 
"I work in security and privacy to protect people and their personal information. It's that simple.
At Google, we're tackling some of the world's biggest security and privacy problems, and everyday my work impacts billions of people around the world. Most days, that's pretty daunting, but it's also humbling and inspiring.
If we want to encourage people to engage in more secure behavior, we have to make it easy to understand, easy to act on and inclusive. 
I'm proud to work for a company that promotes active allyship and has stepped forward in such a prominent way to support Black women security and privacy professionals through the #ShareTheMicInCyber campaign."

Michee Smith, Product Manager, Privacy, Safety & Security
"Protecting user data is core to our mission. We build privacy into everything we do, which is why I am so passionate about my job. I work on products that make it easier for users to understand and control what happens with their data. My interest in this work was sparked when I learned how nuanced and technical these topics are, and how much they impact people.
For me, relationships and representation in tech really matter. Oftentimes, people of color don't see people who look like us in these roles and on stages. There's a sense of gratitude, belonging and relief to see someone who looks like you. I want to show up to help others imagine themselves in similar roles — that's why I'm a huge fan of #ShareTheMicInCyber. This initiative is lifting people and communities up and creating an echo chamber that can be heard beyond cyber to the technology industry as a whole."

Esther Ndegwa, Program Manager Security,  Privacy, Safety & Security
"My passion for security lies in the challenges the industry faces — especially with regard to the evolving expectations and requirements we face to protect data wherever it is. 
The right place to start is to ensure we define our principles through policy.
To get security right requires diverse thinking, drawn from different backgrounds and perspectives. I often encourage minority professionals in technology, who are starting off their career, to explore opportunities in security. 
For me, nothing resonates more than hearing someone tell their story and #ShareTheMicInCyber has created a much needed platform for amplifying those stories. While there is still work to be done to make the security industry more diverse, I believe that having conversations like these makes a big difference."

---
I encourage you to follow, share, and retweet #ShareTheMicInCyber on Twitter and LinkedIn, today, March 19. By strengthening our commitment to racial equity and inclusion we can build safer and more secure products for everyone.
If you are interested in participating or learning more about #ShareTheMicInCyber, you can visit the site.