Chromebooks will get 10 years of automatic updates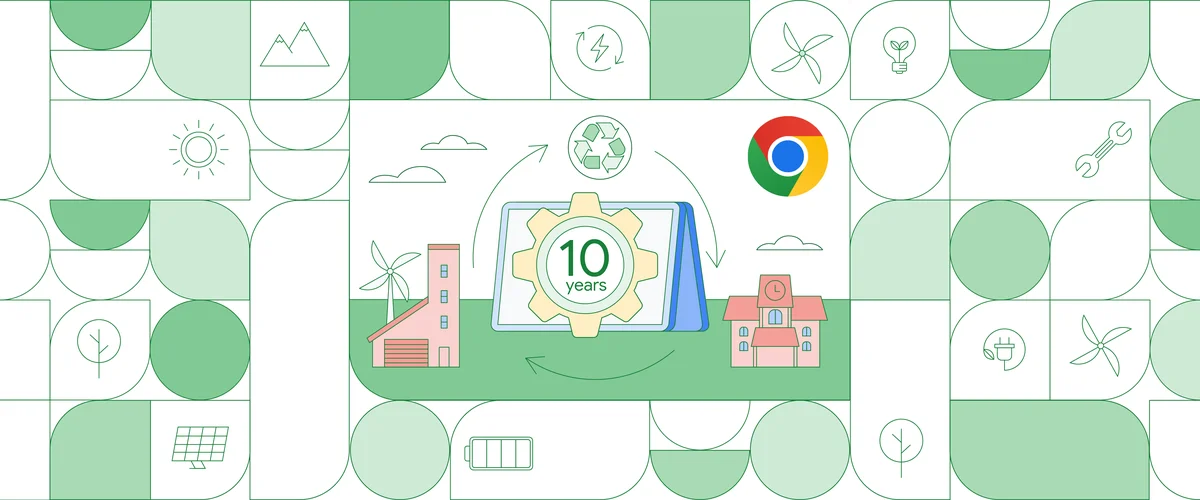 When Chromebooks debuted in 2012, their affordable price tags helped make personal computing more accessible. That also made them a great fit for the education world, providing schools with secure, simple and manageable devices while helping them save on their budgets. In fact, Chromebooks are the number one device used in K-12 education globally, according to Futuresource. Plus, they're a sustainable choice, with recycled materials that reduce their environmental impact and repair programs that help them last longer.
Today, we're announcing new ways to keep your Chromebooks up and running even longer. All Chromebook platforms will get regular automatic updates for 10 years — more than any other operating system commits to today. We're also working with partners to build Chromebooks with more post-consumer recycled materials (PCR), and rolling out new, power-efficient features and quicker processes to repair them. And at the end of their usefulness, we continue to help schools, businesses and everyday users find the right recycling option.
Let's take a closer look at what's coming, and how we consider the entire lifecycle of a Chromebook — from manufacturing all the way to recycling.
10 years of automatic updates
Security is our number one priority. Chromebooks get automatic updates every four weeks that make your laptop more secure and help it last longer. And starting next year, we're extending those automatic updates so your Chromebook gets enhanced security, stability and features for 10 years after the platform was released.
A platform is a series of components that are designed to work together — something a manufacturer selects for any given Chromebook. To ensure compatibility with our updates, we work with all the component manufacturers within a platform (for things like the processor and Wi-Fi) to develop and test the software on every single Chromebook.
Starting in 2024, if you have Chromebooks that were released from 2021 onwards, you'll automatically get 10 years of updates. For Chromebooks released before 2021 and already in use, users and IT admins will have the option to extend automatic updates to 10 years from the platform's release (after they receive their last automatic update).1
Even if a Chromebook no longer receives automatic updates, it still comes with strong, built-in security features. With Verified Boot, for example, your Chromebook does a self-check every time it starts up. If it detects that the system has been tampered with or corrupted in any way, it will typically repair itself, reverting back to its original state.
You can find more information about the extended updates in our Help Center, Admin console or in Settings.
Quicker repair processes
Many schools extend their laptops' lifespans by building in-school repair programs. In fact, more than 80% of U.S. schools that participated in a recent Google survey are repairing at least some of their Chromebooks in-house. The Chromebook Repair Program helps schools like Jenks Public Schools find parts and provides guides for repairing specific Chromebooks, either onsite or through partner programs. Many organizations even offer repair certifications for Chromebooks.
We're rolling out updates that help make repairs even faster. Our new repair flows allow authorized repair centers and school technicians to repair Chromebooks without a physical USB key. This reduces the time required for software repairs by over 50% and limits time away from the classroom.
A student at Jenks Public School repairing a Chromebook

Stacks of Chromebooks awaiting repair at Jenks Public Schools' Technology Center

Find more information about repairs with our Chromebook Repair Program
More energy-efficient and sustainably manufactured Chromebooks
We're making sure Chromebooks are more sustainable when it comes to both hardware and software. In the coming months, we'll roll out new, energy-efficient features to a majority of compatible platforms. Adaptive charging will help preserve battery health, while battery saver will reduce or turn off energy-intensive processes.
Adaptive charging on Chromebook will help preserve battery health

Battery saver will reduce or turn off energy-intensive processes.

You will be able to manage adaptive charging in Settings on your Chromebook.
And last year, we partnered with Acer, ASUS, Dell, HP and Lenovo to prioritize building more sustainable Chromebooks, including using ocean-bound plastics, PCR materials, recyclable packaging and low carbon emission manufacturing processes. This year alone, Chromebook manufacturers announced 12 new Chromebooks made with PCR and repairable parts.
Recyclable devices
All devices reach a time when they stop being useful, especially as hardware evolves. Schools can either sell or recycle Chromebooks via their reseller, who will often collect them onsite. (Before you turn them over to a remarketer or recycler, make sure all devices are removed from management first.) The reseller or refurbisher can then provide the school with monetary or service credits, and resell, use for parts or recycle the Chromebook completely.
You can also search for drop-off recycling locations near you with our global recycling drop-off points feature in Google Maps.
Lowest ownership costs
In addition to reducing environmental impact, Chromebooks reduce expenses for school districts — allowing them to focus more of their limited budget on other benefits for teachers and students. Chromebooks include lower upfront costs than other devices: a 55% lower device cost and a 57% lower cost of operations. Over three years, Chromebooks save more than $800 in operating costs per device compared to others. And as a preventative cost-savings measure, automatic updates combined with existing layers of security have protected Chrome from having any reported ransomware attack.
With all these updates, we're committed to keeping Chromebooks universally accessible, helpful and secure — and helping you safely learn and work on them for years to come.