5 Chromebook updates for students and teachers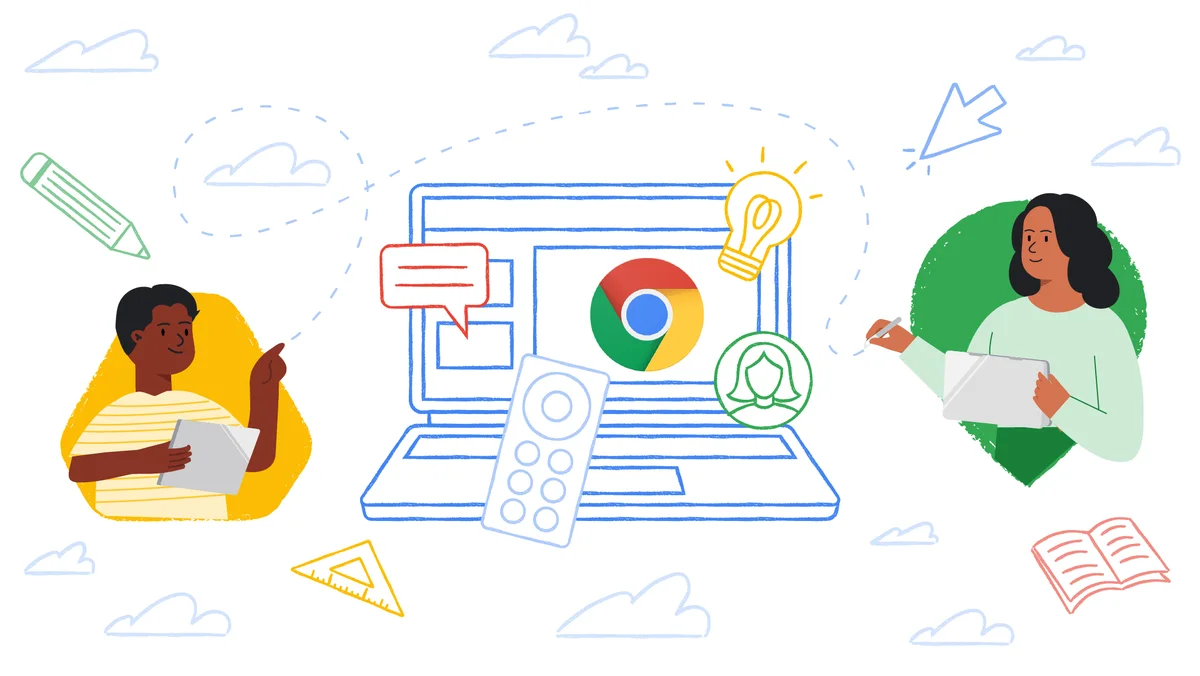 Editor's note: This week we're joining thousands of educators and students at Bett, the world's biggest educational technology exhibition. Visit us at booth SF41, where you can check out new Chromebooks and features in Google Workspace for Education. Follow along on Twitter and Facebook for the latest updates.
Today's classrooms look much different than even a few years ago. Educational technology has improved by leaps and bounds, with new devices and features to help students and teachers stay organized, creative and productive during the school day and back at home.
With their easy management, sustainable design and access to quality learning and teaching tools, Chromebooks are a popular choice for educators. In fact, according to Futuresource Consulting, they're the number-one selling device for K-12 schools in Brazil, Canada, Indonesia, Japan, New Zealand, Singapore, Sweden and the U.S.
So as we head to Bett, we're sharing five Chromebook updates to help make learning more personal, collaborative and accessible — including 13 new devices, updates to our Screencast and cast moderator features, and a new reading mode in Chrome browser.
1. 13 new Chromebooks built for students and teachers
We're rolling out 13 new Chromebooks built with students and teachers in mind, featuring bigger screens to work on, longer battery life to easily move around the classroom and more storage to save large homework files. Our newest convertible devices, like the Dell Latitude 5430 and the HP Dragonfly Elite, have touchscreens and styluses so teachers can easily annotate or cast. And we're introducing more repairable devices for students, many made from recycled plastic, like the Acer Chromebook Vero 712, ASUS Chromebook CR11 Flip and the Lenovo 100e Chromebook Gen 4. Check out our device selector to see everything that's new for 2023.
2. New languages, web player and demo tools in Screencast
Screencast on ChromeOS can make learning more personal, giving teachers and students the ability to record, trim, transcribe and share lessons, presentations and demos. And they're all stored in their Google Drive for easy access at school or at home.
This year we're expanding recording and transcription support in Screencast to a dozen new languages, including Italian, Japanese, Spanish and Swedish. We're also releasing a web player so students and teachers can watch screencasts in any browser on any device. And to make it easier to follow along with a screencast, we're adding demo tools so students and teachers can animate clicks and taps and highlight any keyboard shortcuts they use on the screen. These updates will start rolling out to ChromeOS 112 users in early April.
Use Screencast to record, transcribe, annotate and trim videos on your Chromebook.
3. More controls and availability for cast moderator
More controls are coming to cast moderator, which allows teachers and students to wirelessly share their screen to a central display using a secure access code. Soon any presenter will be able to pause the screen they're casting so they can keep working on their laptop (to take notes during a presentation, for example). Teachers will also be able to switch which tab is being shown without having to end the cast session.
We're also expanding cast moderator's availability around the world. Cast moderator will soon support over 10 languages, including Dutch, Japanese and Spanish. And besides North America, cast moderator hardware will be available in Asia and Europe later this year.
Use cast moderator to wirelessly share your screen in the classroom.
4. New reading mode feature in Chrome browser
One in five children in the U.S. has a learning and thinking difference like dyslexia and ADHD. There are many experts working to support students with learning disabilities, which is why we partner with schools like the Landmark School and nonprofits like Understood.org to help shape and pilot products, raise awareness and provide resources to help every student around the world reach their potential.
One of our newest features to support this effort is reading mode, a customizable reader view coming to the side panel in Chrome browser. Reading mode reduces distracting elements on the screen, like images and videos, to help you focus on a page's primary content. You can also customize settings like the typeface, font size and spacing, and text and background color. Reading mode will be available in Chrome browser in ChromeOS in M114.
Reading mode lets users create a customized reading experience. It makes reading more accessible for millions of kids with dyslexia and other learning differences. And it gives parents and educators a powerful tool to support struggling readers.
Use reading mode in Chrome browser to reduce distracting elements on the screen.
5. Easy customization tools for ChromeOS admins
We're also introducing new features to help ChromeOS admins manage and protect their school's fleet of devices. Group-based policy management makes it easier to configure apps and extension permissions in Google Admin Console. Now if an admin needs to install an app for a specific set of users, they can simply add them to a Google Group instead of moving them into a new organizational unit. Soon you'll be able to do the same for user and browser settings, and more.
Read about more Google for Education updates we're announcing this week.