New tools for more collaborative, personal and accessible learning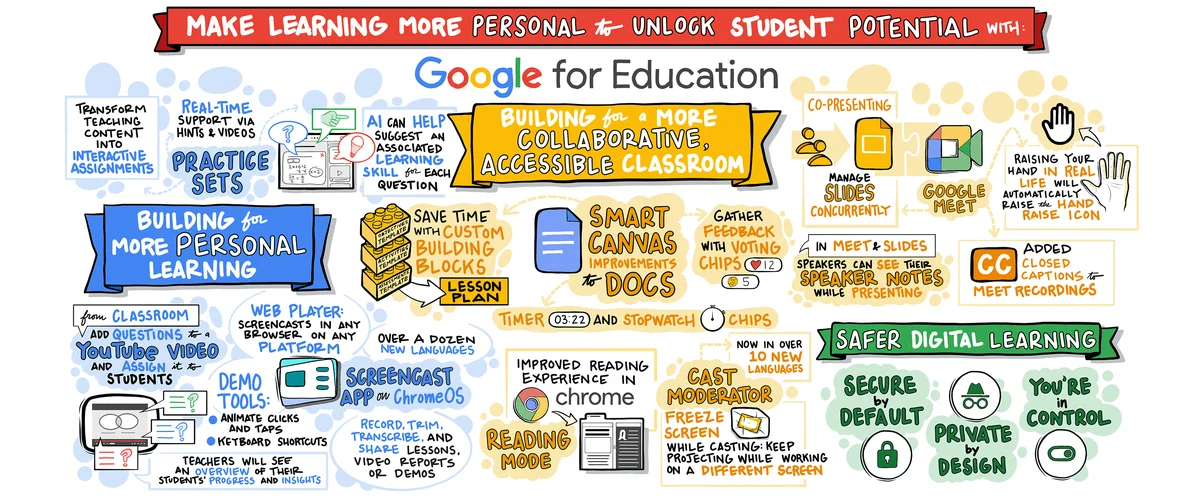 Editor's note: This week we're joining thousands of educators and students at Bett, the world's biggest educational technology exhibition. Visit us at booth SF41, where you can check out new Chromebooks and features in Google Workspace for Education. Follow along on Twitter and Facebook for the latest updates.
With schools using more technology post-pandemic, plus rapid advances in AI and data analytics, we're at an exciting time in education. As things change, we've spent a lot of time thinking about how Google can be most helpful. Our new research into the future of education, which consulted experts from around the world, is rooted in our belief that we need to continue building a more collaborative, accessible, and privacy-forward learning experience.
We're building towards a future where schools have access to technology to amplify educator impact, and help all students realize their personal potential. Here's an overview of what's new, and what we're working on.
Google Classroom and AI advances make learning more personal
We believe AI will transform teaching and unlock student potential in ways people can't even imagine, and we are committed to helping develop it responsibly. As we look to the future of education, we envision AI playing a key role in building a classroom where learning is personal and teachers are given the time they need to do what they do best.
Practice sets uses AI to help educators transform their existing teaching content into interactive assignments and provide more personalized support. As teachers add questions to their practice set, they'll see suggestions for skills to focus on — like solving equations with decimals or writing thesis statements. Based on the skills selected by teachers, students will receive helpful hints if they get stuck. Educators will also be able to add interactive questions to YouTube videos in Classroom, so students can answer questions with real-time feedback, and educators can get insights into student performance. And with Screencast on ChromeOS, students and teachers can record, trim, transcribe and share lessons, presentations and demos, all with new demo tools and in a dozen new languages.
As students work on an assignment, practice sets give them real-time encouragement and hints if they get stuck along the way.
Chromebooks, Chrome and Workspace updates for collaboration and accessibility
Last year, we launched smart canvas in Docs, Sheets and Slides to transform how collaboration happens in the classroom. Now, teachers can save time with custom building blocks, and facilitate class activities with timer, stopwatch and coming soon, voting chips, all within Docs. We're also working on updates to Slides and Meet, adding co-presenting in Slides and AI-powered hand raise gesture detection in Meet, coming later this year.
We're also rolling out 13 new Chromebooks built with features to ensure students and teachers can collaborate on devices, like some with bigger screens, touchscreens, and styluses built in. We're adding more controls to cast moderator, like the ability to pause your screen while presenting, or switch tabs.
We build accessibility features directly into our education tools so every learner can access information in a way that works for them. For students with reading disabilities like dyslexia, we're building reading mode, a customizable reader view coming to the side panel in Chrome browser. Reading mode helps reduce distracting elements on the screen — like images and videos— to assist students in focusing on a page's primary content.
Reduce distractions while reading online in Chrome browser, using reading mode.
Building for safer digital learning environments
Protecting users' privacy, keeping schools' data secure, and keeping digital learning environments safe are cornerstones of our commitment to education. We want to support the entire education community, and so we've been engaging with policymakers, data privacy regulators, third-party groups, education institutions and government partners across Europe and around the world.
For example, we're actively working to give admins further insight and additional controls over data being processed by ChromeOS and Chrome browser on ChromeOS, starting later this year. We're also adding in more features to Google Workspace for Education to help admins control which apps can be used, like the ability to use Context-Aware Access for apps using Workspace APIs.