Classroom adapts for the future of learning and teaching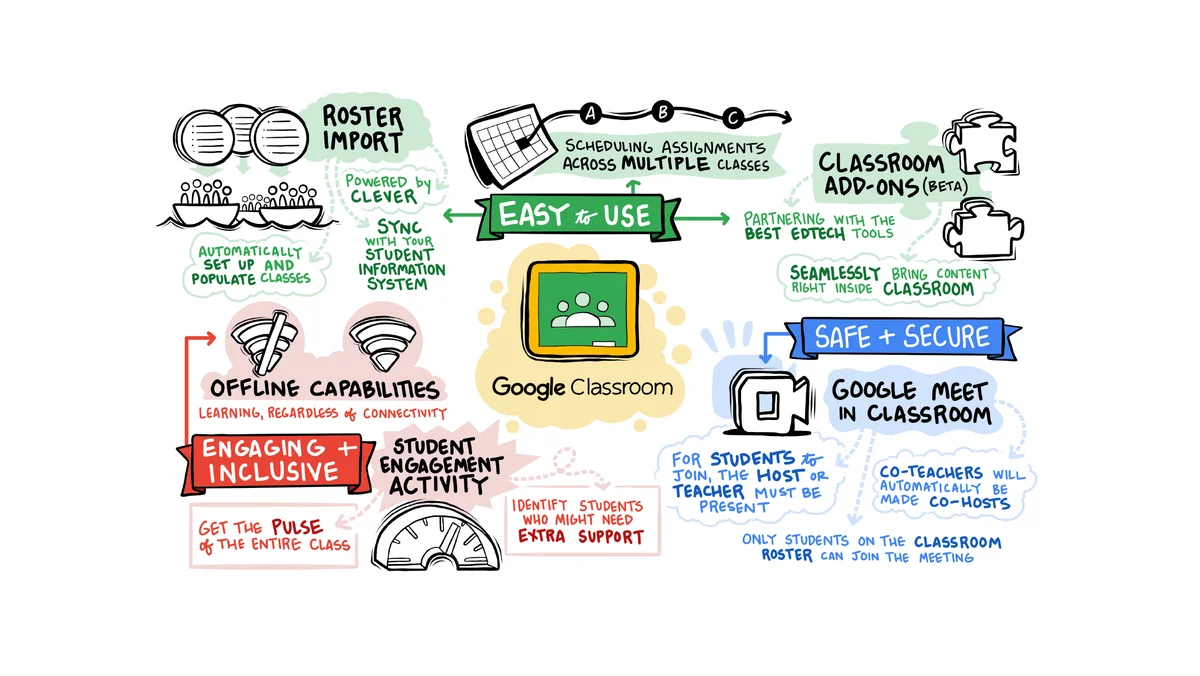 Over the last year, the use of education technology skyrocketed as schools hustled to keep students learning. As some students return to their classrooms and others continue learning from home, we're optimistic about the role education technology can play to help teachers and school leaders as they make up for lost time. 
We saw Classroom become a center for teaching and learning for millions of teachers and students this year, with many schools now using Classroom as their learning management system (LMS). This was only possible thanks to the support and feedback of teachers around the world. We were amazed by how quickly they learned the tools and put them into practice. 
Change in education is inevitable. As the needs of institutions evolve, Classroom will keep pace. Today, we're sharing some important updates to features we previously shared on our roadmap as well as some new ones we developed with input from teachers and education leaders: 
Roster import: Starting this summer, U.S. districts with Google Workspace for Education Plus will be able to automatically set up classes and keep rosters in sync with their Student Information System, powered by Clever. IT admins will be able to create and populate classes via Clever, saving teachers valuable prep time. 
Classroom add-ons: Coming to beta later this year for districts with the Teaching and Learning Upgrade or Education Plus, Classroom add-ons allow you to bring your favorite content and activities from top edtech tools right inside Classroom. Admins will be able to pre-install add-ons for multiple teachers or groups at once.
We're starting with nine partners including Adobe Spark for Education, BookWidgets, CK-12 Foundation, Edpuzzle, IXL, Kahoot!, Nearpod, Newsela and SAFARI Montage, with plans to expand to many more. Here's an example of how Bookwidgets is using add-ons to make it  easier for teachers to assign an activity and students to complete it, without ever leaving Classroom.
Scheduling assignments across multiple classes: Coming later this year, this top-requested feature will help teachers and co-teachers easily schedule assignments to multiple classes. 
Offline capabilities: Coming to the Classroom Android app in a few months, offline mode will allow students to start their work offline, review their assignments and attachments as well as  write assignments in Google Docs — all without an internet connection. 
Student engagement activity: Later this year, teachers will easily be able to see when a student was last active, including when they last submitted work or participated in the class through comments with a student engagement activity dashboard.
Google Meet in Classroom: In the coming months you'll see updates to how teachers can use Google Meet in Classroom, making it easier, safer and more secure. First, all co-teachers in a class will also automatically be co-hosts in the meeting, and only students listed in the Classroom roster will be able to join the Meet. Next, students will have to sit in a "waiting room" until a teacher has joined the meeting link. And finally, guests outside the class roster will have to "ask to join" so no unwanted participants get into meetings. 
Educators' feedback makes Classroom better every year. With your feedback and insights, we'll keep working together to make sure teaching and learning are possible for every teacher and student from every device anywhere in the world.