Maab Ibrahim works each day to fight for racial justice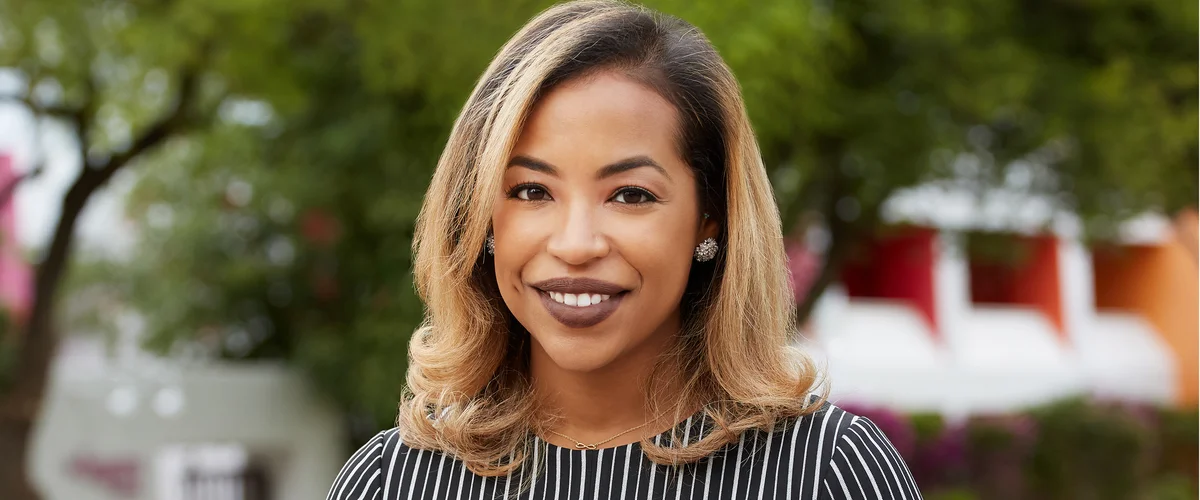 In her role at Google, Maab Ibrahim works to guide the company on the path toward creating a more just and equitable future. And she draws from her personal experience to guide her work.
Growing up in Richmond, Virginia, Maab reckoned with the city's painful history and observed everyday injustices like racism and economic inequality. As the child of Black immigrants, she noticed racial inequity in her own backyard as her family and community navigated structural barriers. Today, as a grant portfolio manager for Google.org, Maab has spent the last four years working alongside nonprofit leaders to find solutions to address racial injustice—from centering community-led voices in the movement to using data to identify and analyze bias in the criminal justice system. 
How do you describe your job at a dinner party?
I'm a philanthropic portfolio manager for Google.org. My core focus is to provide support, such as grant funding and technical expertise, to nonprofits that are working to advance racial justice across a number of issue areas, including criminal justice reform, education, and economic opportunity. 
What inspired you to pursue racial justice work?
I draw a lot of inspiration for this work from Black and Latino communities where I grew up in Richmond, Virginia. Virginia has a deep and pained racial history. Our state welcomed the very first slave ships to America, housed the Confederacy, and was a battleground for historic civil rights cases such as Loving v. Virginia. As I learned about this history, I couldn't help but notice the racial disparities that continue to persist in Black and Brown neighborhoods. Children in our classrooms were over-suspended and over-punished. Parents were attempting to be present in their kids' educations, while overcoming language barriers or managing two or three jobs. Many families had a loved one behind bars due to biased policing and harsh sentencing.  
Over the years, I've learned strategies and tools, but my personal experience continues to deeply influence my approach to the work. As one of very few black women in philanthropy, I believe in trusting and supporting community leaders who are most proximate to racial injustice.
As one of very few black women in philanthropy, I believe in trusting and supporting community leaders who are most proximate to racial injustice.
Can you describe Google.org's approach to racial justice grantmaking and racial justice work? 
We've primarily directed our grant funding to criminal justice work over the last five years, making more than $44 million in grants and giving more than 15,000 hours in pro bono services to nonprofits working in that space. Google has a deep appreciation for data science; it's a part of our DNA. So our largest grants in this space have been to nonprofits working to close data gaps across the criminal justice system. For example, we're funding work to identify bias in policing practices and jail population trends in rural communities. 
Alongside the criminal justice data work, we're also funding community-led solutions. We take to heart the importance of centering on the dignity of marginalized communities and affirming the flourishing of Black and Brown lives. What that means in practice is funding organizations that are led by and advocating on behalf of Black or Latino communities, such as the Black Lives Matter Movement.
What have been some of the biggest challenges this year?
We saw the most recent racial justice uprising happen in the wake of COVID-19. People from all kinds of communities came out on the streets in response to the death of George Floyd and demanded change in our justice system. As a result, reforms kicked off across cities in America. But behind the mobilization, the Black community continues to feel the loss of many loved ones due to COVID-19. The pandemic has exasperated systemic inequities in healthcare and in our economic system that leave Black communities most vulnerable. 
From the grantee perspective, that means organizations and their staff are dealing with two crises at one time. It's been very challenging but I'm proud that we're able to support groups like The Satcher Health Institute at Morehouse School of Medicine that are working to address these disparities.
What keeps you motivated and positive? 
Racial justice work, at its core, requires a necessary discomfort that drives progress forward. But at this moment, I'm feeling energized by the catalytic shift the U.S. is experiencing in addressing systemic anti-Black racism. I am deeply inspired by the visionary leaders that drive community-led solutions. For me, it's a great honor to be in solidarity with their work.
What advice do you have for women starting out in their career? 
When you are early in your career, it can feel like there's so much to learn from the people around you. I'd ask young women to consider just how much the world has to learn from them, too. Young people are the driving force behind social movements, the first adopters of new technologies and more willing to imagine the world differently. That perspective is invaluable to innovation and progress.
I'd ask young women to consider just how much the world has to learn from them, too.