A Matter of Impact: November updates from Google.org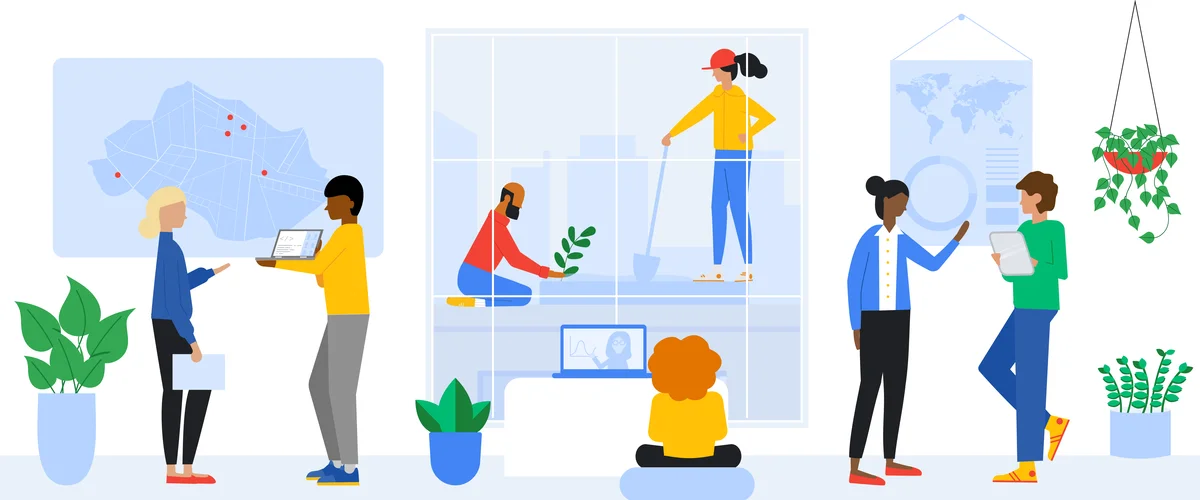 COP26 wrapped up last week, and world leaders and industry experts headed home with commitments made to work together to further reduce emissions. You can learn more about Google's commitments in this blog post.
Even for climate negotiators, transparent and trustworthy data around emissions can be hard to come by. Historically, there has been a limited push to build the kind of data sets and models needed to create a shared fact base for everyone. So we asked ourselves: How can we help advocates, citizens, governments and businesses take action on climate, faster?
We believe philanthropic dollars can play a critical role in creating important public goods, like transparent data sets and accessible digital tools, that might not otherwise exist. The world urgently needs a solid foundation of data and tools to monitor and verify our progress to make better decisions. That's why much of our sustainability-related philanthropy is now focused on funding the creation and organization of data and the tools to make this data easily usable.
Three of our grantees launched tools around COP26 that are examples of this in action. Climate TRACE, the world's first independent, comprehensive, near-real time greenhouse gas (GHG) monitoring platform uses large-scale data and AI models to provide neutral, accurate data for everyone. On the small business side, the work of Normative is hugely promising. They're building out emissions estimates for SMBs and helping companies automatically compile detailed carbon reports so that they have actionable data to make better decisions around reducing their footprint. And for consumers, there's Open Food Facts, an open-access food products database where users can see the eco-score of food products with a simple scan of the barcode from a mobile device.
We're proud to support these organizations and look forward to more opportunities to combine philanthropic funding with technology to help everyone take action on climate change.

In case you missed it 
Here's recent progress our grantees have made to close these data gaps.
BlueConduit is mapping out lead pipes across the U.S, for remediation.
Open Food Facts expanded to 50 countries — you'll hear more on that from their co-founder Pierre Slamich below.
Normative debuted their Industry CO2 Insights carbon emissions accounting engine for small businesses at COP26.
Restor launched an open data platform built on Google Earth Engine that allows anyone to select an area around the world and analyze its restoration potential.
Dark Matter Labs launched their first version of TreesAI (Trees As Infrastructure), an open source platform to make it easy to map, monitor and forecast ecosystem services. The tool helps local authorities attract funds to develop and maintain urban nature-focused tools to fight climate change.
Climate TRACE, supported by $8 million in funding from Google.org and a team of Google.org Fellows, talked about their emissions tracking project in this video.

Hear from one of our grantees: Open Food Facts
Pierre Slamich is the co-founder of Open Food Facts, a collaborative effort to create a worldwide database of food products, thanks to mobile apps that also empower citizens to make more informed food choices. Last spring, Open Food Facts received a $1.3 million Google.org grant and support from a team of 11 Google.org Fellows.

Pierre Slamich is co-founder of Open Food Facts.
"Food has an impact on your health, as well as the environment, with one third of human carbon emissions related to food. Scaling access to this critical information is important to empower consumers and producers to transform the food system for the better. That's why we're grateful for the impact Google.org fellows have had on helping Open Food Facts on machine learning and mobile. Scaling Eco-Score computations and turning them into useful knowledge will eventually benefit billions of people — either directly through the new Open Food Facts mobile app or indirectly thanks to systemic changes in the food system, fostered by increased transparency."
A few words with a Google.org Fellow: Astrid Weber
Astrid Weber is a UX Manager on the Google Assistant team and currently working with Normative for a six month Fellowship.

Astrid Weber is a UX manager for Google Assistant and a Google.org Fellow.
"Growing up in Germany (post Chernobyl during the 80's and 90's), my parents helped me build awareness that we need to protect the environment collectively. I remember wearing a Greenpeace T-shirt as a 5 year old before I even spoke English that read: "Why should I tidy up my room if the whole world is a mess?" Later on, while living in the Swiss Alps watching the glaciers melt year over year, I started to investigate what Google is doing regarding climate change investments and projects. When I learned about Normative's work on CO2 emission tracking through Google.org and was asked to drive the UX side, I knew immediately that I wanted to help.
While we as a global society know how much CO2 we produce year over year, individual companies, and small businesses especially, know close to zero about their carbon footprint. This is where Normative wants to bring greater visibility and enhance businesses' ability to take action. It has become clear that we can only combat climate change if we do so in a holistic way where all players do their part. Our group of Fellows is developing a free, open-source tool for small businesses to track their CO2 emissions. The goal is to launch a tool that will be embraced as both simple enough to start using right away as well as detailed enough to offer a realistic and trustworthy view of CO2 emissions. I really hope we succeed!"