What to do now to be ready for this holiday season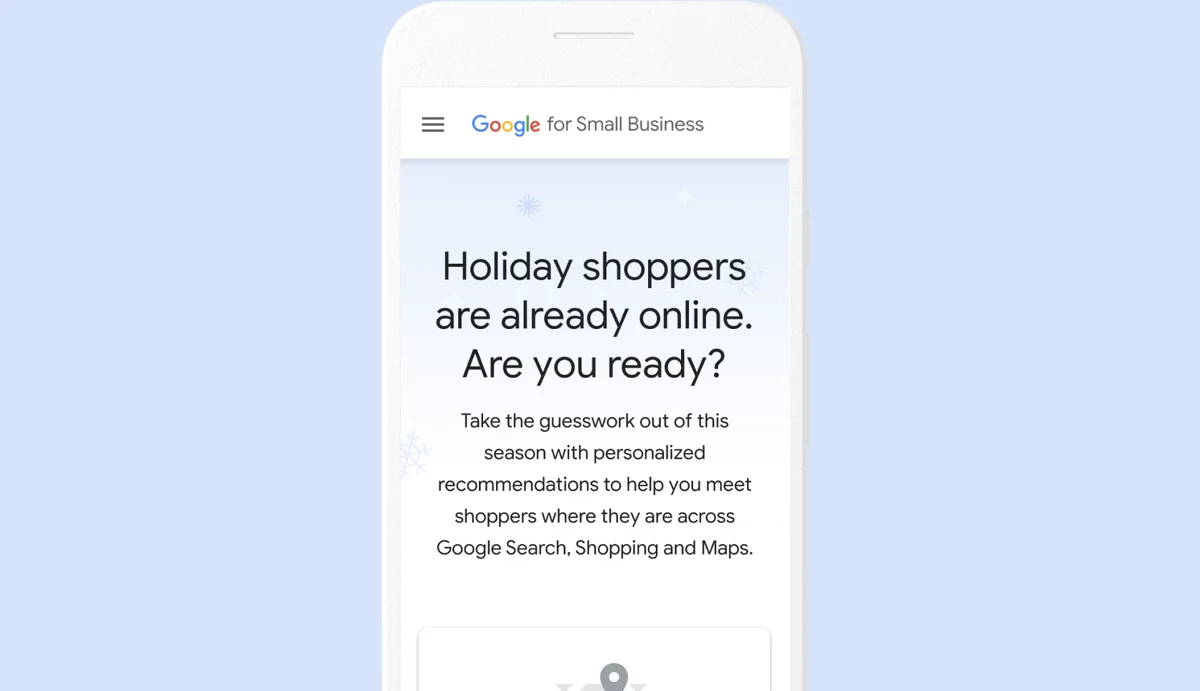 As a result of the pandemic, ninety-three percent of small businesses report being disrupted by COVID-19. While the holiday season is always important to many small businesses, we know that this year may be the most important yet. 
For consumers, the holidays are starting early and the way to reach those shoppers is online. Seventy-one percent of U.S. adults said they planned to do more than half of their holiday shopping digitally this year, and those shoppers are open to buying from new retailers, especially local small businesses. 
To help you get ready for the holidays, we created the Google for Small Business holiday hub. On the hub you'll get personalized recommendations to reach shoppers across Google Search, Shopping and Maps. Here's a preview of some of the tools and resources that you'll find on the hub. 
Create a strong digital presence 
Sixty-six percent of people in the U.S. who plan to shop this holiday season said they will shop more at local small businesses. To ensure customers are finding the most up-to-date information about your business on Google, claim your Business Profile. Once you've verified your business, you can share information with shoppers, like your store hours and contact information, your current inventory, whether you offer curbside pickup and if you have any welcome offers. Our updated Local Opportunity Finder tool will give you personalized suggestions for making improvements to your Business Profile on Google. And you can now save time by making updates to your Business Profile directly from Google Search and Maps. 
For retailers, it's vital that customers have a seamless experience on your website. The Grow My Store tool will analyze your site's customer experience, show how your site performs relative to others in the same retail category and offer tailored recommendations for improvements. 
The Local Opportunity Finder tool provides personalized recommendations for improvements to your Business Profile. 
Show up when people are searching for what you offer 
We recently announced that retailers offering ecommerce can list their products for free on Google. This makes what you offer more accessible to the hundreds of millions of people who shop on Google each day, connecting you to more customers. You can get started by either submitting your product feed through Google Merchant Center or by automating your feed setup through platforms that you may already be using to manage your products and inventory: Shopify, WooCommerce or BigCommerce. 
If you're a local business looking to attract customers to your store, you can also get your inventory online instantly by connecting to Pointy from Google via a compatible point-of-sale system or by purchasing a Pointy device. Once connected, simply scan your products as normal and the product information will automatically upload to an online catalog called a Pointy Page and to your Business Profile through the See What's In Store module.
When you're ready to take the next step to advertise your business online, you can use Google Ads Smart campaigns—our ads product built specifically for small businesses. We've now made it easier for local small businesses who don't have a website to create ads. Smart campaigns will automatically build a landing page with your business phone number, hours, photos and reviews with the information you submitted on your Business Profile.