Trash to treasure: How Google thinks about deconstruction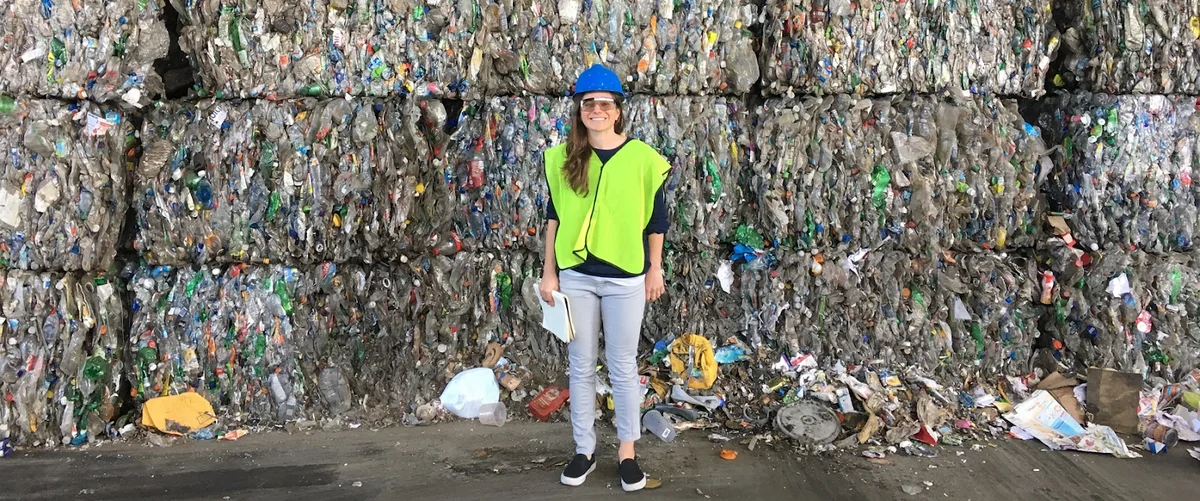 For Lauren Sparandara, stepping onto a construction site transports her to the scrappy dollhouses of her childhood.
"I would scavenge styrofoam from the household trash and use it to build these elaborate cityscapes for my dolls," she laughs. "I see a similar opportunity when I look at buildings that are about to be demolished: What could we make with those?"
At Google, Lauren looks for ways to reuse materials in Google's design and construction process — like salvaging perfectly good doors and hardware, cabinets, furniture, and lockers from existing buildings to reuse them in Google's spaces or donate to local organizations in need. 
I sat down with Lauren to talk about what she envisions for future Google construction projects, and how it relates to the circular economy.
First things first: What is deconstruction?
Typically, heavy machinery demolishes existing structures on a construction site, which means usable materials are often sent to the landfill.
The alternative is deconstruction, where a building is systematically dismantled from the outside in. To the greatest extent possible, building components — like interior doors or wood components — are kept intact and salvaged for reuse, creating a more circular system. Deconstruction also increases the recyclability of materials that can't be reused.
Existing buildings should be viewed as resources rather than something to be disposed of.
Why does deconstruction interest you?
Existing buildings should be viewed as resources rather than something to be disposed of. Construction and demolition activities account for nearly two-thirds of all waste generated annually in the U.S. 
While traditional demolition is certainly time and cost-efficient, there's a huge missed opportunity when salvageable materials are landfilled. Deconstruction can shrink the environmental impact of construction and expand green job opportunities — within both the construction industry and salvaged and refurbished materials market. 
Can you give us an example of deconstruction put into practice at Google?
We've salvaged materials from small-scale interior refreshes since 2012 and have diverted over 1,000 tons of materials from landfills in the Bay Area in the process — that's roughly the weight of five Boeing 747s. When designing new office spaces, we look for opportunities to repurpose existing buildings. Our Spruce Goose office in the Los Angeles area is a converted airplane hangar, and our Fulton Market office in Chicago was a cold-storage warehouse. In Munich, we've started converting the Arnulfpost — a 1930s modernist-style postal distribution facility — into an inspiring workplace with public spaces for the community.
In addition to all of that, we want to spread awareness and advance research on circularity in buildings. In 2019, we partnered with the Ellen MacArthur Foundation, Building Product Ecosystems, and Ackerstein Sustainability to publish a whitepaper on commercial deconstruction and reuse, with the hopes of driving the wider building industry toward more circular practices.
Where do you see this work going in the future?
There's the potential to think big about what we can do with our existing building stock, and reframe our thinking to view existing buildings as amazing resources rather than waste. Unfortunately, most deconstruction examples are historic residential properties, so we're asking: "How can we create circular material flows from a suburban office building built in the 1980s? How do we prevent any usable materials from going to the landfill?' 
We're starting to answer these questions as we work on new development projects. At the Caribbean office development in Sunnyvale, California, we salvaged 35 tons of material to donate to California charities and nonprofits. And at the Charleston East development project in Mountain View, California we're incorporating over 30 types of salvaged materials.
A fork lift loads stacks of wood doors onto the back of a truck to get ready for donation.
Circularity is simple in concept but can be complex in practice — especially in industries that have long operated on a "take-make-waste" model. What challenges do you face?
First and foremost: existing office parks were not designed for deconstruction. Most of today's existing commercial buildings were built between 1960-2000, an era that relied on adhesives and composite materials, which make these structures challenging to dismantle. Furthermore, buildings can contain hazardous materials that shouldn't be reintroduced into new construction.
In our white paper, we identified three additional barriers to deconstruction: regulatory hurdles, a limited deconstruction workforce, and an under-developed reuse marketplace. Luckily, there's progress already being made in these spaces. 
Given these challenges, what are you doing to build circularity into Google's future workplaces?
We need to approach all elements of design with circular economy practices in mind. Our goal is to create workplaces that are resilient to change and don't need to be demolished every twenty years. This requires thoughtful design — from adaptive reuse of existing buildings and avoiding building new structures in the first place to using healthy materials and small details like designing joints that can be mechanically dismantled. 
Back to your childhood dollhouses, what was a deconstruction or reuse example of your own that makes you proud?
My family recently remodeled our home, which happens to be the home I grew up in. Whenever possible, we have attempted to donate or reuse materials. We've found ways to reuse wood to replace our backyard fence, and we've donated our older appliances. My 5-year-old son even decided to repurpose old packaging material to make his last Halloween costume. I guess as they say, "the apple doesn't fall far from the tree"!
Lauren Sparandara's son, Jack, in his Halloween costume made of old packaging materials.