It's electric! 6 lessons from our largest electric kitchen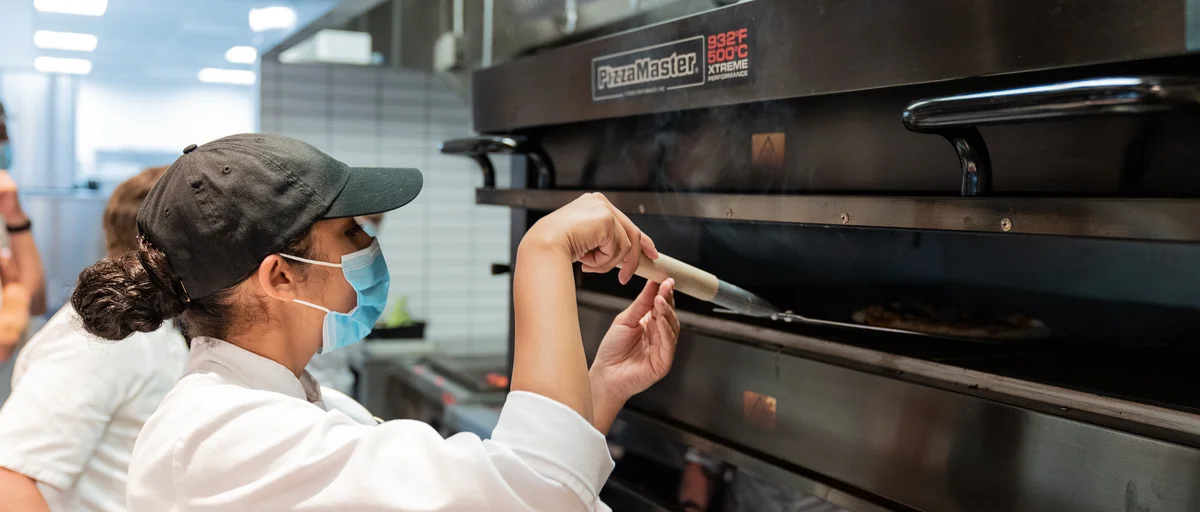 We recently opened our all-electric Bay View campus, which also marked the debut of our largest electric kitchen. As our biggest blueprint for fully carbon-free cafes and kitchens yet, Bay View will help advance our commitment to operate on 24/7 carbon-free energy across all of our campuses by 2030.
Still, any big change comes with a learning curve. So whether you're a professional chef or an at-home cook, here are six lessons we've learned to help you make the switch to electric:
Electric is way faster. The benefits of electric kitchens go beyond climate impact, starting with speed. The first time I ever cooked on induction (electric) equipment, the biggest surprise was just how incredibly fast it is. In fact, induction boils water twice as fast as traditional gas equipment and is far more efficient — because unlike a flame, electric heat has nowhere to escape. At Bay View, our training programs help Google chefs appreciate and adjust to the new pace of induction. The speed truly opens up whole new ways of cooking.
It's also safer, simpler and cooler. Compared to traditional gas equipment, induction equipment is safer because there's very little heat transfer after you remove a vessel, reducing burn risk. Cleanup is a simple wipe-down versus removing stainless steel grates that stay at hundreds of degrees for hours. We also think — and we're collecting data at Bay View to confirm — that electric kitchens will be more comfortable to work in, because they're potentially cooler (you don't need to leave the heat on high) and quieter (you don't need the hood fans as often).
The end result is delicious. You can cook world-class food with induction equipment, and many Michelin 3-star restaurants already do. At Bay View, we did a full recipe review to match our same great flavor profiles using induction equipment. Turns out if you have the right brines, marinades, seasoning and technique, you can easily adapt recipes to electric equipment without compromising taste. For example, you can achieve the smoky taste of grilled asparagus on induction simply by giving it time in a smoker or adding smoked salt.
Great equipment is available and affordable. If you haven't seen induction cooking equipment in a while, you might still imagine a flimsy old hot plate. Not even close. You can now match every piece of gas equipment with a well-designed (and increasingly affordable) electric equivalent, including skillets, chargrills and woks. At Bay View, we even have electric pizza ovens! At home, a lot of your old equipment will carry over: Common cast iron, stainless steel and non-stick pans are all induction friendly if they have a magnetic base. Just try sticking on a magnet!
You still get that sizzle. Many chefs — both professional and at home — equate a gas flame with "real" cooking. But you don't need fire to do a great job in the kitchen. For instance, you can sear proteins to enhance flavor on induction the same way you would on gas, and you still get that nice sizzle when you drop food in the pan. At Bay View (and across our cafes), we've leaned heavily into electric kitchen training sessions to help inspire our cooks, share best practices and give them the tools to do their best work.
There are creative ways to manage the electrical load. Cooking aside, all-electric kitchens do tend to increase a building's electrical load — but technology and planning can help manage that need. For example, as we've found across many of our electric cafes, smart circuit controls can automatically power down certain kitchen equipment if electricity loads get too high. At Bay View, we added spare circuits into our electrical panels for more flexibility, making it easier to accommodate changes in kitchen equipment use over time.
These lessons apply far beyond Bay View, to kitchens big and small, and I hope they inspire others to make the move to electric. What's been most rewarding to find at Bay View, and at our other electric kitchens, is that you don't have to choose between creating something delicious and protecting the planet — you can do both.