Coming soon: More ways to repair your Pixel phone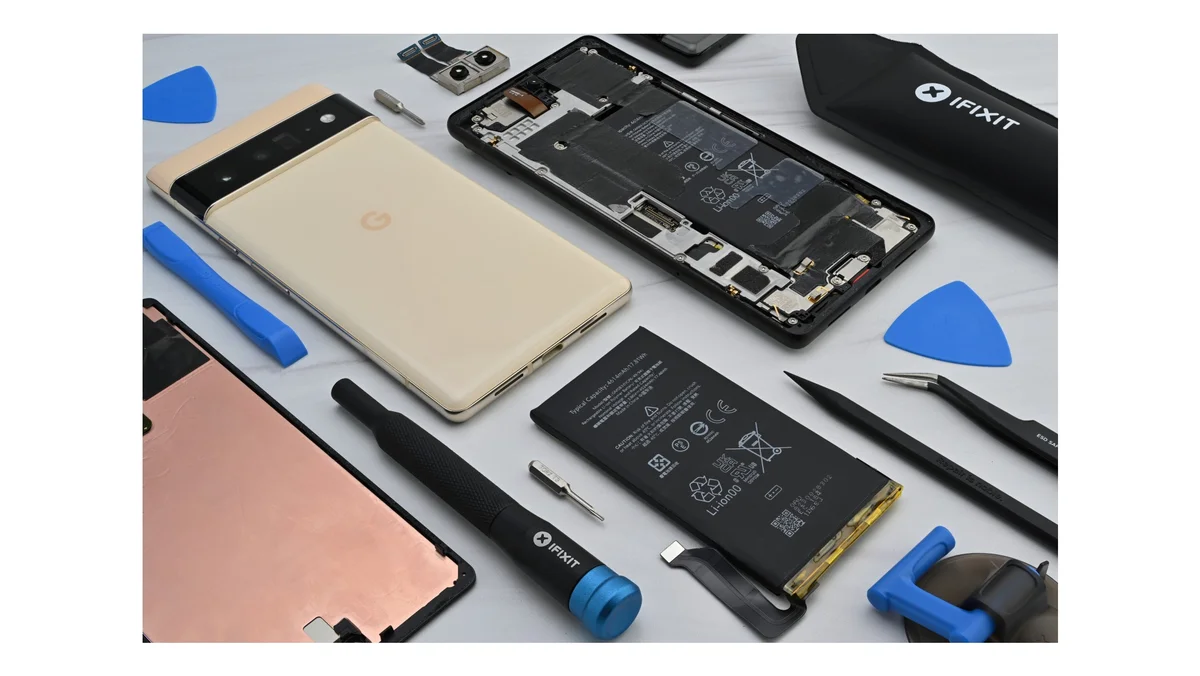 We want you to have a great experience with your Pixel phone, and that includes easy access to high-quality and safe device repair if your phone is ever damaged. That's why we're working with iFixit to make it easier for independent repair professionals and skilled consumers with the relevant technical experience to access the genuine Google parts they need to repair Pixel phones.
Starting later this year, genuine Pixel spare parts will be available for purchase at ifixit.com for Pixel 2 through Pixel 6 Pro, as well as future Pixel models, in the U.S., UK, Canada, Australia and EU countries where Pixel is available. The full range of spare parts for common Pixel phone repairs — things like batteries, replacement displays, cameras and more — will be available either individually or in iFixit Fix Kits, which include tools like screwdriver bits and spudgers.
Easier, more accessible repairs
If you don't want to make repairs yourself and would prefer professional help, you can always take your phone somewhere local to have it quickly and affordably repaired by an authorized technical expert. We already partner with independent repair providers like uBreakiFix, which has more than 750 locations across the U.S. and Canada supporting in-warranty and out-of-warranty Pixel repairs. We have similar partnerships with walk-in support providers in Canada, Germany, Japan and the U.K., with more to come. Pixel repair options are available in all countries where we sell Pixel phones.
We evaluate each new Pixel model on how easy it is to repair so we can reduce the effort, tools, parts and materials involved in the repair process. We also make training, documentation, tools and spare parts available to our authorized repair partners, and we plan on expanding this availability in the future.
We're taking steps to expand repair options for other devices, too. We recently partnered with companies like Acer and Lenovo to launch the Chromebook repair program, helping schools find information about repairable Chromebooks and develop in-house repair programs. We also introduced Chrome OS Flex, which lets education and enterprise users repurpose old Mac or PC devices to run a version of Chrome OS alongside their Chromebook fleet. This helps users save on hardware costs, effectively recycle unused devices and manage their fleet sustainably and efficiently.
Helping you make sustainable choices
Improving repairability is an important way to help extend the life and usefulness of your phone. And it's just one of several steps we're taking to help you make more sustainable choices. One way we're working toward our hardware sustainability commitments is by making sure our products can be sustainable from the start — and we incorporate that across our operations.
For example, starting in 2022, 100% of Google hardware products will include recycled materials with a drive to maximize recycled content wherever possible. Additionally, we're enabling 100% carbon-neutral shipments of Google hardware products to and from our direct customers, as well as working to achieve Zero Waste to landfill certification in 2022 and plastic-free packaging by 2025.
To help older devices work like new and last longer, we're committed to at least five years of security updates for the Pixel 6 and Pixel 6 Pro, and at least five years of automatic security updates for Nest-connected home devices from the date we start selling them on the U.S. Google Store. We're also providing quarterly software Feature Drops for Pixel phones, updates for Nest products and extended software updates for Chromebooks.
You also have options if you're not sure what to do with your phone when you don't want it anymore. In select countries, our trade-in program accepts phones from a variety of major consumer electronics brands, so you can earn credit rewards for a new Pixel and rest assured that your old phone is responsibly recycled or reused. And with our recycling program, you can mail us your old or unused devices and we'll responsibly recycle them for you. We make efforts to reclaim or recycle parts from used or returned devices, so that they don't end up in landfills. We're also always researching other safe and responsible ways to help you dispose of your old and outdated electronics.
When we built the first Pixel phone just five years ago, we made a commitment to design our hardware products in a way that's sustainable and puts our customers first. There's more to do, including expanding our repair network and improving repairability across our products. We look forward to sharing more as we make progress on this promise.