Two new pledges to reduce food loss and waste at Google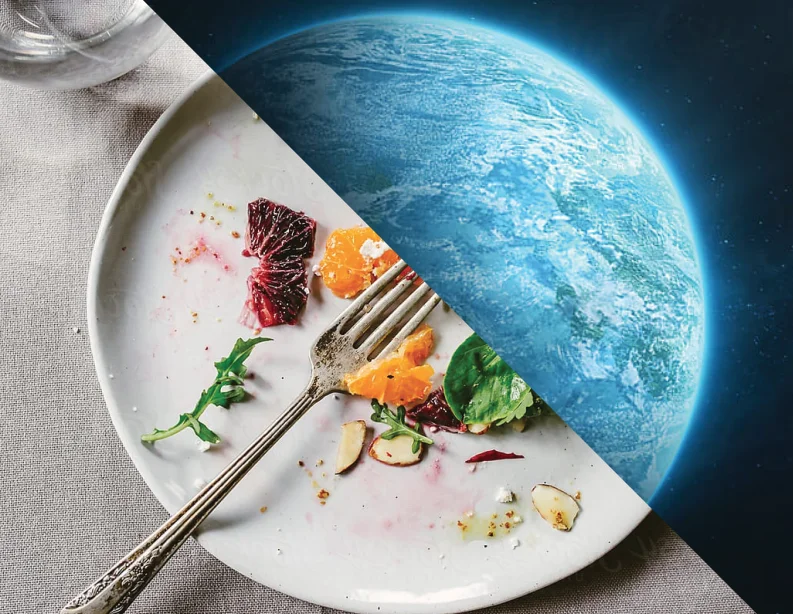 As food makes its way from farms and factories to store shelves and dining tables, nearly one-third of it ends up lost or wasted along the way. All that unused food negatively impacts the planet — it makes up eight percent of the world's carbon footprint and is the food system's largest source of carbon emissions.
To protect our planet and keep it healthy, we need to collectively cut back on food waste — for us at Google, that means doubling down on our efforts to reduce waste in our kitchens and cafes. By 2025, we aim to cut food waste in half for each Googler and send zero food waste to the landfill. To do so, we'll prevent waste during food sourcing and procurement, improve our kitchens and cafes, and make sure excess food is repurposed or disposed of properly.
Preventing waste before it happens
Our food team serves hundreds of thousands of meals each day to Googlers across 56 countries. To prevent food waste before those delicious ingredients ever reach our kitchens, we work closely with manufacturers, processors, suppliers and distributors.
One way we've done this is by sourcing produce from farms that is imperfect and would otherwise be tossed — like a misshapen carrot or an apple that is slightly blemished, but still delicious. We also buy from creative businesses that make food products from upcycled ingredients — like broth made from vegetable trimmings from a processing plant.
To help the entire food system reduce food waste in their own operations, Google is also working with agricultural and food service partners to improve supply chain transparency, traceability and data tracking. For example, an early-stage team from X, an Alphabet subsidiary, worked closely with Kroger and Feeding America®️ to explore and analyze supply chain datasets using Google Cloud technology. With more data and transparency into the supply chain we can make sure excess food goes toward a better use like feeding people who need it, instead of going to a landfill.
Rethinking our kitchens and cafes
Shutting down our offices and pausing food services at the beginning of the pandemic gave us the space to think bigger about how we can sustainably support a growing global workforce.
Now that food is back on the table at Google, we're continuing to use technology to cut back on waste in our kitchen and cafe operations. For example, Leanpath is a tool that helps chefs track what food is going to waste. They can then use that data to make changes to how they prepare, cook and serve food in cafes.
Since we started measuring our kitchen food waste in 2014, these strategies have helped divert 10 million pounds of food from our kitchens and cafes from going into the landfill. That's equivalent to eliminating 25,000 metric tons of carbon from the atmosphere or taking 5,000 cars off the road for a year.
To work toward our food waste goals, we plan to get more innovative and develop new technologies. We'll prioritize coming up with creative menu options that turn produce that would otherwise be wasted into tasty treats — like healthy slaw made from peeled and shredded broccoli stems.
And we're working on technologies that can help us make changes not only in our kitchens but in commercial kitchens everywhere. For example, over at X we piloted a project that uses computer vision to automatically determine what is going into our compost bins. We need more projects like this to create a smarter food system that knows where excess food is and what state it's in so we can make sure it gets used instead of ending up in a landfill.
Being responsible with how we dispose of food
The work doesn't stop once the food is cooked and the meal is served. We have to think about what happens to the food next— whether it's what we do with untouched components of our meals or what's left on a Googler's plate. We aim to donate the excess whenever possible or ensure that it is properly composted.
Part of managing our global food program requires having a network in place so that untouched, excess food can easily be shared with food rescue partners. We're also sharing ways that everyone at Google can do their part to reach these goals — like each of us only taking what we know we can eat. For any food product that's ready to be tossed, we're working to improve our waste separation systems to make sure that composting works everywhere. We're even piloting technology that can process organic waste onsite and smart waste collection containers that can better sort trash to divert waste from the landfill.
While we're working hard to reduce waste in our own food operations and cafes, the biggest impact will come when the entire industry works together and adopts solutions to keep food out of landfills. That's why last year we signed onto the Food Waste Action Plan — co-led by ReFED, the premier national nonprofit advancing data-driven solutions to end food waste — to urge the federal government to adopt ambitious food loss reduction goals. To further accelerate systems transformation, Google is providing $1M as an anchor funder to the upcoming ReFED Catalytic Grant Fund with the goal of accelerating and scaling food waste solutions in North America.
As we make progress toward our food loss and waste goals, we'll keep sharing what we learn with others in the industry. Together, we can keep our planet healthy.