Android 11 (Go edition): New features coming to more devices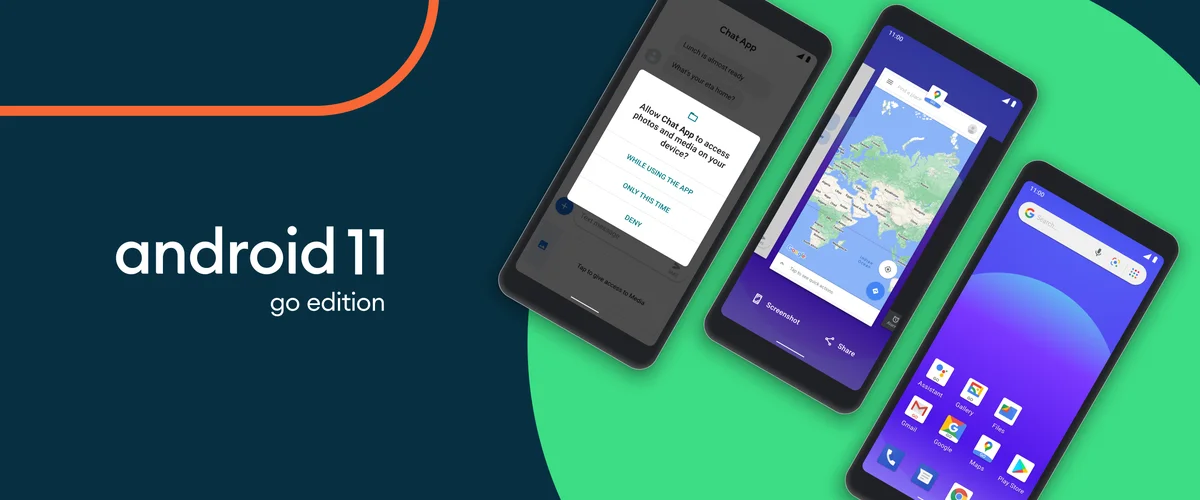 We first introduced Android (Go edition) in 2018 to provide a high-quality smartphone experience for entry-level device owners around the world. Since then, Android (Go edition) has brought improved speed, reliability, and security to over 100 million entry-level devices through apps and features specifically built to address local needs. Continuing on with that same mission, here's a look at what's new in Android 11 (Go edition).  
Improving communication, privacy and usability
On Android 11 (Go edition)  apps launch 20 percent faster than they did on Android 10 (Go edition), making it easier for you to switch between apps without your phone getting bogged down. 
Around the world people use different messaging apps to stay in touch, so they often find themselves toggling between them to chat with family and friends. Now Android 11 (Go edition) shows all of your conversations in a dedicated space in the notification section. This means you can see, respond to, and manage your conversations with family and friends all in one place, no matter what apps they use. 
Affordability shouldn't mean compromising privacy and security, which is why we've ensured that Go edition smartphones have access to the same industry-leading privacy protections as any Android device. Android 11 (Go edition) comes with new privacy enhancements that make it easier to control how and when data on your device is shared. With one-time permissions, you can grant an app access to specific sensors like your microphone, camera or location, just in that instance. And if you haven't used an app for an extended period of time, app permissions will "auto-reset" and you will immediately receive a notification of the change. You can always choose to re-grant the app permissions the next time you open the app. 
Grant individual apps one-time permissions to access sensors like your microphone, camera or location.
As devices with larger screen displays become more common,  Android 11 (Go edition) helps you take advantage of the increased screen real estate for your favorite apps. With gesture-based navigation you can go to the home screen, navigate backward, and fluidly switch between apps using simple swipes.

Switch between apps using simple swipes with gesture navigation
New app features
This year, we've also introduced improvements to our suite of apps that were specially designed for entry-level smartphones. For example, Safe Folder is a new feature in Files by Google that protects  personal files from being opened or accessed by others by storing them in a 4-digit PIN-encrypted folder.
Browse files  safely and securely with PIN-encrypted Safe Folder
More memory, more devices, more options
In the past two years, smartphone manufacturers have produced high-quality Android devices—with features like dual cameras or fingerprint scanners—at more affordable prices. As more of these memory-intensive features come to entry-level smartphones, our partners have asked us to improve performance on these devices, particularly around speed, storage, and memory. So, starting next month Android (Go edition) will be available on all new devices with up to 2GB of memory.

With the expansion to 2GB, apps launch up to 20 percent faster, and with an additional 270 MB of additional free memory, people can now run three to four more apps in the background. Android (Go edition) on 2GB devices also comes with up to 900MB of additional free storage space—enough to take up to 300 more selfies and download an entire movie.
Learn more at android.com/go