How Android phones help us be ourselves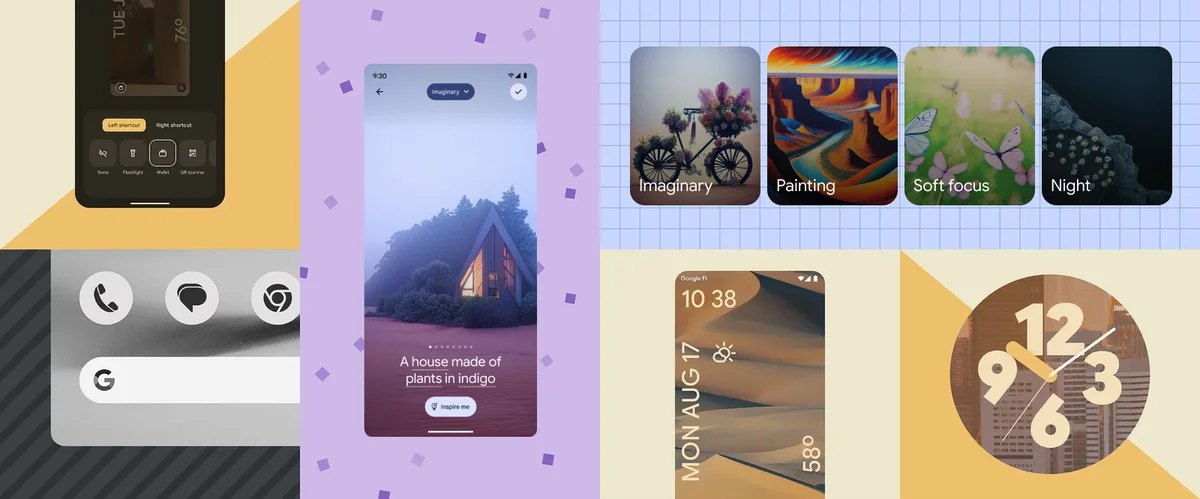 Each phone tells a different story about the person who uses it. Think about your phone's background. Some people will stick with the wallpaper that came with their new phone. Others swiftly ditch the preloaded imagery as soon as they unbox their phone and replace it with an inside joke, a sentimental kid photo, a cool image of space, a pet pic or even emoji wallpaper. And beyond that, I've seen some tricked-out Android phones full of widgets, custom themes and iconography, and deeply personal ways of organizing an app library.
Android strives to put your experience first — so your mobile phone isn't just pocket machinery, but a reflection of who you are. With the introduction of Android 14, we wanted to push for even more ways users can customize their phones so that their devices are far more than just a digital photo frame.
Make your devices your own with Android 14
Android (and Google as a whole) serves people around the world, which means we have to support a seemingly infinite spectrum of needs, wants and personal tastes. On Android 14, you'll see this work has matured, with more stylistic clock options, generative AI imagery and widgets and smarter shortcuts that better accommodate your preferences.
How many times in a day do you look at your phone to check the time? Clocks are an obvious first place to start, since they are featured prominently every time you look at your phone. Our new suite of custom clocks are not just for looks — they are also highly functional and have been designed in a manner so that you can still enjoy your wallpaper and continue to receive relevant and contextual information in our "At a Glance" space, such as weather information, travel, fitness activity, and live doorbell alerts that show who's at the door when your Nest doorbell rings, to name a few.
Customizing your lock screen goes beyond the visual, too: being able to quickly access what you need, when you need it, is fundamental. With our new custom quick shortcut feature, you can personalize what you want to access directly from your lock screen. For example, if you're a content creator, you can quickly pull up your video camera without having to manually toggle to a video recording mode after entering your camera app. Or if you're dining out, QR code scanning can be just a shortcut away.
Video format not supported

A moving animation of someone setting up a generative AI wallpaper on their phone of a house made of plants in indigo.

Video format not supported

A moving animation of someone toggling through various lock screen customization options on their phone like clock types and shortcuts
Choose a wallpaper as unique as you
With Android 14's new generative AI wallpaper experience, you can choose from a set list of prompts to build your creative vision, such as "A painting of a beach and robots in the 19th century realist style" or "A surreal palace made of flowers in shades of blue and indigo" and Google's text-to-image diffusion model will generate unique wallpapers based on this specific direction. We picked prompts that would be most meaningful to our users and give their creations more depth – from colors and mood, to subject, material and art style. Combined with Material You, the color palette of your Android system will automatically match the wallpaper you've selected.
And for those of you who prefer less color, our new monochrome theme is available to you in Android 14. We deliberately wanted to provide a theming option which felt more minimal as a compliment to the other colorful themes, for people who want something a little more understated.
Express yourself, your way
So whether you're a minimalist who just wants to see the essentials, a go-getter who wants shortcuts to everyday actions or a visionary who wants to explore generative options, Android 14 can help you express yourself every time you use your device.