What's new in the Android ecosystem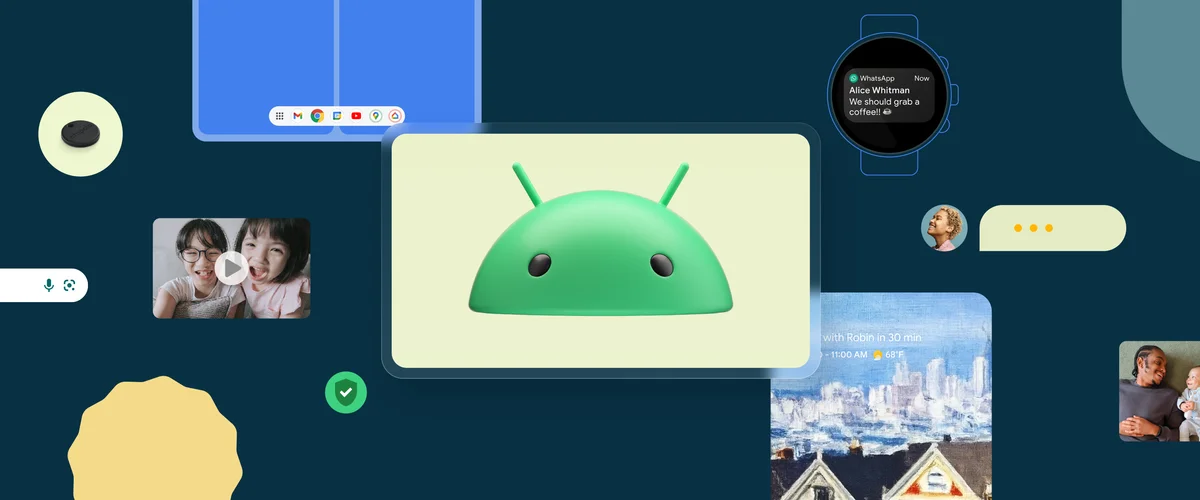 Every year, it's really exciting to see all the new technology from Google on stage at I/O. Android has always been about bringing the benefits of computing to as many people as possible. With more than 3 billion active devices around the world, we've seen how this can be helpful to people at a global scale.
Today, we showcased our continued work on connecting you to the most complete ecosystem of devices — where everything works better together — and how we're using AI to make the things you love about Android even better, starting with customization and expression. Read on for what's new from Android.
See the latest with Android, from your tablet and foldable to your watch
Large-screen Android devices are better than ever with our investment in quality and improving app experiences. More than 50 Google apps have been optimized for large screens, including Gmail, Photos and Meet. And your favorite apps like Spotify, Minecraft and Disney+ look beautiful and feel intuitive on larger screens.
These experiences work on foldables, too. Starting with the pioneering Samsung Galaxy Fold, it's amazing to see this form factor gaining mainstream appeal with new devices from Motorola, OPPO, Xiaomi, Vivo and now, Pixel. With smooth transitions across screens, improved multi-column layouts and tabletop mode, you can easily switch between tasks and get things done as you fold and unfold your phone.
We're also seeing momentum with smartwatches. Wear OS has grown over five times since the launch of Wear OS 3 in 2021, and it is the fastest-growing smartwatch platform in the world. Developers are investing in the platform as well. Soon, WhatsApp is bringing their first-ever smartwatch app to Wear OS, and more great experiences are coming this year from Gmail, Calendar and more.
Experience the best of Android on your TV and in your car
In the living room, Android TV OS is now the #1 streaming platform worldwide by shipments, and recently brought Google TV users more than 800 free TV channels in one place – more than any other streaming platform.
On the road, Android continues to bring new in-car experiences, whether it's Android Auto or cars with Google built-in. Supported by nearly every major manufacturer, Android Auto will be available in 200 million cars this year. And the number of car models with Google built-in will more than double by the end of the year.
And we're continuing to bring Android to new screens. Together with Samsung, we're building a new immersive XR platform powered by Android. We'll share more later this year.
Enjoy all your devices working better together
But Android is about more than just different types of devices — it's also about connecting them. And we've been building features to help your devices to work better together:
Fast Pair speeds up the setup process for pairing your favorite devices, including over 300 headphones.
Casting makes streaming video and audio to your devices simple, with support for over 3,000 apps.
Nearby Share is enabled on 3 billion devices, letting you easily share content with people and between your phone, tablet and Chromebook. It even works with Windows PCs, now available in Beta globally.
Keep track of all your devices with the new Find My Device
To help you keep track of all your devices, we're updating Find My Device later this summer to support a wider range of devices from different brands — from headphones to tablets and more. And to protect your privacy and safety, unknown tracker alerts will tell you if an unrecognized tracking tag is moving with you, and help you locate it. Check out this blog post to learn more about these new experiences.
Use AI to make your Android device unique to you
Powering this ecosystem of devices means Android can deliver the benefits of Google's AI innovations at a huge scale. For example, this past year, Android used AI models to protect users from 100 billion suspected spam messages.
And today, we're introducing some latest examples of how advancements in AI can make your phone even more personal, including Magic Compose, Cinematic Wallpaper and Generative AI Wallpaper. Read more about these features in this blog post.
Video format not supported

An animation of phone showing how Magic Compose works

Video format not supported

An animation of phone with cinematic wallpaper, showing woman hiking with a 3D effect applied

Video format not supported

An animation of phone showing different generated art styles like "city by the bay in a post-impressionist style"
Stay connected with friends and family
Beyond connecting all these devices to each other and helping you do more with AI, Android connects people to each other too. When you are texting in a group chat, you shouldn't have to worry about what kind of phone everyone is using – sharing high-quality images and video, seeing typing notifications and staying protected with end-to-end encryption should just work. That's why we've worked with all the major carriers and manufacturers to adopt RCS. There are now over 800 million people with RCS, on the way to 1 billion by the end of the year. We hope every mobile OS gets the message and adopts this standard.
From connecting you to a complete ecosystem of devices to using AI to make what you love about Android even better, Android is continuing to bring the benefits of computing to everyone. Stay tuned for new features arriving this year through our many updates that bring continuous improvements to Android. If you're a developer, check out Android Developers Blog to learn how you can build experiences for Android users across screens.