4 ways to do more with Google on Samsung's latest devices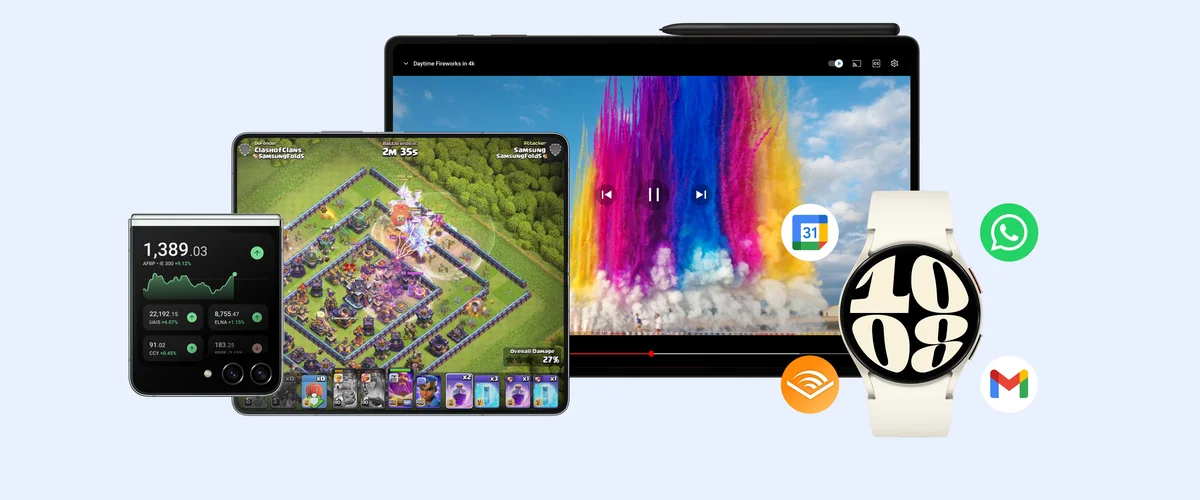 Google and Samsung have a long history of working together to create helpful experiences across Android phones, tablets, smartwatches and more. Today at Galaxy Unpacked in Seoul, Samsung unveiled the new Galaxy Z Flip5 and Z Fold5, Galaxy Watch6 series, and Galaxy Tab S9 series. We can't wait for you to try them for yourself.
Here are four ways you'll be able to experience the best of Google on Samsung's new devices, whether you're working hard on being productive — or hardly working and just relaxing with some entertainment.
1. Bring the power of widgets to the Z Flip5 cover screen
The Galaxy Z Flip5's new Flex Window, almost four times larger than the previous generation, brings new functionality to the pocket-size device. Now with widgets right on your cover screen, you can do more without even needing to flip open your phone. Track selected stocks with Google Finance and even play games from GameSnacks.
2. Jump into games for the larger screen on the Z Fold5 with Google Play
Immerse yourself in next-level gaming on the Galaxy Z Fold5, which delivers powerful performance, an advanced cooling system and improved power consumption.
Now through our partnership with Supercell, popular games like Clash of Clans and Brawl Stars will be optimized for the Galaxy Z Fold5. Enjoy immersive gaming with a full screen view on the Z Fold's expansive, unfolded display. And whether you like to play with your phone unfolded, closed or a mix of both, the Z Fold enables a more seamless gaming experience.
With app continuity, you can start an in-game attack from the Z Fold's front display and then unfold your phone mid-game to lead your clan to victory from the bigger screen, without missing a move. You can unlock additional rewards through Google Play, as you earn Play Points on every store purchase and redeem them for Google Play credits, Google merchandise or in-game items like characters or tokens.
3. Control more apps with the Galaxy Watch6
WhatsApp recently launched its first-ever smartwatch app, now available on Wear OS. With WhatsApp, you can start a new conversation, reply to messages by voice and even take calls. And later this year, Audible for Wear OS will arrive, ensuring that your favorite audiobooks and podcasts are never more than an arm's length away.
Two favorite apps, Gmail and Google Calendar, are arriving this fall to Wear OS watches. Quickly respond to emails in Gmail, and use Calendar to check your schedule and RSVP to events.
The Galaxy Watch6 series comes with the newest version of Google's smartwatch platform, Wear OS 4. This platform update is also coming soon to other Samsung Galaxy watches, including the Watch4 and Watch5.
4. Enjoy YouTube and YouTube Music with the Tab S9 series
The new Samsung Galaxy Tab S9 series offers more room to watch your favorite YouTube videos and navigate your music library on YouTube Music. With its Dynamic AMOLED 2X display, the screen comes to life in vivid color and detail.
YouTube and YouTube Music are just a few of the more than 50 Google apps that have been optimized for Android tablets including the Galaxy Tab S9 series.
YouTube has updated layouts to fit perfectly within the unique dimensions of a tablet. And with the large screen of the Tab S9 Ultra, full screen mode hits even harder when you want to see more of the action.
With YouTube Music, you can listen to music, read lyrics, and see related content side-by-side with player controls for a more immersive experience. A two-column layout also enhances how you interact with your playlists, so you can scan and reorder songs while having access to playlist controls.
We will continue to build on our longstanding partnership to bring helpful Google features to all of your favorite Samsung devices. With the purchase of a Galaxy Z Flip5, Galaxy Z Fold5 or Galaxy Tab S9 series, you'll receive a four-month trial of YouTube Premium (terms apply1) on us. Learn more about the new Samsung Galaxy devices here.