How to host a group video call to celebrate the holidays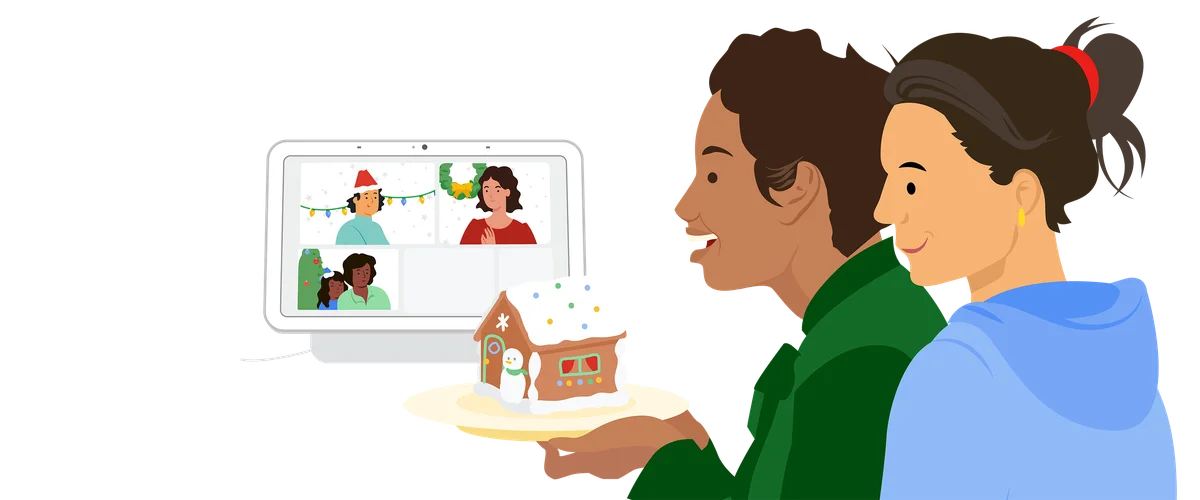 This is the first year I won't be celebrating the holidays in-person with family. I'll be with my wife and young son, and like so many others, we plan on hosting a group video call to virtually "get together" with family and friends spread out across Ireland and England. Thankfully, Google Assistant can already help us make group video calls with Google Meet or Duo—and just in time for the holidays, an early preview of Zoom calling is starting to roll out on Nest Hub Max. So if you have a Zoom account in the U.S., U.K., Canada or Australia—whether it's free or paid—keep an eye out for this new video calling option.
Because no one likes when their video call freezes mid-sentence, a good internet connection and solid Wi-Fi are a must. To help with that, Google Wifi and Nest Wifi just got even better by auto-detecting and prioritizing video conferencing on Google Meet and Zoom Meetings. 
Whichever holiday you celebrate this season, here are a few steps you can take to host your next virtual gathering.
Step 1. Ahead of the big day, create a Google Calendar invite on your phone or laptop and send it to everyone you'd like to add to your video call. You can add up to 100 people with Google Meet, so you have no excuse not to invite your second cousin once removed. If you're planning to host your call through Meet, choose the "Add Google Meet video conferencing" option. It's also OK if your family members don't use Google Calendar—simply grab the meeting ID and share it with them via email, text or whichever way you keep in touch, and all they have to do is click it to join the video call with a web browser. 
Step 2. If you're planning to host calls through Zoom on your Hub Max, you'll need to link your Zoom account to your Google account beforehand. Just make sure to create your Zoom meeting ID first and add it to the calendar invite for your guests. 
Step 3. Use your Hub Max to open Zoom, Google Meet or Duo for your holiday celebration call. Just ask, "Hey Google, join my next meeting" to join the next video call on your Google Calendar. Or say, "Hey Google, start a Zoom call."
Bonus tips:
Meet video calls are unlimited (up to 24 hours) through Mar. 31, 2021, so you won't have to worry about your celebrations being cut short.

Choose which device you'll use ahead of time—and try to place it near your router. If you have a mesh Wi-Fi system (like Nest Wifi and Google Wifi), your home will have smarter Wi-Fi coverage, so you may not need to worry about this! 

Did you know that Nest Wifi and Google Wifi users can make sure any device gets video calling preference by default? Just open the Google Home app (if you're still using the Google Wifi app, you can easily migrate your network to get this feature), tap the Wi-Fi icon at the top and ensure that video conferencing is enabled in the preferred activities settings.