Chrome enterprise
How BlackDog Advertising engages Statue of Liberty visitors with Chrome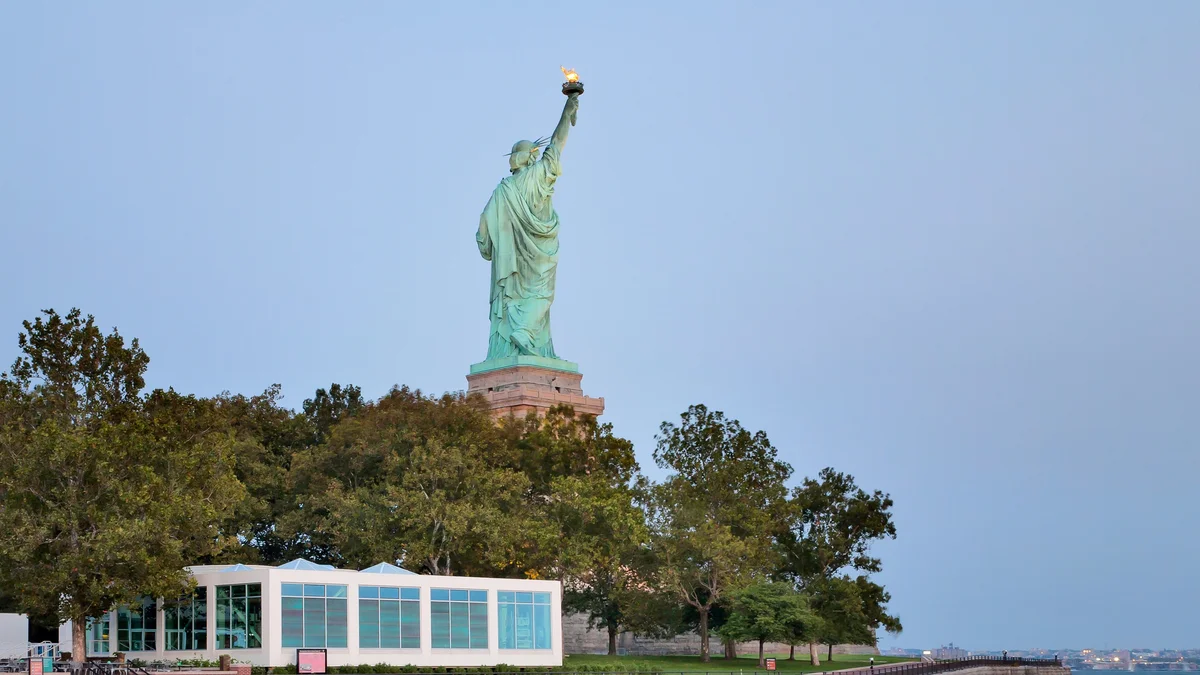 Editor's note: Today we hear from John W. Penney, creative director and CEO of Miami-based BlackDog Advertising. Read how the company used Chrome devices to build engaging signage for Evelyn Hill, a vendor on New York City's Liberty Island.
The Statue of Liberty towers 300 feet above Liberty Island, where visitors can admire its grandeur and explore the history leading to its construction. While most people know some of the statue's history, few know Evelyn Hill, the family-owned business that has been selling food, refreshments and souvenirs beneath the Statue of Liberty for three generations. We took on the challenge of transforming Evelyn Hill's gift shop and restaurant, the Crown Cafe, into a visitor destination, and driving traffic to thestatueofliberty.com.
Evelyn Hill wanted to replicate a photo contest my company, Blackdog Advertising, had created for Dry Tortugas, a remote national park off the Florida coast. This time, we'd be creating a live photo feed so visitors could see images as they were uploaded. My company had a great experience using Chrome devices before, so we decided to use Chrome digital signage devices because they are easy to deploy, cost effective and make content management a breeze.

The photo contest has driven incredible engagement — both in person and online. Over 21,700 photo votes have been cast so far, and thestatueofliberty.com saw a 270 percent traffic spike as a result. Evelyn Hill is considering ways to expand the photo contest to other locations on the island because of the success we've seen so far.
To drive high engagement, we created live-updating digital signs to draw visitors into the Crown Cafe and engage them in the photo contest. Monitors are powered by Google Chromebits that are remotely operated using Chrome Device Management, so the cafe can easily display contest results. Meanwhile, visitors can use the #PictureLiberty hashtag to share their photos on the Statue of Liberty website and encourage their friends to vote for their submission.
The flexibility of Chrome lets us optimize signage solutions. With Chrome Device Management we were able to easily install WooBox, which collected contest photos from social media, on all of our managed devices (in this case, Chromebits). We don't want to deliver cookie-cutter solutions to our customers, and Chrome enables us to build solutions that stand out from the crowd.
Using Chrome also helped keep the campaign cost effective. Since Chrome Sign Builder is free to use and the photo content is user-generated, hardware was the only cost. Each of Liberty Island's four units cost just $109, including access to Chrome Device Management, which allowed us to easily install apps on the Chromebits. Achieving this low cost would have been impossible with any other digital signage solution.
Visitors remember their time on Liberty Island for the rest of their lives, and Evelyn Hill is part of that experience. Chrome helps make that experience better. The #PictureLiberty contest and others like it will ensure the Crown Cafe remains a visitor destination for decades to come.