Chrome gets a fresh look and new features for its 15th birthday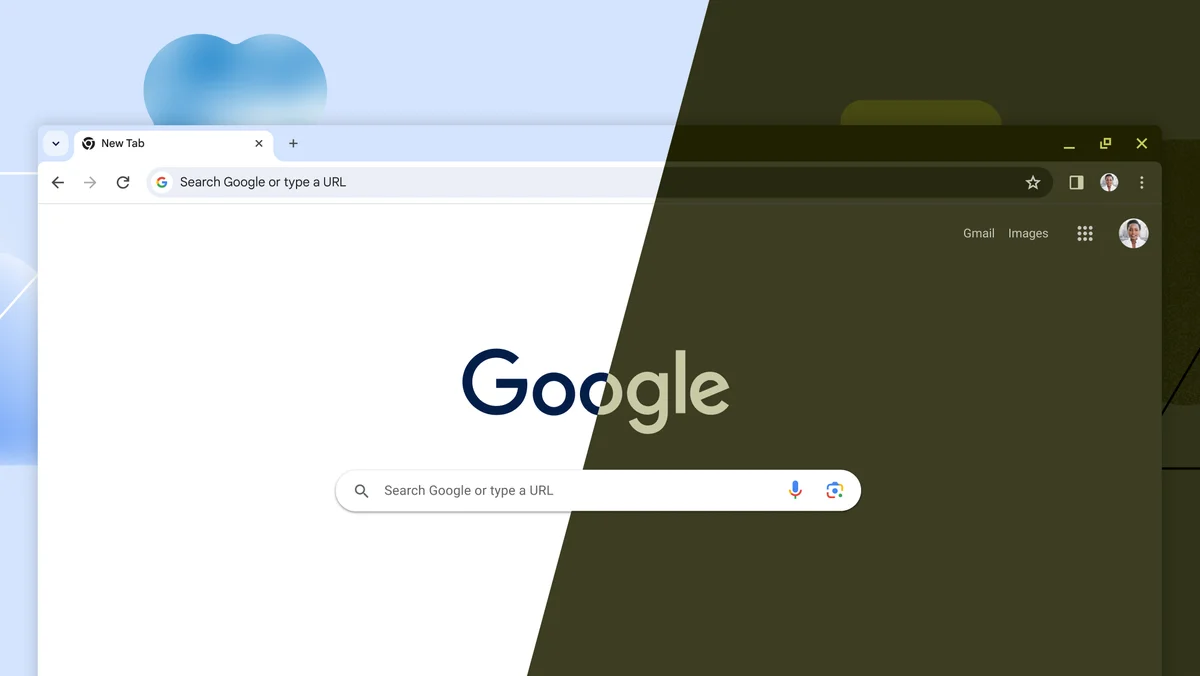 Chrome is turning 15 this month. And while a lot has changed over the last 15 years, our original goal still holds true — to build a browser that's fast, reliable, secure and easy to use.
That goal drives every improvement we make to Chrome. We release helpful features and updates to billions of users faster than any other browser and work with developers to help them improve their site performance. And this year, Chrome achieved the fastest load speeds in benchmark tests. For stronger security, we've helped push the web toward HTTPS by default and made it easier for people to manage and protect their passwords. And we've incorporated machine learning for a more accessible and personalized browsing experience.
To celebrate this birthday, we're giving Chrome a fresh look on desktop and rolling out a few upgrades that continue to make it easy, quick and safe to browse on Chrome.
Personalize your browser with Material You
In the coming weeks, Chrome will get a new look on desktop. Based on our Material You design language, we've refreshed Chrome's icons with a focus on legibility and created new color palettes that better complement your tabs and toolbar. These new themes and distinct colors can help you distinguish between profiles, like your work and personal accounts, at a glance. We've also better integrated with operating systems so your Chrome preferences can easily adapt to OS-level settings, like dark and light modes.
You'll notice some other improvements that make it easier to use Chrome — like a more comprehensive menu for faster access to Chrome extensions, Google Translate, Google Password Manager and more. (To access the menu, click the three dots in the top-right corner of your browser.)
Discover extensions in the new Chrome Web Store
We took those same Material You style cues to redesign the Chrome Web Store, making it easier to discover helpful extensions. In addition to getting a fresh, modern interface, the store will feature new extension categories — like AI-powered extensions and Editors' spotlight — plus more personalized recommendations. Try out the public preview today.
On the security front, we've now expanded Safety Check to extensions so Chrome can help identify extensions in the store that were recently unpublished, in violation of our policies, or potentially malicious. Thanks to third-party tools like CRXcavator and Spin.AI Risk Assessment, we're also helping businesses assess the risk of extensions before broadly deploying them. These assessments are available in Chrome Browser Cloud Management to help security teams make more informed decisions.
Easily browse the web with new Search features
We're continuing to make it easier to search on Chrome. We recently rolled out new capabilities that give you quicker access to information and search tools as you browse. When you're on a webpage, select the "Search this page with Google'' option from the three-dot menu. That will open the Google Search side panel, where you can find related searches, learn more about a page's source or start another search altogether. You can even pin the Google Search side panel to your toolbar.
Last month, we also extended our generative AI capabilities on Search to your web browsing experience in Chrome on desktop. U.S. users can opt in to "SGE while browsing" in Search Labs to test it out. This experiment can help you better navigate information on the web and quickly find what you're looking for on a web page. For instance, on eligible sites, you can tap to see a list of AI-generated key points with links that take you right to that information on the page. Meanwhile, the "Explore on page" feature will show you questions an article answers, with links that jump to where they're answered on the page.
Stay secure with upgrades to Safe Browsing
Google Safe Browsing in Chrome automatically protects you by flagging dangerous sites and files. Previously, it worked by checking every site visit against a locally-stored list of known bad sites, which is updated every 30 to 60 minutes. But phishing domains have gotten more sophisticated — and today, 60% of them exist for less than 10 minutes, making them difficult to block.
To block these dangerous sites the moment they launch, we're upgrading the Standard protection mode of Safe Browsing so it will now check sites against Google's known-bad sites in real time, without sharing your browsing history with Google. By shortening the time between identification and prevention of threats, we expect to see 25% improved protection from malware and phishing threats. This update will roll out to Chrome in the coming weeks.
If you want even more protection, you can always turn on Safe Browsing's Enhanced Protection mode, which continues to block new attacks with AI, provide deep scan for files, and offer extra protection from malicious Chrome extensions.
Thanks to all of our users for the last 15 years! There's so much to explore on the web, and we'll keep making improvements like these so you can easily and safely find what you need. Look out for more updates ahead.