20 new Chrome themes from Asian American and Pacific Islander artists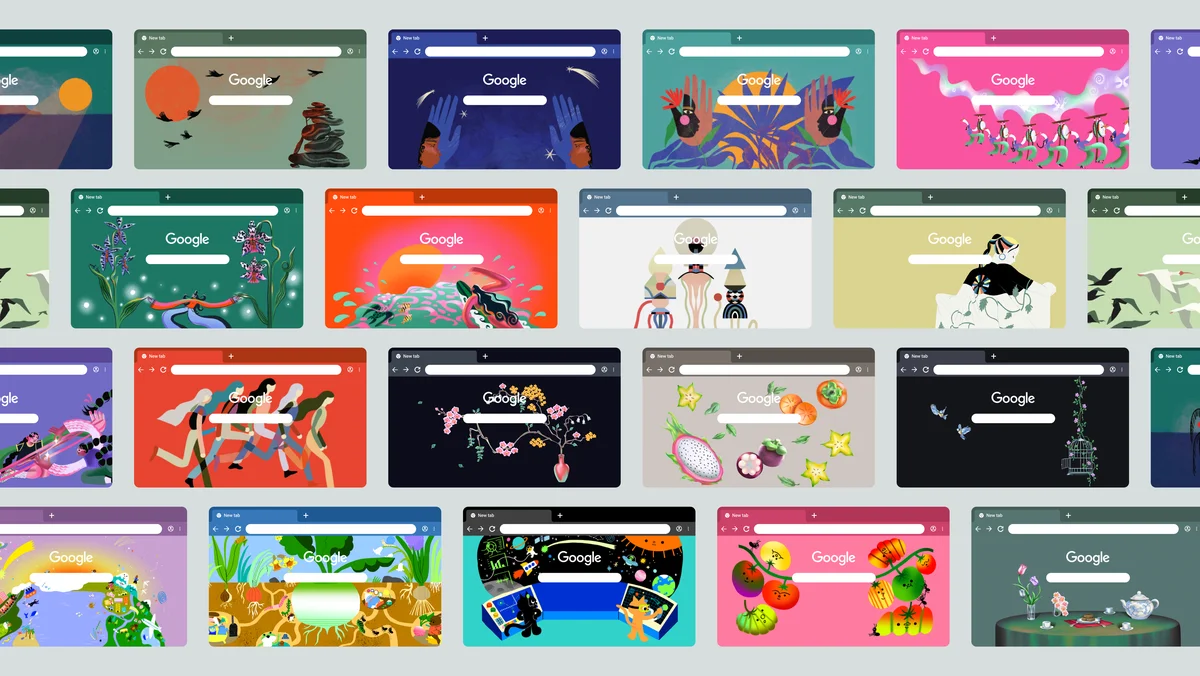 For Asian Pacific American Heritage Month (APAHM), we commissioned five Asian American and Pacific Islander artists to design 20 new Chrome browser themes. The collection reflects each artist's unique background and experiences, and celebrates the diversity within the Asian community.
Growing up as a Japanese Korean American, I often struggled to feel a sense of belonging, even among other Asians — never feeling quite Japanese or Korean enough. But traveling to Honolulu, where my dad grew up, showed me a true melting pot of Asian cultures. Those trips ultimately helped me see and value the nuances within different Asian communities, including my own — which are beautifully captured in this collection.
Here's what the artists shared about some of their work:
"Drum Circle" by Ashley Lukashevsky

"This illustration captures the spirit of a line of Korean folk drummers. The drummers are diasporic Koreans from different walks of life, playing together to be in touch with the grounding power of their ancestors."

"Highlights" by Eve Liu

"Just as you might add highlights to your new hairstyle, this piece adds pop elements to traditional art."

"Trà (Tea)" by Khôi Bảo Phạm

"Trà means "tea" in Vietnamese. This piece depicts tea time, where stories and laughs are shared. The snack featured is coconut agar jelly cake (Thạch Dừa)."

"Flowering Away from Home" by Shyama Kuver

"In this piece, blue leaves grow in many directions, while open palms that hold reflected faces look at one another. The piece signifies that it doesn't matter where we are; the opportunities to look within and grow are endless."

"World is Your Oyster" by Subin Yang

"The world can feel so small and so big at the same time. Change your perspective, and the world will change with you."
To apply one of the APAHM themes (or others from Black, Latino, LGBTQ+ and Native American artists) to Chrome browser on your computer, visit the Chrome Web Store collection, select a theme and click "Add to Chrome." You can also open a new tab in Chrome and click the "Customize Chrome" button on the bottom right to explore the collection.