How the Chromebook team uses Nearby Share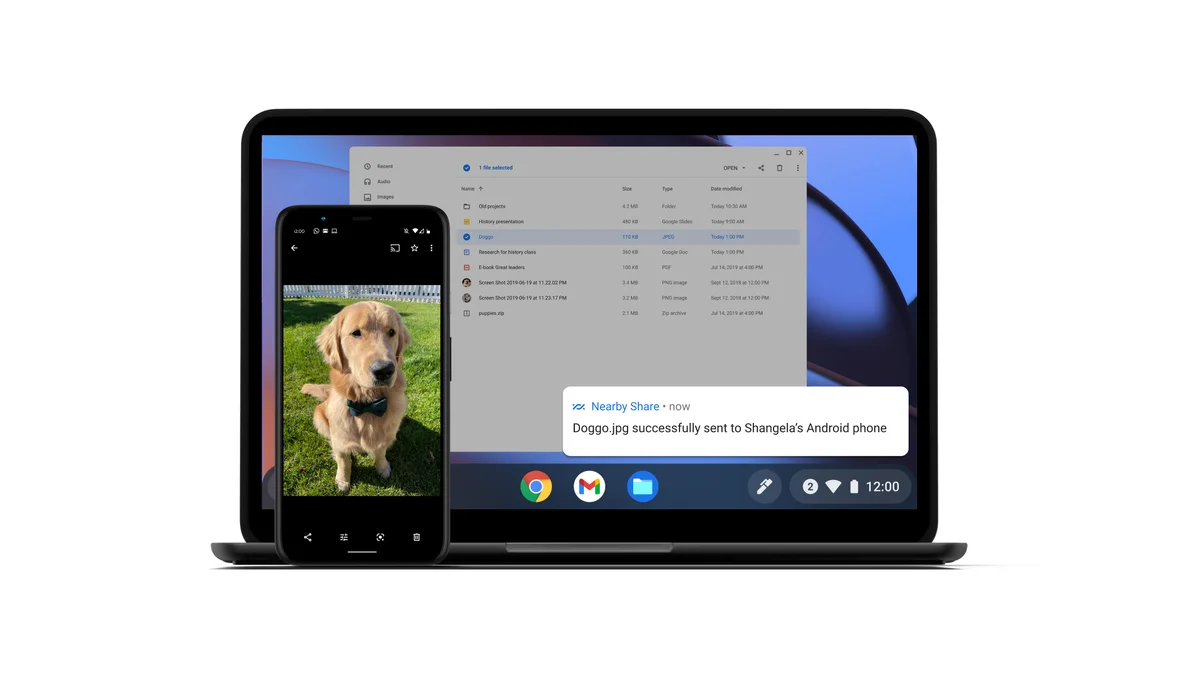 Earlier this year we announced that Nearby Share is coming to Chromebooks, so you can quickly and securely share files between your Chromebook and other Chrome OS or Android devices. It's rolling out today, alongside new additions like wallpapers, app notifications and an easier way to share files for offline use.
Our colleagues on the Chrome OS team have been using Nearby Share for some time now, so we asked them how they use it to share images, transfer files and get things done.
Sharing images and content with family and friends
"My wife and I are avid travelers: the more off the beaten path, the better! At the end of each vacation day, we combine our photos and choose the best to share with friends and family back home, which isn't always possible when we're camping or staying somewhere without internet.  With Nearby Share, now we can transfer photos between our devices offline, so we're always ready to share that special memory." – Jesse Johnston, product manager
"My pandemic hobby is de-stressing by surfing real estate listings. With Nearby Share I'll be able to conveniently share screenshots, links and photos of home decor from my Chromebook to my husband's even when he's only five feet away from me in our tiny apartment." – Shiba Sheikh, design lead
"Spring weather has arrived and I'm spending more time outdoors with friends. Since we're staying socially distant, I'm looking forward to using Nearby Share to show them my dog's latest trick: jumping through a hoop. I also appreciate that I can choose to keep my contact details hidden, so my information stays private." – Shea Ritchie, product marketing
Transferring files between Chrome OS and Android devices
"As a software engineer, I often have to troubleshoot an issue on one device using data collected from a different device. So it's really helpful that Nearby Share works seamlessly across Chromebooks and Android phones." – Kyle Horimoto, engineer
"Nearby Share recently came in handy when I was helping my kids with a school project on 'Fascinating Birds.' On my phone, we found and edited the perfect image of a peregrine falcon. In a few taps I shared the image with a Chromebook, and it became the opening slide of their presentation." – Vishal Ohri, technical program manager
Helping people get things done more easily
"Like many people, I often switch between my phone and laptop. My favorite part of testing Nearby Share has been the ability to quickly share not just files or MP3s, but also text snippets and URLs, without the effort and hassle of emailing myself. I like to send news articles or shopping links from my phone to my Chromebook so I can read or comparison shop on a larger screen." – Ryan Hansberry, engineer
"The team was excited when Nearby Share was stable enough to start to use – we actually used Nearby Share as an internal tool to help us finish building Nearby Share! I like that it lets me bypass email's attachment size limit, so it's fast and easy to securely send multiple files at once." – Josh Nohle, engineer
A few more new things on Chromebooks this month...
See which of your apps need your attention with a glance. A small circular badge will appear on an app icon to notify you that the app has active notifications available or something new for you to view. You can turn these badges off by visiting your Quick Settings and clicking "Notifications." 
App badges make it easy to see if you have a notification.
We've added new wallpapers and account images for Chromebooks. Artist Leo Natsume  created these fun, digitally-sculpted designs. The bright, cheerful scenes are great for kids or adults. To check them out, go to Quick Settings, then "Personalization," or right-click your desktop and select "Set wallpaper," the "Imaginary."
Check out a few of Leo Natsume's new wallpapers for Chromebooks.

Check out a few of Leo Natsume's new wallpapers for Chromebooks.

Check out a few of Leo Natsume's new wallpapers for Chromebooks.

Check out a few of Leo Natsume's new wallpapers for Chromebooks.

Check out a few of Leo Natsume's new wallpapers for Chromebooks.

Check out a few of Leo Natsume's new wallpapers for Chromebooks.
Save your Google Docs, Sheets and Slides files for offline access right from your Files app. Once you've saved a file, you can open and edit it even if you aren't connected to the internet. To try it, go to your Files app, select the Drive files you want to save and flip the "Available offline" toggle on. You'll see a check mark next to saved files, and you can also find them in the dedicated "Offline" folder. This feature will start rolling out later this month.
Select Google Drive files for offline access, right in Chromebook's Files app.
We'll be back soon to share more new Chromebook features.