Devices & Services
22 products and features we launched in 2022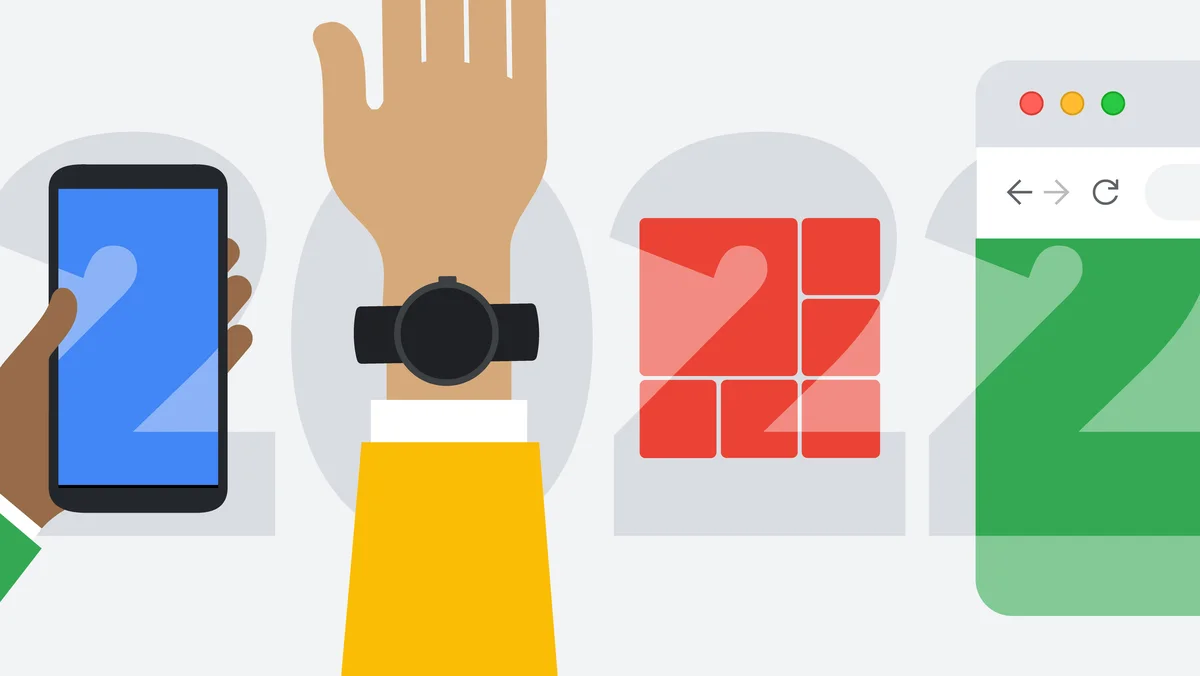 We're just about to auld lang syne-off for the year, but before we do we wanted to take a quick look back on some highlights from the past 12 months! Here are 22 Google products and features launched in 2022:

5. Pixel Buds Pro debuted to deliver full, immersive sound. The premium earbuds use technology like Silent Seal™, Volume EQ and Active Noise Cancellation to fit your ears better while making sure your music, podcasts, phone calls or anything else you're listening to comes through distraction-free.
6. Real Tone was introduced with the Pixel 6 and 6a in 2021, and this year we partnered with Diversify Photo to evaluate our progress and improve the technology to see people of every skin tone more equitably. Thanks to them, Pixel 7 and Pixel 7 Pro have the most inclusive smartphone camera.
7. Also new to Pixel: Photo Unblur, a Google Photos feature for Pixel 7 and Pixel 7 Pro that removes blur and visual noise. It even works on pictures in your library taken with a different phone or camera and scanned images.
8. With the launch of our latest Pixel phones, we also introduced the second-generation Google Tensor G2. It's the only processor that makes it possible to bring Google's artificial intelligence and machine learning directly to the phone.
9. The new Nest Doorbell was part of our new hardware lineup this year, too. The second-generation, wired version of the popular product uses your doorbell's existing wires so it never runs out of power.
10. And we introduced the latest Chromecast with Google TV (HD), which comes in Snow and has Google TV's streaming hub built in.
11. What's a smart home without smart Wi-Fi? This year we announced the Nest WiFi Pro with Wi-Fi 6E, a mesh network that uses the fastest lane on the internet highway.
12. While we're on the topic: What's a smart home with smart Wi-Fi without a specific place where you can control it all? We upgraded and are continuing to update the Google Home app to make using your smart devices better and easier.
13. We introduced three new Fitbit devices: The Inspire 3, the Versa 4 and the Sense 2. All three are thinner and more comfortable than previous generations, with improved battery life to boot. Choose your fighter!
14. Gmail got a whole new look based on our Material Design 3. The unified inbox makes it easier than ever to stay connected with Google Meet and Chat if you want. And the refreshed design includes new search chips to help you easily find what you need in your inbox.
15. We launched an entirely new way to search with multisearch. Using Google Lens, you can combine photos and text to find exactly what you're looking for. For example, take a screenshot of a dress with a cool pattern and add the query "wallpaper" to see if there's something similar to decorate your home. And now, you can use "multisearch near me" to quickly find a food dish or item nearby.
16. Earth Engine, a system that monitors the planet's environment, launched in 2010 and has been available to scientists and NGOs since. This year, we opened it up to governments and businesses so that more of the world can join the climate fight.
17. We introduced Immersive View on Google Maps at I/O and then launched it in September with 250 photorealistic aerial views of global landmarks, including the Tokyo Tower and the Acropolis.
18. New creative features — like a subtle zoom effect and selected snippets — debuted in Photos Memories, making looking back even better.
19. We brought lots of new features to Google Docs, including the much-requested pageless format. Now a doc you're working on can go without the page separation and expand to the size of whatever screen you're working from.
Remove the constraints of page boundaries with pageless format in Docs.
20. Tab lovers certainly appreciated the new site search shortcuts we introduced for Chrome — including @tab, which lets you immediately and easily sort through your open tabs.
21. AR shopping got a big upgrade for beauty lovers: You can find the perfect foundation shade by trying it on a model with your similar skin tone from our photo library, making it easier to see if it will work for you. Sneakerheads also got some nifty new AR features that let you swivel around and zoom in on every little shoe detail.
22. Speaking of online shopping: We launched Google Wallet, the new Android app that serves as a home for your credit cards, boarding passes and even your vaccine card!
It's been a big year — and now we can't wait to show you what 2023 will bring.