11 Google Docs tips I use every day to save time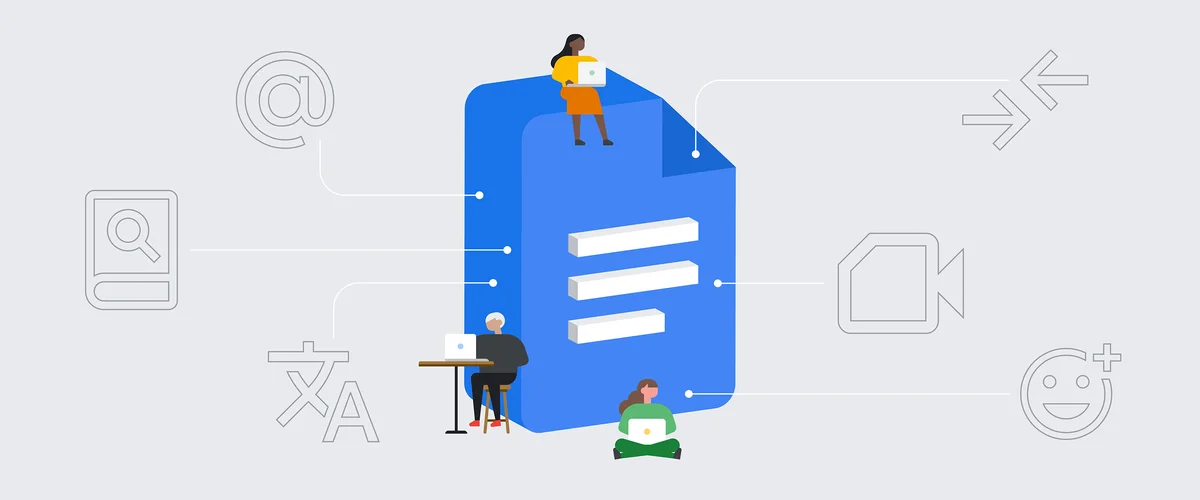 I am an avid Google Docs user. On any given day, I may use Docs to write and read work documents, draft emails, take notes, organize my thoughts and even plan vacation itineraries. Given all the time I spend in Docs, I've unsurprisingly discovered quite a few features that help make all that writing, drafting, editing, reading, note-taking, organizing and itinerary-planning so much easier. Here are 11 of my best tips for all Google Docs users, whether you're using Docs for work, school or play.
1. Keep projects on track with smart chips and building blocks
I spend a good chunk of my day collaborating with coworkers, and smart chips and building blocks help make it easy. For example, I'll use the Google Docs "meeting notes" building block to automatically create meeting notes in preparation for a meeting; it includes the name of the meeting, the date, the attendees and an outline for tracking an agenda and action items.
Once the meeting is over, I use smart chips to add additional context to my notes. For instance, when you type a person's name, file name or location into your document, a smart chip will appear. You can then hover over the chip to see additional information about the person, date, file or location. And for particularly complicated projects, I like to use the "Project roadmap" building block to create a table that lists out all the tasks, who they're assigned to and the status of everything. These features help me stay organized and help my colleagues stay on track.
Try it yourself: Type "@" in a Doc — this will show you a list of smart chips and building blocks to choose from. To create meeting notes or project trackers, scroll down to the building blocks section, and select "Meeting notes" or "Project roadmap." To insert people chips or assign a task to a colleague, scroll to the smart chips section and select your action of choice — you can add people and assign them specific tasks with due dates, as well as insert voting chips, locations or dropdowns.
2. Draft emails and calendar invites in Docs with building blocks
Sometimes when I'm writing an important email or calendar invite, I prefer to get feedback from one or two coworkers before pressing send. I use building blocks for this — the "Email draft" and "Calendar event draft" blocks let me write (and collaborate on) these drafts in Docs. Once I feel confident that my drafts are good to go, I can then export them directly to Gmail or Google Calendar.
Try it yourself: Type "@email draft" or "@calendar event draft" in your Google Doc and write your draft in the spaces provided. You can tag relevant team members, comment and collaborate on the content, just like you would in any Google Doc. Once it's ready, press the Gmail icon on the left-hand side to export the email to Gmail; press the Calendar icon on the left-hand side to preview the invite in Calendar.
3. Easily insert your bio or signature to Docs with custom building blocks
There are certain pieces of text — like my signature and bio — I find myself copy and pasting to Docs often at work. To save time, I created a custom building block for my bio, so instead of copy and pasting it every time I need it, I can quickly insert it into a Doc just by typing the "@" symbol, then typing the name of the block you saved.
4. Compare two Docs with ease
Occasionally I have to review two versions of a document — and that can be tricky when they both look the same at first glance. Whenever this happens, I use the "Compare documents" feature, which creates a new document that shows you the differences between them.
Try it yourself: Click Tools in the menu of one of the Docs and select "Compare documents." From there, you can select a Doc in your Google Drive to compare. Google Docs will then create a new document that highlights the differences between the two in red, making it easy to see what's changed — and catch potential errors.
5. Customize your dictionary in Google Docs
When I'm organizing my personal to-do list or writing for pleasure, I sometimes abbreviate words or use shorthand. "Mtg" instead of "meeting," "cal" instead of "calendar," the list goes on. To save time, I've personalized my Google Docs dictionary by adding these custom words so Docs doesn't identify them as misspelled.
Try it yourself: Go to Tools, click "Proofread" and then "Personal dictionary."
6. Make a Doc more accessible with alternative text
Since it's important that everyone I share a Doc with can read it, I always add alternative text to images, drawings and other graphics. This provides screen reader users with an audio description of all the visuals I've included.
Try it yourself: To add alternative text, right click on an image, drawing or graphic and select "Alt text."
7. Present in and join Google Meet calls right from Docs
Using the Google Meet feature right in Docs is an easy way I keep browser tabs to a minimum. When I'm collaborating with coworkers in a Doc and want to quickly sync about what we're working on, we can join a Google Meet call directly in the Doc.
Try it yourself: Click the Google Meet icon next to the Share button at the top right corner of a Doc. From there, you can choose to join an already scheduled meeting that autopopulates from your Google Calendar, start a new meeting or enter a meeting code. Once you're in the Google Meet call, you can present a Doc while still seeing other participants on the right side of your screen.
8. Create translated versions of Docs in seconds
I work with folks all across the globe who often send me Docs that aren't in my native language. To save time, I translate the text directly in Docs so that I understand better what I'm reading. This feature lets you choose from many languages and creates a copy of the document in the language you select.
Try it yourself: To create a translated copy of a Doc, go to Tools and click "Translate document."
9. React quickly with emoji
When I see a comment or suggestion I like in a Doc, I want to express my agreement but don't necessarily want to add clutter with one-word comments. Instead, I react with emoji. All I have to do is select a comment and click the smile emoji to choose from all my favorite options—my go-to is the party popper emoji (🎉).
Try it yourself: Hover over the comment and click the emoji icon. From there, you can choose the appropriate reaction, like a plus sign (➕) or thumbs up (👍). You can also add an emoji as a comment by highlighting text, right clicking and choosing "insert emoji reaction."
10. Go hands-free with voice typing
Sometimes I like to talk an idea out as a way to organize my thoughts. The "Voice typing" feature in Google Docs will transcribe what I'm saying word-for-word directly into the Document. I also really like to turn on "Voice typing" during meetings. It lets me stay focused on the conversation, but know that everything is being transcribed into my Doc in case I need to refer back to it later.
Try it yourself: Open the document and click on Tools and then "Voice typing." A microphone icon will appear on the left in the document. When you're ready to start speaking, click on the microphone icon and Google Docs will transcribe your words into the document.
11. Quickly cite your sources
Manually citing sources in a long paper or essay can take me almost as long as writing the assignment itself. That's where the citation generator in Docs comes in handy; it can quickly add citations to a document using MLA, APA or Chicago style.
Try it yourself: Click Tools, then select "Citations." From there, you can choose a style and add sources. Then the generator will automatically add citations to your document.