New Nest products and features for a better smart home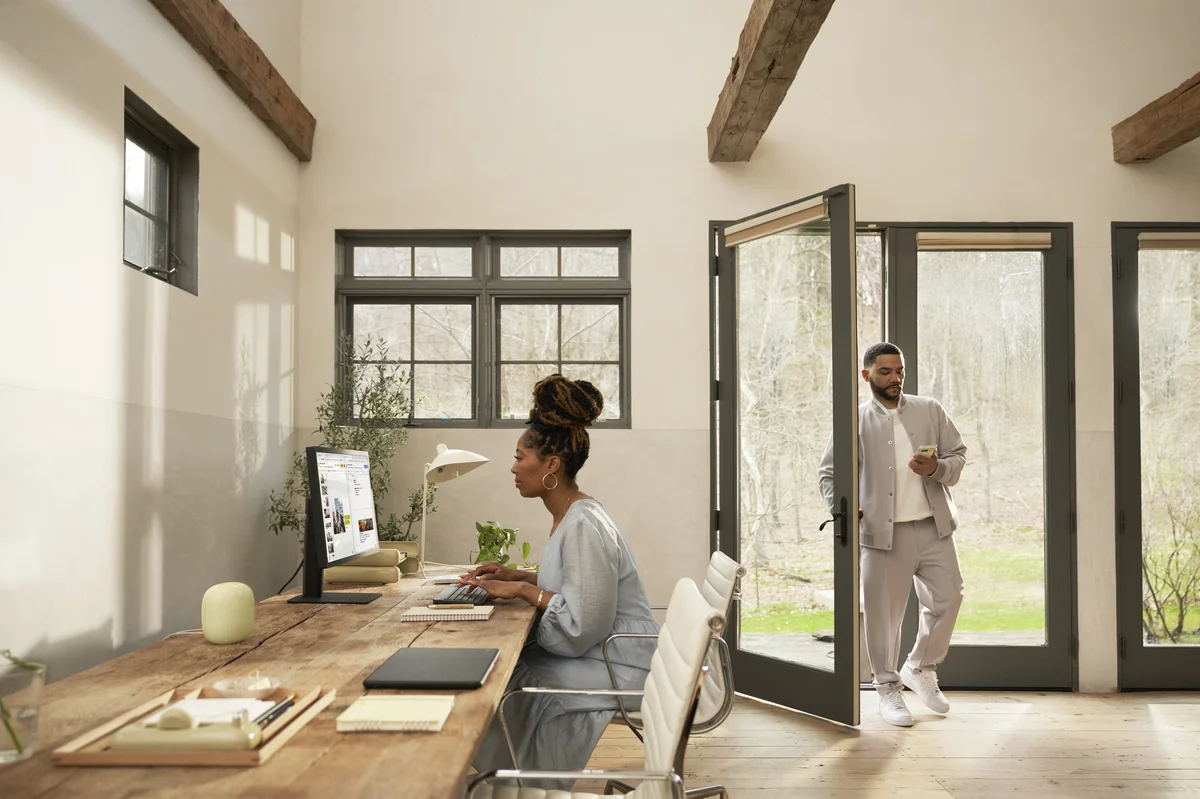 Just 10 years ago, the smart home felt out of reach for most people — it was expensive, complicated and intimidating to set up. Today, a lot has changed. The average household now has 25 connected devices — seven times more than just five years ago — and those devices have become a natural part of our everyday lives. Our homes automatically adjust to our preferred temperature, lights turn on and off with a simple voice command and our security cameras instantly alert us when something is amiss.
With so many smart home devices around today, we believe they can make an even bigger impact on people's lives. And we're constantly working on new features to do just that. Today, we're sharing our latest Nest products and features to help you keep your family safe and secure, stay better connected and make more sustainable choices.
More sustainable options with Nest Renew
Your smart home can support a clean energy future. With products like Nest Renew, your thermostat can automatically shift your heating and cooling usage to times when you can prioritize clean energy sources in your area, like wind and solar. Nest Renew is coming out of early preview today, where it's already helped our customers prioritize over 20 million hours of cleaner energy usage — while also saving them money.
New and smarter devices
Our new Nest Doorbell (wired, 2nd gen) has smarter features to bring you more peace of mind. It uses your existing doorbell's wires so you never have to worry about charging it or running out of power. And with the help of Google's built-in machine learning, it can do things like send faster, more accurate alerts and tell the difference between people, packages, pets and vehicles. Best of all, our new Nest Doorbell provides industry-leading image quality so you never miss an important moment.
And with the Chromecast with Google TV (HD) we introduced last month, your smart home can help out in new ways. Find what to watch (without jumping from app to app) using Google TV, or check out your front porch on the big screen with your new Nest Doorbell.
Stronger connections with Wifi Pro and Matter
Along with building new products and features to make your smart home better, it's just as important to get the foundation right. Across the industry, connecting all your smart home devices isn't nearly as easy as it should be. Devices are hard to set up, they don't always work when you need them to and there are too many apps to navigate. Managing your smart home should be as simple and reliable as flipping a light switch.
We believe a lot of that can change with Matter, a new smart home connectivity standard developed by Google and other industry partners launching this fall. With Matter, the next wave of smart home devices will be more secure, more reliable and able to work with each other right out of the box. We're committed to supporting Matter across our Google ecosystem — from enabling Fast Pair with Matter on billions of Android phones for simple device setup, to updating our existing Google Nest smart speakers, smart displays and routers to control Matter devices.
That includes our Nest Wifi Pro router, our new high-performance Wi-Fi 6E tri-band mesh router system. With Nest Wifi Pro, you'll get access to the all-new 6 GHz radio band, enabling Wi-Fi up to two times faster than Wi-Fi 6. It uses AI to constantly optimize network traffic, automatically switching bands to avoid congestion. And it can proactively monitor itself, diagnose issues and fix network problems on its own. With built-in Thread and Matter hub support, it's one of the most reliable connectivity solutions for your smart home.
A redesigned and more helpful Google Home app
With Matter as the foundation, we can also better connect our smart home ecosystem. Your smart home should be helpful across all of your devices — including smart speakers, phones, watches and tablets. For us, that starts with the Google Home app.
The newly redesigned Home app is built to support your smart home now and in the future. You can access and manage over 80,000 different Works with Google Home devices in a single place. We're also introducing new customization features, like Favorites and Spaces, so you have more control over the devices that matter most to you and your home. We've redesigned the camera experience so you can quickly access the live view of your cameras, easily scroll through video history and revisit your most important moments. And we've made it even easier to automate your smart home devices with a new Automation tab, plus more starters and actions. Early next year, we'll launch a script editor with over a 100 new features and capabilities to help you create more unique routines that fit your needs. These new Google Home app experiences will be available first in Public Preview over the next few weeks.
To learn more about Nest Wifi Pro, Nest Doorbell (wired 2nd) and all the Google Home app updates, check out the Google Store.