Made for music, the new Nest Audio is here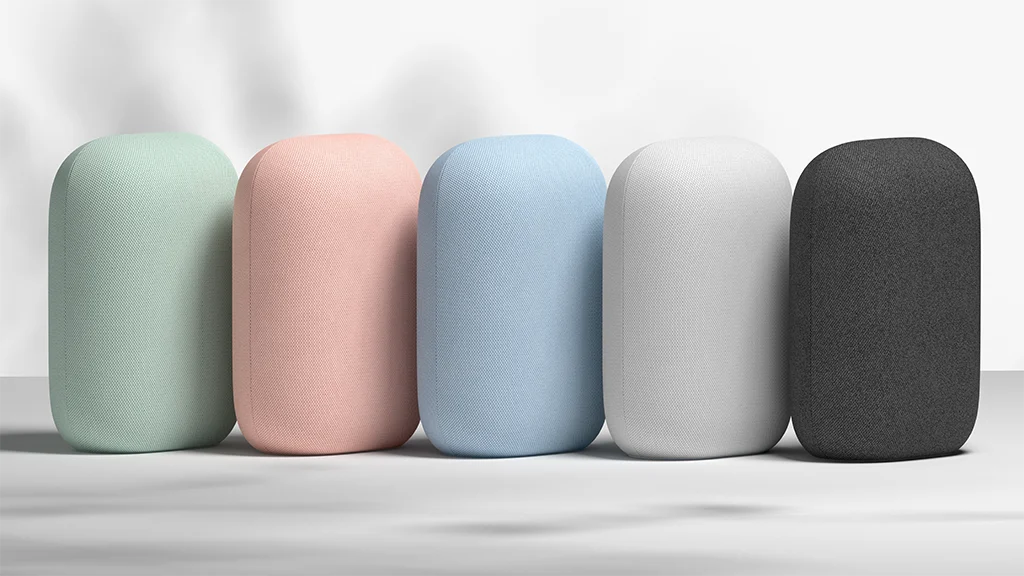 This year, we've all spent a lot of time exploring things to do at home. Some of us gardened, and others baked. We tried at-home workouts, or took up art projects. But one thing that many—maybe all of us—did? Enjoyed a lot of music at home. I've spent so much more time listening to music during quarantine—bossa nova is my go-to soundtrack for doing the dishes and Lil Baby has become one of my favorite artists. 
We worked with Kelton Research and found that over the past five months, Americans increased the amount of time they spend listening to music at home by 61 percent, and many people nearly doubled the amount of time they spend jamming out at home. So, given we're all listening to more music than ever, we're especially excited to introduce Nest Audio, our latest smart speaker made for music lovers.
A music machine
Nest Audio is 75 percent louder and has 50 percent stronger bass than the original Google Home—measurements of both devices were taken in an anechoic chamber at maximum volume, on-axis. With a 19mm tweeter for consistent high frequency coverage and clear vocals and a 75mm mid-woofer that really brings the bass, this smart speaker is a music lover's dream. 
Nest Audio's sound is full, clear and natural. We completed more than 500 hours of tuning to ensure balanced lows, mids and highs so  nothing is lacking or overbearing. The bass is significant and the vocals have depth, which makes Nest Audio sound great across genres: classical, R&B, pop and more. The custom-designed tweeter allows each musical detail to come through, and we optimized the grill, fabric and materials so that you can enjoy the audio without distortion. 
Our goal was to ensure that Nest Audio stayed faithful to what the artist intended when they were in the recording studio. We minimized the use of compressors to preserve dynamic range, so the auditory contrast in the original production is preserved—the quiet parts are delicate and subtle, and the loud ones are more dramatic and powerful. 
Nest Audio also adapts to your home. Our Media EQ feature enables Nest Audio to automatically tune itself to whatever you're listening to: music, podcasts, audiobooks or even a response from Google Assistant. And Ambient IQ lets Nest Audio also adjust the volume of Assistant, news, podcasts and audiobooks based on the background noise in your home, so you can hear the weather forecast over a noisy dishwasher. 
Whole home audio
If you have a Google Home, Nest Mini or even a Nest Hub, you can easily make Nest Audio the center of your whole home sound system. In my living room, I've connected two Nest Audio speakers as a stereo pair for left and right channel separation. I also have a Nest Hub Max in my kitchen, a Nest Mini in my bedroom and a Nest Hub in the entryway. These devices are grouped so that I can blast the same song on all of them when I have my daily dance party. 
With our stream transfer feature, I can move music from one device to the other with just my voice. I can even transfer music or podcasts from my phone when I walk in the door. Just last month, we launched multi-room control, which allows you to dynamically group multiple cast-enabled Nest devices in real time. 
An even faster Assistant
When we launched Nest Mini last year, we embedded a dedicated machine learning chip with up to one TeraOPS of processing power, which let us move some Google Assistant experiences from our data centers directly onto the device. We've leveraged the same ML chip in Nest Audio, and in the U.S., Google Assistant on Nest Audio learns your most common music commands and responds two times faster than the original Google Home. 
Google Assistant helps you tackle your day, enjoy your entertainment and control compatible smart home brands like Philips Hue, TP-Link|KASA and more. In fact, people have already set up more than 100 million devices to work with Google Assistant. Plus, if you're a YouTube Music or Spotify Premium subscriber, you can say, "Hey Google, recommend some music" and Google Assistant will offer a variety of choices from artists and genres that you like as well as others that are similar.
Differentiated by design
Typically, a bigger speaker equals bigger sound, but Nest Audio has a really slim profile—so it  fits anywhere in the home. In order to maximize audio output, we custom-designed quality drivers and housed them in an enclosure that helps it squeeze out every bit of sound possible. 
Nest Audio comes in five colors: Chalk, Charcoal, Sand, Sky and the all-new Sage, an earth tone inspired by our ongoing responsibility to protect the environment. Its soft, rounded edges blend in with your home's decor, and its minimal footprint doesn't take up too much space on your shelf or countertop. 
We're continuing our commitment to sustainability with Nest Audio. It's covered in the same sustainable fabric that we first introduced with Nest Mini last year, and the enclosure (meaning the fabric, housing, foot, and a few smaller parts) is made from 70 percent recycled plastic. 
Nest Audio is available for $99.99 online at the Google Store and other retailers in the U.S., Canada and India starting Oct. 5. You can find it on shelves at retail stores including Target, Best Buy and more in 21 countries starting Oct. 15. 
More from this Collection
Our newest lineup of helpful devices
Our newest products bring together the best of Google's hardware, software and AI to deliver helpful experiences built around you.
View all 6 articles