Nest's commitments to privacy and security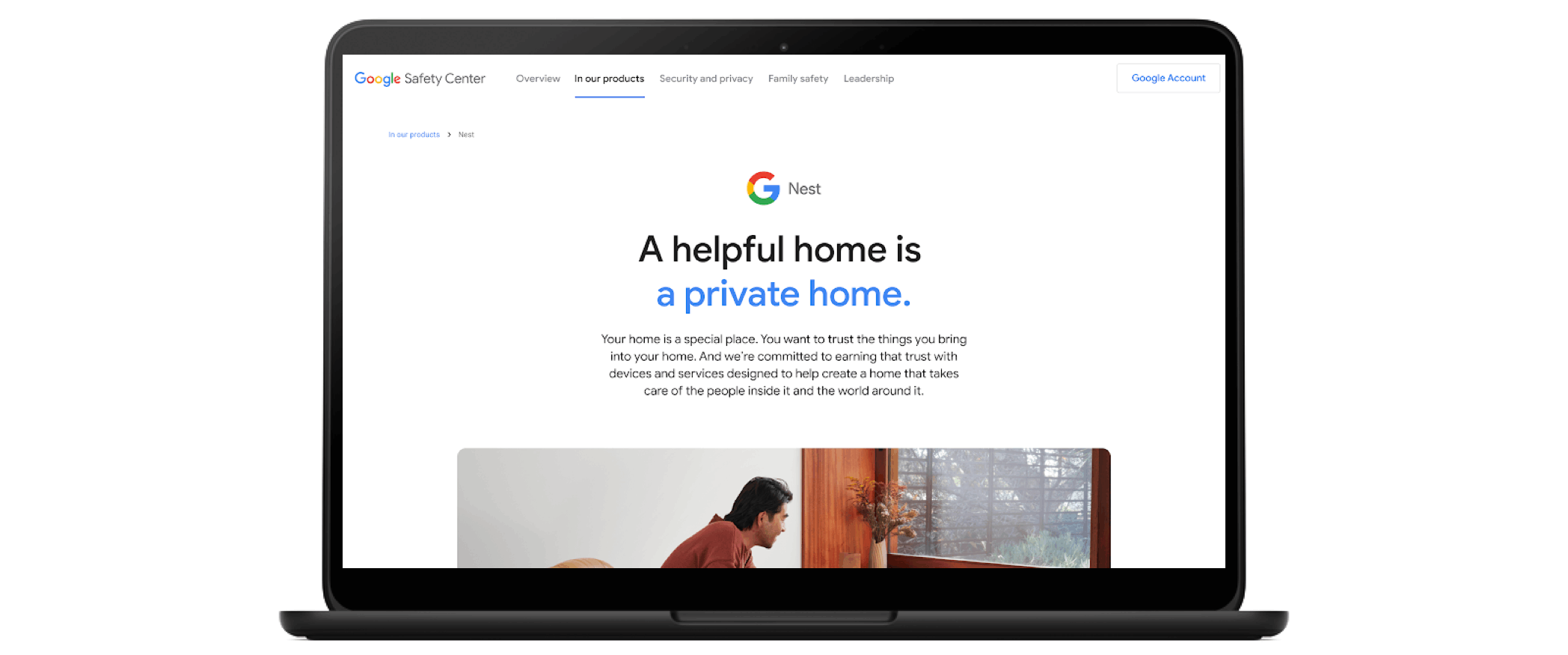 Two years ago Nest shared our commitments to privacy to give you a better understanding of how our products work in your home. Today, we're publishing new security commitments and putting it all in one place: Nest's new Safety Center. The Safety Center is meant to give you a clear picture of the work we do each day to build trustworthy products and create a safer and more helpful home.
Our new security commitments include standards Google has long held as well as updates that are specific to Nest's connected home devices and services. Finally, we want to acknowledge the way this technology is evolving — for example, our recent announcements on Matter and our work on Project Connected Home over IP ). That's why we've updated a small section in our privacy commitments to better reflect our focus on openness. Here are the details:
We will validate our Google Nest devices using an independent security standard. Google Nest connected smart home devices introduced in 2019 or later are now validated using third-party, industry-recognized security standards, like those developed by NIST, ETSI and ISO. And we publish the validation results so you can see how our products hold up according to those standards. Before new products launch we'll assess them against these standards to make sure they're meeting or exceeding them.
We invest in security research to keep raising our standards. Google Nest participates in the Google vulnerability reward program. This provides monetary rewards for security researchers outside of Google who test our products and tell the Nest Security team about any vulnerabilities they find. This helps the Nest Security team learn about and get ahead of vulnerabilities, keeping Nest devices in your home more secure for the long run.
We help protect your account security as the first step in safety. Your Google Account is your way into your Nest devices, and we take account security seriously. That's why we help keep your Google Account secure with tools and automatic protections like suspicious activity detection, Security Checkup and two-step verification.
We issue critical bug fixes and patches for at least five years after launch. We work hard to respond to the ever-changing technology and security landscape by building many lines of defense, including providing automatic software security updates that address critical issues known to Google Nest.
We use verified boot to protect your devices. All our devices introduced in 2019 and after use verified boot, which checks that the device is running the right software every time it restarts. This helps make sure that no one has access to your account or control of your devices without your permission.
We give you visibility into which devices are connected to your account. All the devices that you're signed into will show up in your Google Account device activity page. That way, you can make sure your account is connected only to the devices it should be.
A helpful home is a safe home, and Nest's new safety center is part of making sure Nest products help take care of the people in your life and the world around you.

*This post was updated to reference standards development organizations instead of industry alliances.