What is Wi-Fi 6E on the Nest Wifi Pro?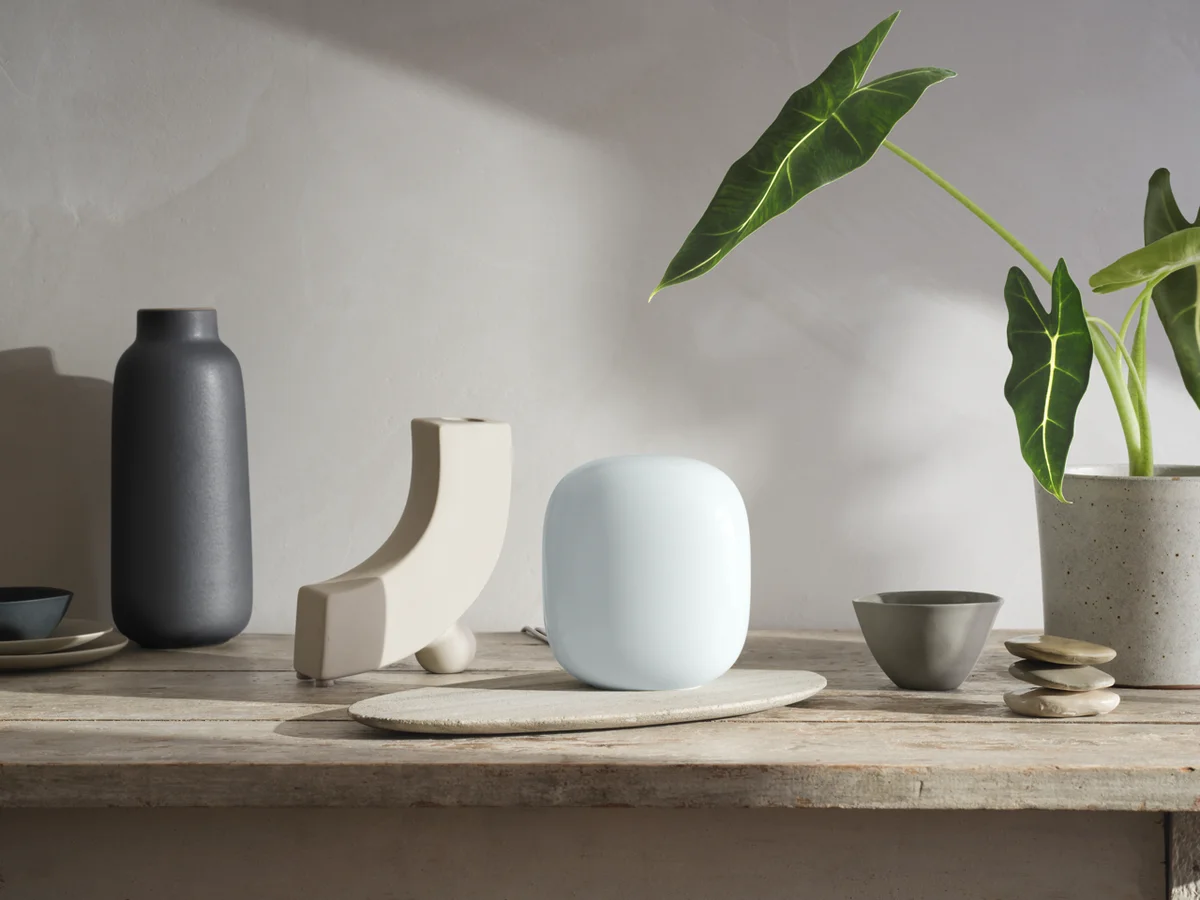 Earlier this month we announced our latest mesh Wi-Fi system, Nest Wifi Pro. With a new design, faster speeds and simple set-up, Nest Wifi Pro is a solid foundation for your smart home, supporting up to 100 devices per router. And it's officially available today.
One of Nest Wifi Pro's biggest perks is that it uses Wi-Fi 6E, the most advanced Wi-Fi technology in over 20 years. But what exactly is Wi-Fi 6E and how does it improve your connection? Let's dig a little deeper.
New, open radio band
Wi-Fi 6E is an extension of Wi-Fi 6 (hence the "E"). Unlike previous Wi-Fi generations, it can access a wider and less crowded radio band — 6 GHz — for even faster speeds and performance. With the ability to access this new band, as well as the standard 2.4 GHz and 5 GHz radio bands most Wi-Fi systems use, Nest Wifi Pro has a true tri-band connection. As a result, it offers speeds up to two times faster than Wi-Fi 61.
Less latency and faster connections
Wi-Fi 6E is still early in its adoption, so it's not overly crowded. With less network congestion, Wi-Fi 6E improves your speed and reduces your chance of interference, making connections faster and smoother than before. With more room to operate, 6E can also handle multiple high-bandwidth activities, like streaming 4K movies or taking video conference calls from home — or all of them at once.
We like to think of 6E as driving in the fast lane on a super highway, providing a clearer and more direct path to get you where you want to go.
Works with all devices
Even though Nest Wifi Pro is built with advanced Wi-Fi 6E technology, it's still compatible with older devices like laptops and phones. That's because it can access all three radio bands, allowing it to easily connect to your existing devices while setting it up to support the next generation of technology.
And with Matter, coming soon via software update, you'll enjoy the advantages of the new standard for in-home connectivity — like access to more smart devices, more customization and expanded coverage for your home.
Nest Wifi Pro retails at $399.99 for a three pack, $299.99 for a two pack or $199.99 for a one pack. Check out the Google Store to learn even more about Nest Wifi Pro and to order yours today.