7 Maps and Lens features to use on your next trip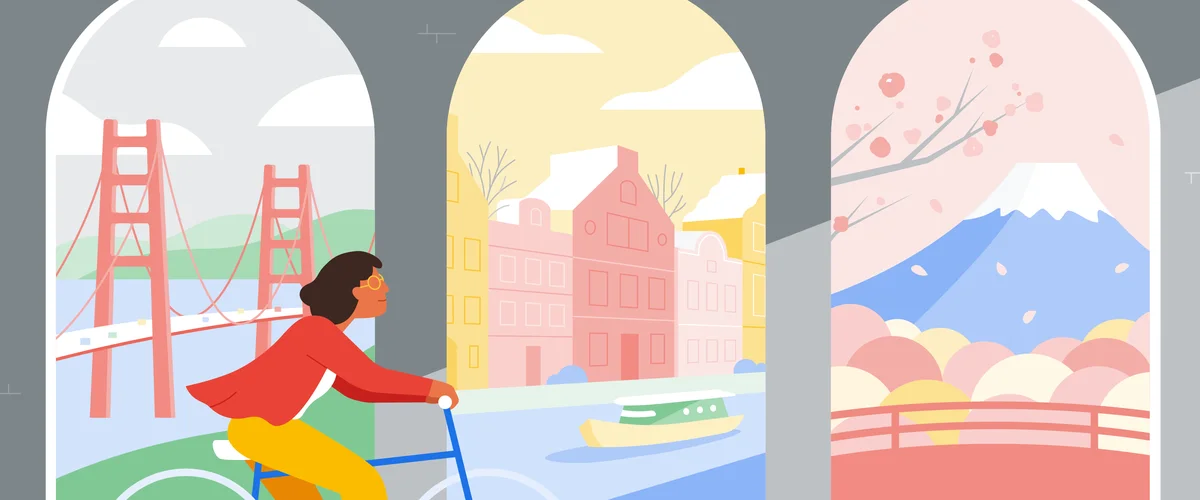 Organizing the perfect vacation is one of the most stressful parts of traveling, but it can be easy (and even fun!) with the right tools. From planning your trip to exploring on the ground — here are some of the best ways you can use Google Maps and Lens to hack your summer travel.
Scope out places before you visit with immersive view
When you're researching places to go, immersive view in Google Maps can help you make a more informed decision. Not only can you see a photorealistic view of an area, but you'll also be able to get helpful information — like what the weather will be like at different times of day or when a spot gets most crowded. Indoor views even help you understand the vibe of a restaurant or cafe so you can choose the place that's right for you.
Immersive view is live in London, Los Angeles, New York, San Francisco and Tokyo and it'll launch in Amsterdam, Dublin, Florence, and Venice in the coming months.
Stay organized with the Recents tab on desktop Google Maps
To make trip planning easier, we'll automatically organize places you've searched for on Maps by city with the new Recents tab on desktop. Found your favorite places? Share them with your travel buddy or save them to a new list. The Recents tab launches on desktop globally starting next week.
The Recents tab on desktop Google Maps makes it easy to stay organized while trip planning, and share your favorite places with friends and family.
Identify landmarks, artwork, plants, animals, and more with Lens
Once you've reached your destination, it's time to start exploring with Lens as your tour guide. Use Lens in the Google app (Android and iOS) to search with your camera and answer questions like "who built that statue" or "what's this pretty flower?". When in doubt, Lens can figure it out.
Discover local cuisine with multisearch in Lens
With multisearch in Lens, you can combine words and images to find what you're looking for in a whole new way – including information from the millions of local businesses on Google. Perhaps you saw a photo of a delicious looking pastry online, but don't know what it's called. Just take a screenshot, open it with Lens in the Google app, add the words "near me" to your search, and you'll find nearby restaurants that serve what you're looking for. Multisearch near me is now beginning to roll out globally.
Multisearch near me makes it easy to find local cuisine
Navigate with AR using Live View on Maps — indoors and out
In a new city, it can be hard to know which way to walk. With Live View in Maps, you'll see AR arrows that point you exactly where you need to go. You can even use Live View indoors to navigate places like airports, helping you easily find your baggage claim or car rental. And when you're out, search with Live View lets you find things around you — like ATMs, restaurants, parks and transit stations - and see helpful information like when they're open and how highly they're rated.
Search with Live View can help you find your way around cities like New York, London, Los Angeles, New York, Paris, San Francisco and Tokyo plus Barcelona, Dublin and Madrid in the coming months.
Explore on wheels with bike and scooter share information on Maps
Sometimes, there's nothing like zooming through a new city — and bike and scooter share information on Maps can make this a breeze. Just select your destination, tap on directions, and scroll to the cycling option. You'll see nearby bikes and scooters, battery levels for electric options, and even if there's a docking station for when you're done.
Bike and scooter information is available on Google Maps in more than 500 cities globally like Berlin, New York, and São Paulo on both Android and iOS.
Ready to make travel plans now that you've got expert tips in your back pocket? Check out new ways we're improving your travel experience on Search. We'll be there every step of the way — all you have to do is book and explore!