3 Google Maps updates for trip planning and exploring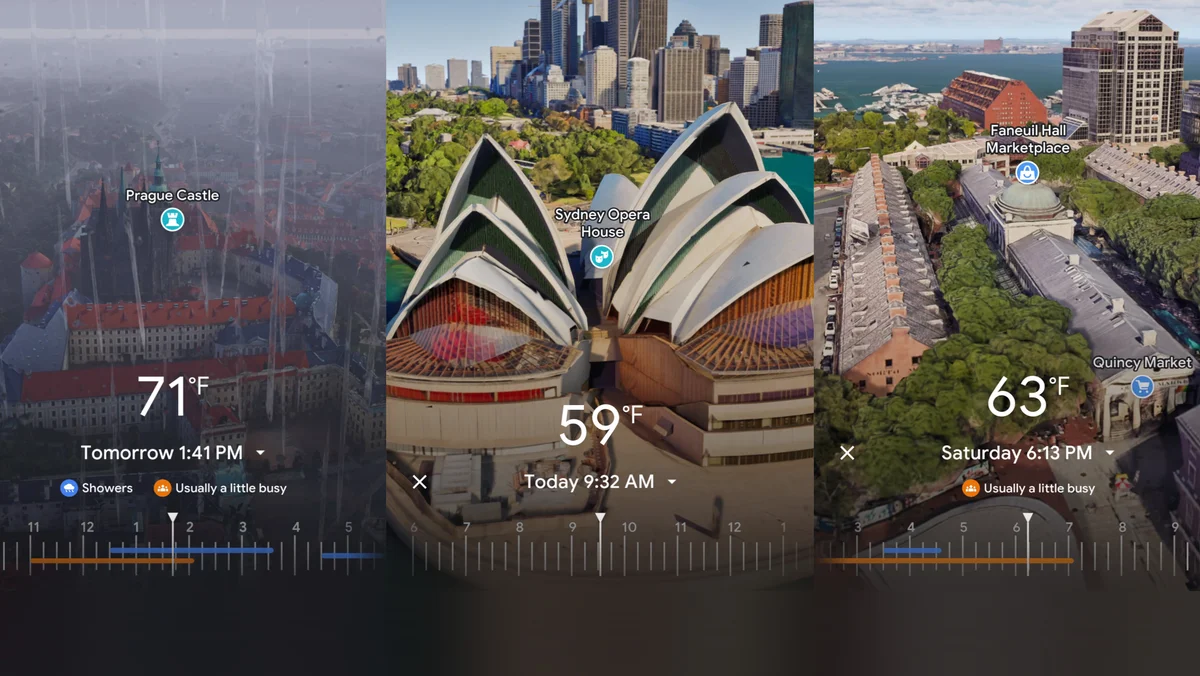 In many parts of the world, summer is here ☀️ — which often means time for trip planning and exploration. Today, we're sharing three new updates from Google Maps to help you make the most of your summer adventures.
Immersive View: rolling out to new cities and available for 500+ landmarks around the world 🌍
Earlier this year, we launched Immersive View to transform the way you explore — using AI to fuse together billions of images and create a multidimensional view of the world with trusted information layered on top. Today, we're starting to roll out Immersive View in four new cities: Amsterdam, Dublin, Florence and Venice — and are expanding it to over 500 iconic landmarks around the world, from Prague Castle to the Sydney Harbour Bridge on Android and iOS.
So if you're planning a trip to Boston and want to see the historic Faneuil Hall, you can get a jump start on familiarizing yourself with the area before you visit. Just search for it in Google Maps and tap on the first video to virtually soar over the building and find places nearby. With the time slider, you can see what the weather will be like at different times of day and how crowded it will be so you can plan ahead. And where we have data available, you can peek inside of restaurants and cafes to help you decide whether you want to make a reservation — thanks to an advanced AI technique called neural radiance fields, or NeRF — which was developed right here at Google.
Immersive View is rolling out in Amsterdam, Dublin, Florence, Venice and to 500+ iconic landmarks around the world.
Track your trip progress with glanceable directions, which start rolling out this month 🗾
While we love the rich details of Immersive View, we also know that sometimes less is more — especially when you're somewhat familiar with your route and just need to see when the next turn is. That's why we're launching glanceable directions in Maps, helping you easily track your trip progress right from your lock screen or route overview.
Once you opt in, just request directions to your destination and get going. You'll see updated ETAs and where to make your next turn — information that was previously only available in comprehensive navigation mode. And if you decide to take another path, we'll update your trip automatically. Glanceable directions start rolling out globally this month for walking, cycling and driving modes on Android and iOS.
Glanceable directions starts rolling out globally on Android and iOS for walking, cycling, and driving modes this month.
Stay organized and plan trips with new updates to Recents on desktop 🛣️
One of the most difficult parts of planning a trip is keeping track of all the places you want to visit — especially if you're visiting multiple cities. We built Recents on desktop to help with just that. It automatically organizes places you've researched into a handy highlight on the left side of your screen when you open Maps.
Now, with new updates rolling out globally next month, we'll save places in your Recent highlights even after you close your Google Maps window — so you can take a break from planning and come back to it later without ever losing your progress. You can remove places you've viewed, plan multiple trips at once and share a selection of places — like attractions or hotels — with your travel buddy to get their thoughts. Once you know where you want to visit, select three or more destinations, click "directions," and Maps will even create a custom route that hits all your stops and saves it to your Recents. Who's up for a summer road trip!?
With new updates rolling out globally to Recents on desktop next month you can choose 3 or more places from your Recent highlights to create the ultimate road trip
Whether you're hitting up local gems, a national park or flying halfway around the world, let Google Maps be your ultimate travel companion this year.