New Maps updates and tips to navigate the holidays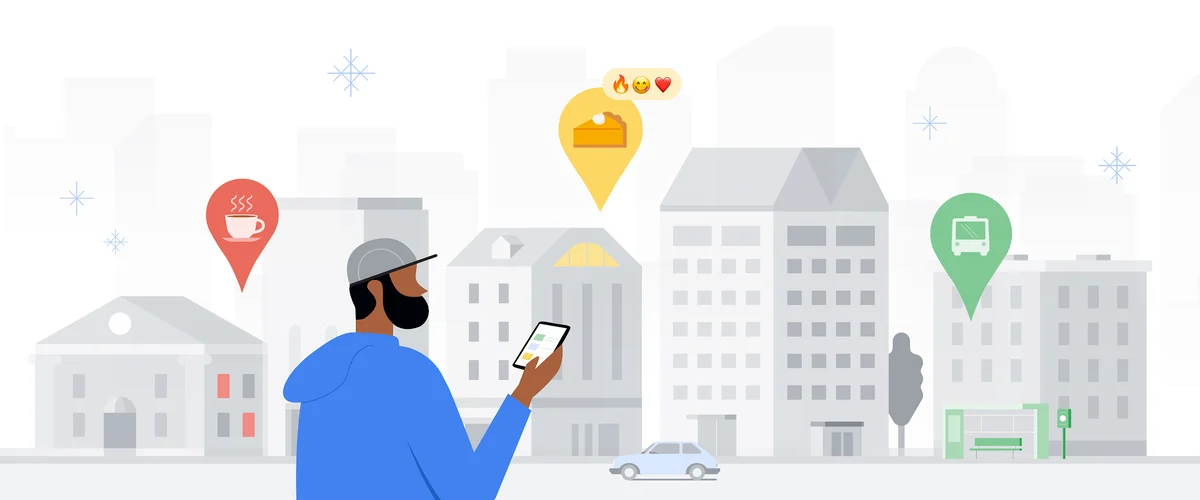 The holiday season is coming! To make sure you have a tree-mendous time, here are 8 ways Google Maps can help you get around, plan festive outings with friends and more — including three new updates for Maps along with tried-and-true features. Check this list so you can head out on your merry way.
1. Sleigh the bus, train and subways with transit route recommendations. (New!)
Whether you're staying local or exploring a new city, figuring out how to get around with transit during the holidays can turn anyone into a Scrooge. To save you time and help you make quick decisions, we're now updating our transit directions so you can easily see the best route to your destination based on key factors, like ETA, number of transfers and the length of your trip. You can even customize your route with handy filters that let you select what type of transit you want to take, or if you want a route with less walking.
In over 80 cities around the world — including Berlin, Boston, London, Madrid, New York City, Paris, Singapore, Sydney, Tokyo and Toronto — you'll also see exactly where the station entrances and exits are, what side of the street they're on, and a clear walking route to and from it. So now when you enter the station, you can be confident that you're catching the right train in the right direction. New transit updates start rolling out on Android and iOS in the coming weeks.
New transit updates start rolling out on Android and iOS in the coming weeks.
2. Plan and collaborate with friends with updates to lists. (New!)
'Tis the season for getting together with friends, but it can be difficult to coordinate where to go in a long, confusing group text. To take planning out of the group chat and keep it in one helpful place, we're making new updates to the list feature in Maps that make it easier to share places, plan with friends, and vote on group activities.
Today, it's easy to use lists in Google Maps to save places you love. And we recently added the ability to customize your list with its own emoji, like a snowflake ❄️ or ice skate ⛸, so the places are identified by that emoji right on your map.
Now, when you share a place in Maps with friends, you'll be able to instantly create a collaborative list to kick off the planning process. Everyone in your group can add places they're interested in visiting, and vote with an emoji, like a heart ❤️, if you think it's a must-see spot or a thumbs down 👎 for places you'd rather not visit. And just like that, you'll have planned an outing from start to finish, right from Maps. New updates to lists start rolling out globally on Android and iOS in the coming weeks.
New updates to lists start rolling out globally on Android and iOS in the coming weeks.
3. Bring holiday fun to the community with emoji reactions. (New!)
When searching for things to do during the holidays, content from the Google Maps community can help you make a more informed decision. Now when you see a photo, video or review, you can help others in the community by reacting with emojis, and in some cases even create mashup reactions thanks to AI and Emoji Kitchen. Just react to a photo of that new pumpkin bagel that you're excited to try with the yum face 😋. You'll automatically get an emoji reaction that's tailored to the content in the photo, like a mashup of the yum face and a bagel. Emoji reactions start rolling out globally today on Android and iOS.
Emoji reactions start rolling out globally today on Android and iOS.
4. Plan your winter travel with eco-friendly routing and more ways to find charging stations.
Choose the most fuel or energy-efficient route to your destination whenever you navigate with Google Maps. And, drivers of electric vehicles can use Maps to quickly find charging stations and see real-time information like if a charger is compatible with your vehicle and whether it's fast, medium, or slow to help you find the station that best meets your needs as you make your way over the river and through the woods.
5. Search for stops along your drive for last-minute errands — like grabbing whipped cream for the pumpkin pie!
Forgot something on the way to a holiday party or dinner? Start navigating to your destination and tap on the magnifying glass on the top right-hand side of the app. You'll find grocery stores, rest stops, gas stations, hotels and more along the way so you can avoid a major detour.
6. Save money on gas, so you can spend more on holiday cheer.
In addition to searching for whatever you need along your route, it's also easy to search for savings at the gas pump. Just search for "gas prices'' in Google Maps to see the price of fuel at stations nearby so you can choose the cheapest option.
7. Avoid tolls and busy roads so you can stay merry all drive long.
Expenses can add up quickly around the holidays, so why let the savings stop at the gas pump? Whether you want to avoid toll roads or prefer to stay off the highway and take the scenic route, just tap the three dots in the top-right corner as you're viewing your directions to see your options and select the route types you want to avoid.
8. Tap and go with contactless payments to easily commute to busy holiday events.
Whether you're running holiday errands or window shopping the holiday displays, Maps can make taking busy public transit a breeze. Pay for public transit — even multi-leg journeys — right from Google Maps without having to pull out your wallet. For example, if you're taking a commuter train into a city, and then using the city transit system like subways and buses, you can purchase all of your tickets in Maps through more than 250 ticketing partners around the world.
To keep your holidays as joyful as possible, be sure to check out Google Maps trends on when to get on the road to avoid Thanksgiving traffic and the best and worst times to visit places like grocery stores, post offices, shopping centers and more.