14 fun details I noticed in my first 14 days with a Pixel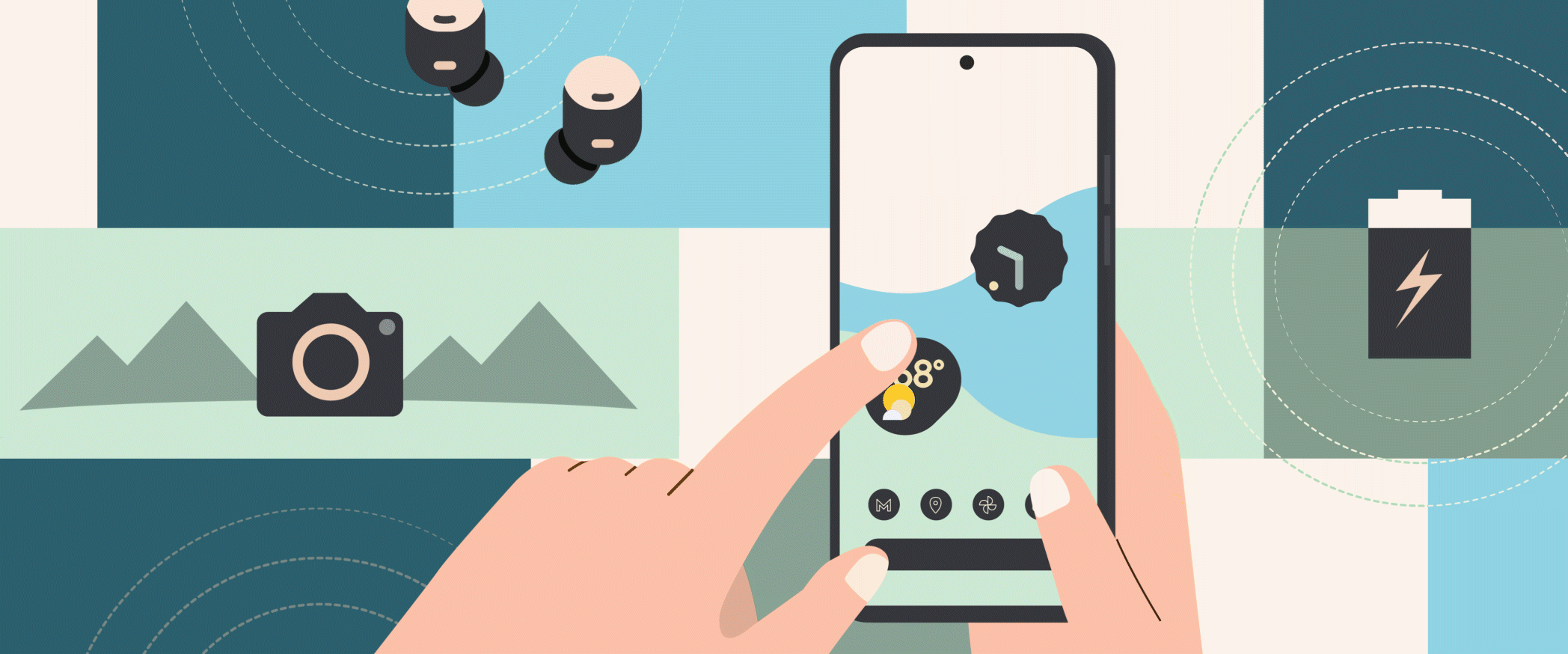 After nearly three years of working at Google, I've definitely leaned into all kinds of "Googley" things. I got doogler bandanas for my dogs. I've become a bit of a Chrome OS power user (no brag). And you'll never be able to pry my Pixel Buds from me (unless it's because I'm upgrading them…more on that later). But there's one area where I've held out from joining in: the Pixel phone.
Until now! Two weeks ago, I made the switch to a Pixel 6a. And yes, I have been loving some of the biggest Pixel features, like Night Sight, Magic Eraser and Live Translate. But I've enjoyed the small, delightful things, too — tiny details and thoughtful touches that I knew about in theory but didn't fully appreciate before joining the club.
Without further ado, here are 14 things, big and small, that I ended up loving in my first 14 days with Pixel.
1. Setting up my Pixel was easy.
The worst part of getting a new phone is the setup and transfer from your old device to the new — and that's honestly been a major part of what's held me back! But I quickly learned that being a general Google user made this so much easier an experience than when I've changed devices in the past. Because I've had a Gmail account for years (from long before I was a Googler), logging into my new Pixel with my account meant that all the things I needed — my email, my documents, my photos — were immediately there. I was even able to transfer my messages with the help of the Pixel guidebook on transferring data. It was definitely my easiest and swiftest transfer experience.

2. I'm into the look and feel of the new Pixel cases.
Aesthetics matter! I love the color combo of the case and the device, and because the cases are semi-translucent, there's tons of mix-and-match potential. The slightly rubbery feel of the case (which is made of plastic with an inner layer of 75% recycled materials) is extremely satisfying, too.
Yes, I have a thing for blues and greens, why do you ask?
3. The Pixel 6a feels light in my hand.
There's nothing bulky about it. It weighs about 6.3 ounces — which is about the same as six pencils! I've always had metal phones, and the Pixel's light tactile alloy frame is something I didn't think I would notice, but definitely do.
4. The haptic feedback feel is satisfying.
Every device has its own unique haptic feel — that slight vibration that signals a notification — and I really enjoy how the haptic feedback feels on the Pixel 6a. That's because the technology powering this mechanism was upgraded with the Pixel 6 family, resulting in tighter, more precise vibrations.
5. My Pixel's lock screen looks lovely every time.
When my phone is asleep and I unlock it from the blank screen, the thumbprint icon lights up and illuminates the screen, and it's really beautiful. It's little things like this that caught my eye when I booted up my Pixel for the first time.
6. I'm also a big fan of the charging screen.
When my Pixel is turned off and charging, the screen displays a cool light-up effect showing how much charge it has. It's a fun visual, and it's also nice to see immediately how much battery my Pixel 6a has left.

When it's turned off and plugged in, the Pixel 6a shows you a nifty charging screen.
7. Oh, and the battery just keeps going and going.
I'm certainly not the first one to notice it, but the battery life is incredible — it can easily last for 24 hours and up to 72 if I use Extreme Battery Saver1. This is because the Adaptive Battery feature learns your favorite apps, so it doesn't waste power on ones you rarely use. It's arguably the thing I've noticed the most over my first two weeks of using the phone.
8. I can say goodbye to shaky panoramas.
I could go on and on about the Pixel camera. My photos look brighter and crisper compared to my old phone, and the camera bar is very slick. Specifically, my panoramas benefitted; I don't feel like I have shaky hands until I see some of the panoramic shots I try to grab — but the frame icon that moves along with me as I move the phone makes for a much better end result.
9. And my landscape photos aren't tilted!
One of my biggest photography pet peeves is posting a landscape photo and seeing a slanted line on the horizon. I want that nice, level photo, and I would prefer not to fix it in editing and perhaps lose details as they fall out of frame. The Pixel camera includes that level on screen, so while I'm taking a photo I already know it's straight. That same "straightener," as I think of it, also shows up when I'm taking a photo from up above something; when I point the camera down, it will show up to make sure I'm centered.
The leveling feature is one of my favorites.
10. Google Photos calls out photo dump duplicates.
I'm an "I need five photos of the same thing" type of photographer. Now, when I open Google Photos, the storage manager will automatically prompt me about things like blurry photos and doubles. I don't miss scrambling to delete photos from my phone when I get the notification that my storage is dwindling.
11. My Pixel can read my screenshots to me.
I'm also a screenshot fiend (and a big fan of using the Quick Tap screenshot gesture), and I often take screenshots of cooking directions. I don't know if everyone uses Lens for this purpose, but I rely on it to read directions on my phone out loud to me while meal prepping.
12. I love choosing custom colors for my wallpaper.
I found this setting particularly fun: You can head to your wallpaper settings and customize it so that all of the app icons complement your wallpaper photo. Now the colors of my app icons and other elements, like the time, match the background of my screen. Which is very cute, if I may say so.
Good dogs deserve custom wallpaper colors.
13. I can customize my time-lapse videos, too.
I take a lot of time-lapse videos — I just feel so accomplished when I watch back my baking endeavors or home renovation projects from start to finish. With Pixel, I can toggle between x1, x10, x30 or x120 speeds. Plus, my phone tells me what these mega-speedy functions might be good for — for example, x30 is great for busy street shots.
14. And my Pixel can help me keep track of my Buds.
When I connected my (new) Pixel Buds2, the Pixel phone took me through a helpful setup screen that told me all sorts of things I'd be able to do with them — like talk to Assistant and skip tracks or go back. But now I can also find my earbuds when they're missing…which, if I'm being honest, is why I bought new Pixel Buds in the first place.