Pixel 4a (5G) and Pixel 5 pack 5G speeds and so much more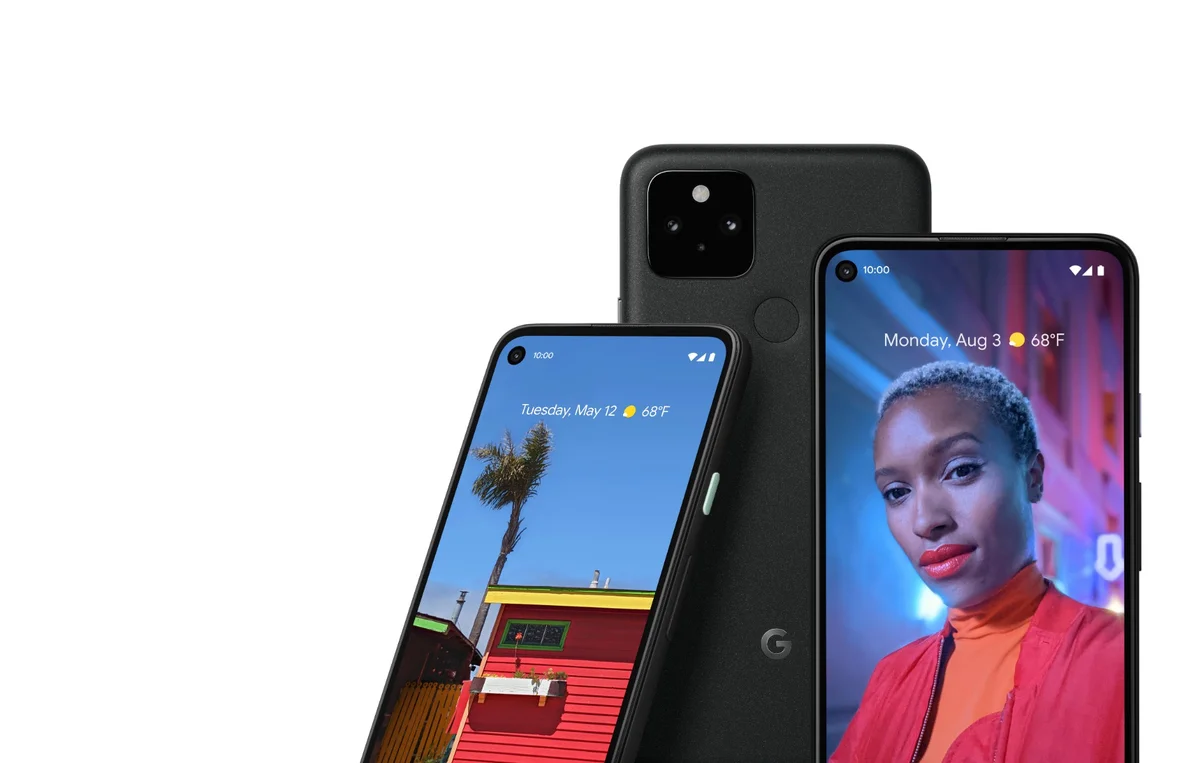 Pixel 4a (5G) and Pixel 5 are here, packing more helpful Google features into phones backed by the power and speeds of 5G1. From Google's latest AI and Assistant features, to the biggest ever batteries we've put in a Pixel, to industry-leading camera features, Pixel 4a (5G) and Pixel 5 join our much loved Pixel 4a in providing more help at a more helpful price. 
5G speeds at affordable prices
5G is the latest in mobile technology, bringing fast download and streaming speeds to users around the world. Whether you're downloading the latest movie2, listening to your favorite music on YouTube Music, catching up on podcasts with Google Podcasts or playing a game on Stadia, Pixel 4a (5G) and Pixel 5 will provide you with fast speeds1.
YouTube, YouTube Music and Google Podcasts on Pixel 4a (5G) and Pixel 5 also give you access to the content you want when you don't have connectivity by pre-downloading content via 5G when you don't have WiFi connectivity1.  For more information go to g.co/musicdownloads. 
New camera, new lenses—same great photos
Ask any Pixel owner and they'll tell you: Pixels take great photos. Pixel 4a (5G) and Pixel 5 are no exception. These phones bring Pixel's industry-leading photography features to the next level. 


Night Sight and Portrait Mode

Night Sight and Portrait Mode

Night Sight and Portrait Mode

Captured on Pixel - Ultrawide

Captured on Pixel - Ultrawide

Captured on Pixel - Ultrawide

Captured on Pixel - Ultrawide
Save time with Hold for Me
Pixel has even more helpful features to save you time thanks to Google Assistant. Every month, Call Screen helps people with more than 25 million calls, saving people 2 million minutes, and Duplex helps users with a variety of phone tasks including reservations and getting business information. 
Now, with a preview of Hold for Me on Pixel 4a (5G) and Pixel 5 in the U.S., Google Assistant can wait on the line for you whenever you call a toll-free number and a business puts you on hold. Built on the smarts of Duplex and Call Screen, this new feature lets you go back to enjoying the things that matter to you, and Google Assistant will notify you once someone is on the line and ready to talk. And Hold for Me works on your device, so the entire call is private to you. Goodbye endless hold music, hello more free time. 
Stay connected and entertained with Duo 
To make it easier and more enjoyable to stay connected to the most important people in your life, the new HD screen sharing in Duo video calls lets you and a friend watch the same video, cheer on your favorite teams together and even plan activities—all while being thousands of miles apart. And coming soon with Duo Family HD mode, you'll be able to keep kids entertained and engaged with new interactive tools, like coloring over backgrounds, while you video chat. 
A smarter way to record and share audio
Last year
,
Recorder
made audio recording smarter, with real-time transcriptions and the power of search. Now, Recorder makes it even easier to share your favorite audio moments. Since Recorder automatically transcribes every recording, now you can use those transcripts to edit the audio too. Just highlight a sentence to crop or remove its corresponding audio.
Once you have something you want others to hear—say a quote from an interview or a new song idea—you can generate a video clip to make sharing your audio easier. To improve searching through your transcripts, smart scrolling will  automatically mark important words in longer transcripts so you can quickly jump to the sections you're looking for as you scroll. But most helpful of all? Recorder still works without an internet connection, so you can transcribe, search and edit from anywhere, anytime.


The biggest Pixel batteries ever
Pixel 4a (5G) and Pixel 5 also have all-day batteries that can last up to 48 hours with Extreme Battery Saver3. This mode automatically limits active apps to just the essentials and lets you choose additional apps you want to keep on. 
And now, the specs
Like all Pixel devices, security and safety are paramount in Pixel 4a (5G) and Pixel 5. Both devices come with our TitanTM M security chip to help keep your on-device data safe and secure, and both phones will get three years of software and security updates. Pixel's security features received a perfect score on a recent analyst scorecard4.
Plus, Pixel 5 is designed with the environment in mind; we used 100 percent recycled aluminum in the back housing enclosure to reduce its carbon footprint
When you purchase a Pixel 4a (5G) or Pixel 5, you'll also get Stadia and YouTube Premium trial for three months, 100 GB of storage with Google One for three months and Google Play Pass and Gold/Silver Status on Play Points. See g.co/pixel/4a5Goffers or g.co/pixel/5offers, as applicable, for more details.
Pixel 4a (5G) will be available in Japan on Oct. 15 and eight other countries starting in November. Pixel 5 will be available in eight countries starting Oct. 15, and in the U.S. and Canada starting Oct. 29.
Looking for the Pixel that's right for you? Head to the Google Store now.
1 Requires a 5G data plan (sold separately). 5G service and roaming not available on all carrier networks or in all areas. Contact carrier for details about current 5G network performance, compatibility and availability. Phone connects to 5G networks but 5G service, speed and performance depend on many factors including, but not limited to, carrier network capabilities, device configuration and capabilities, network traffic, location, signal strength and signal obstruction. Actual results may vary. Some features not available in all areas. Data rates may apply. See g.co/pixel/networkinfo for info.
2 Download speed claims based on testing videos from three streaming platforms. Average download time was less than 60 seconds. File sizes varied between 449MB and 1.3GB. Download speed depends upon many factors, such as file size, content provider and network connection. Testing conducted in an internal 5G network lab and on pre-production hardware in California in July/August 2020. Actual download speeds may be slower.
3 For "all day": Maximum battery life based on testing using a mix of talk, data, standby and use of other features. Testing conducted on two major carrier networks using Sub-6 GHz non-standalone 5G (ENDC) connectivity. For "Up to 48 hours": Maximum battery life based on testing using a mix of talk, data, standby and use of limited other features that are default in Extreme Battery Saver mode (which disables various features including 5G connectivity). Testing conducted on two major carrier networks. For both claims: Pixel 4a (5G) and Pixel 5 battery testing conducted by a third party in California in mid-2020 on pre-production hardware and software using default settings, except that, for the "up to 48 hour claim" only, Extreme Battery Saver mode was enabled. Battery life depends upon many factors and usage of certain features will decrease battery life. Actual battery life may be lower.
4 Based on 2020 analyst research funded by Google LLC.
More from this Collection
Our newest lineup of helpful devices
Our newest products bring together the best of Google's hardware, software and AI to deliver helpful experiences built around you.
View all 6 articles