5 things I learned after running 100 miles with the Google Pixel Watch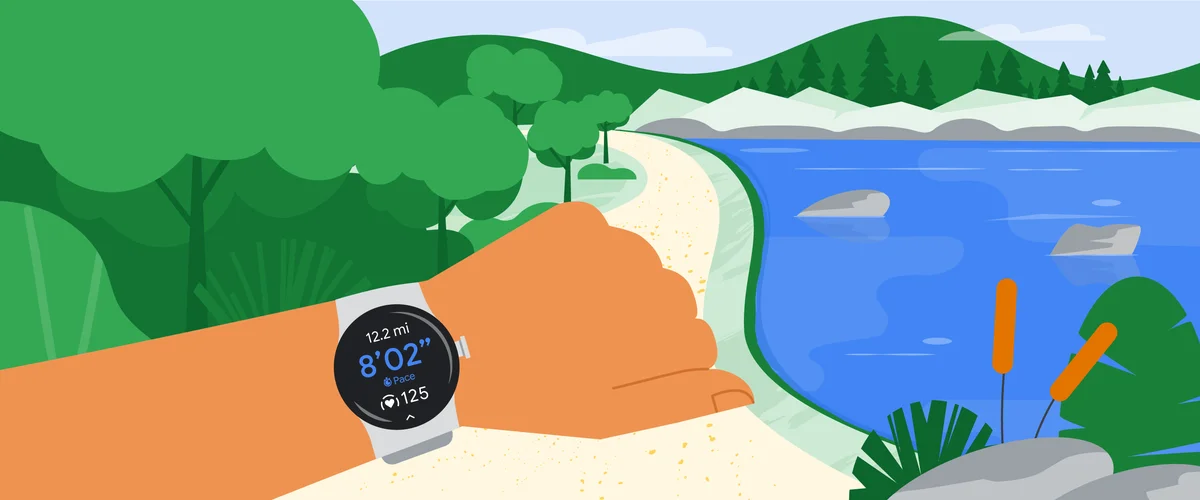 Runners like me had good reason to celebrate when Google put Fitbit at the center of the new Google Pixel Watch. It meant the best of two worlds: Easy access to metrics like step count and sleep data with helpful tools like Maps and Assistant to stay organized and plan new training routes.
Curious to see how it would hold up during an especially heavy week of training, I recently put the Pixel Watch through its paces at the height of training for an upcoming marathon in Tokyo.
During that two-week period, I racked up around 100 miles, or 250,000 steps, including a 22-mile indoor and outdoor jaunt around New York City. I also clocked all the insights the device generated for me when I wasn't mid-stride — like how well I was sleeping and staying hydrated.
Here are five of the things I loved the most and why I plan to keep wearing the Pixel Watch for many more runs — and rest days — to come.
1. The Pixel Watch made running with music easier than ever.
Music is as essential to my morning workout as a steaming hot mug of pre-run coffee, so I appreciate that the Pixel Watch offers three months of access to YouTube Music's ad-free Premium tier at no charge. The library of more than 100 million songs contains tons of live tracks and deep cuts that can be fun to unearth.
Pairing my watch with my trusty Pixel Buds Pro meant I could go completely hands-free during runs using Google Assistant. The Pixel Watch also makes it simple to control your music player the old-fashioned way: You can pause and skip tracks or queue up an entirely new playlist with just a couple of swipes. For offline listening, the Pixel Watch also offers an impressive 32 GB of storage — plenty for all of the songs on my expansive running playlist.
Pixel and Fitbit can help you level up your training.
2. It transitioned seamlessly between indoor and outdoor workouts.
Most runners would probably agree February in New York City isn't the ideal time for a long jog outside. To avoid losing feeling in my extremities, I like to stop by a gym and include a few treadmill miles as a mid-run intermission from the cold (and rain, and snow and…).
When I resumed running inside during one of those very long runs, I was pleasantly surprised to see the Run Exercise pick right up where I'd left off when I'd hit pause moments earlier. As the treadmill's gauges ticked upward, so did the step count and mileage on my watch, accurately estimating the distance and adding it to my grand total without missing a beat.
3. Tracking my progress was as easy as a couple of swipes.
I work with data and analytics as part of my job, so I was immediately drawn to the watch's simple, beautifully designed array of gauges, meters and dashboards. If you geek out on statistics the way I do, you'll find it hard to resist swiping the watch face throughout the day to glimpse your step count, heart rate and more.
Swipe left or right from your clock face, tap into your step tile, and you'll get a detailed view that includes not only that day's activity, but also the floors you've climbed, the mileage you've covered, calories burned and more. Quantifying your progress toward various fitness goals doesn't get much simpler. It also kept me honest on days when I realized I hadn't stood up from my desk in hours.
If you prefer to take a bigger picture view of your activity level, you can also opt to receive a helpful weekly digest that tallies up all of those metrics in a single email. Fitbit also recently announced they're making more of their dashboard available to everyone–not just Premium subscribers.
When I was tapering for the race in the final days and feeling less active, it was reassuring to look back on those metrics and see that I'd still put in an impressive amount of work.
Gain new insights to fuel your next PR.
4. Fitbit's Sleep Profile shed light on how rest affects my performance.
I'd been eager to try Fitbit Premium's Sleep Profile ever since my colleague Zahra did a deep dive on the feature back in December.
While the Sleep Profile takes at least 14 nights to generate results, I was still able to get some other insights after just a couple of nights. The Sleep Stages and Sleep Score confirmed something I've long suspected: I'm a lousy, restless sleeper. On average, the app reported I only slept about 5.5 hours each night, spending a paltry 27 minutes of that time in restorative REM sleep. That might explain a few of my less-than-stellar morning runs.
Now there's an easy way of telling when I might want to sleep in: After several days of consistently wearing my watch day and night to measure exercise, sleep and heart rate, Fitbit's app will generate a Daily Readiness Score that can help me gut-check whether I should push myself in my workout, or I might need more rest. (Worth noting: This feature is exclusive to Fitbit Premium users.)
The connections between sleep and athletic performance are nothing new, but my Fitbit data helped me see a pattern I could no longer ignore. That inspired me to make some simple changes like setting my phone down earlier, drinking more water and reading instead of zoning out to the latest true crime docuseries before bed.
5. And it helped me prioritize rest and recovery.
I'm guilty of tunnel vision when I'm in training mode: I tend to sacrifice sleep, hydration, strength training and more all in the service of hitting that weekly mileage quota. On race day, those are all inevitably things I regret not prioritizing.
Thankfully, the Pixel Watch includes six months of Fitbit Premium, a platform that gives users deeper insights and access to features such as Daily Readiness Score that help you know whether to prioritize rest or go all-out at the gym. Premium users also gain access to more than 1,000 workouts and hundreds of mindfulness sessions.
You can also pull trends and wellness reports that help you zoom out and catch subtle performance improvements over time — perfect for runners on training programs that require weeks or even months of consistency.
A few patterns have already emerged in my insights. (For starters, I could use a lot more sleep, hydration and mindfulness.) Now I have the tools — and the occasional friendly nudge from my Pixel Watch — to do something about it.