New ways to get inspired with generative AI in Search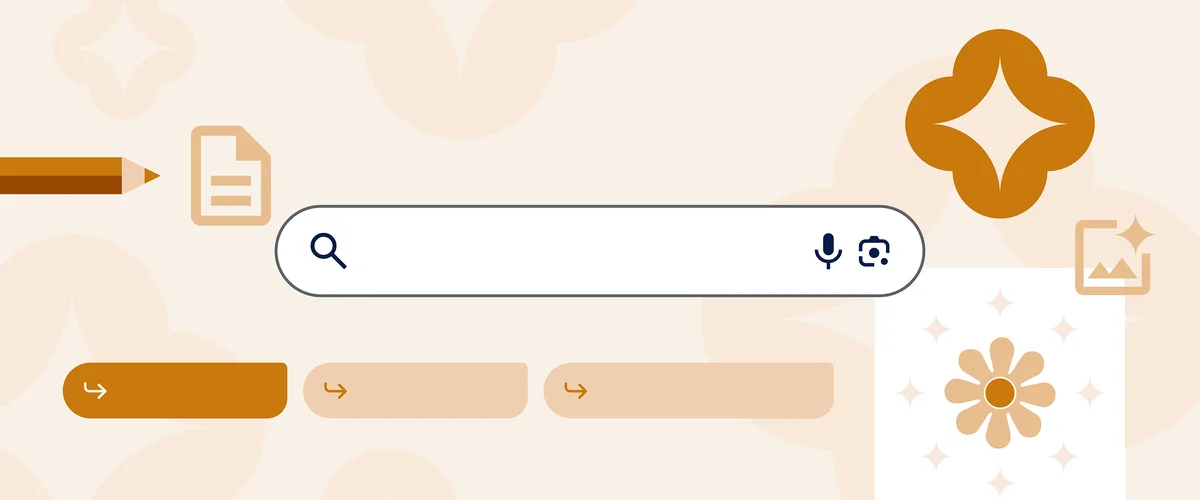 Search has long been a place where you can find information to help with life's questions — whether they're big or small. And with advances in AI, we've continued to develop simpler and smarter ways to help you uncover useful insights and make sense of information.
As we continue to experiment with bringing generative AI capabilities into Search, we're testing new ways to get more done as you're searching — like creating an image that can bring an idea to life, or getting help on a written draft when you need a starting point.
Just picture it: Create images with generative AI
There are times when you might be looking for a specific image, but you can't find exactly what you have in mind. Or maybe you have an idea that you need help visualizing. So beginning today, we're introducing the ability to create images with our generative AI-powered Search experience (SGE).
Let's say you want to make a card for a friend who loves to cook and whose favorite animal is a capybara. If you search for something like "draw a picture of a capybara wearing a chef's hat and cooking breakfast," SGE will provide up to four generated images in the results.
Tap on any of those images and you'll see how generative AI has expanded your initial query with descriptive details, like "a photorealistic image of a capybara wearing a chef's hat and cooking breakfast in a forest, grilling bacon." From there, you can edit the description further to add even more detail and bring your vision to life. Maybe you want to see the capybara chef making hash browns instead, or you want to add a light blue background with clouds. That's an easy change!
If you're opted in to SGE, you may also see an option to create AI-generated images directly in Google Images, as part of this experiment. This feature is designed to appear when you're searching for inspiration, like "minimalist halloween table settings" or "spooky dog house ideas."
While AI can open new and exciting possibilities, we also recognize the need to introduce this technology in a responsible way. That's why we're building safeguards into this experience and blocking the creation of images that run counter to our prohibited use policy for generative AI, including harmful or misleading content. And every image generated through SGE will have metadata labeling and embedded watermarking to indicate that it was created by AI. The image generation capability is only available in English in the United States, to people who opted into the SGE experiment and who are 18 years or older.
We also have an upcoming tool called About this image that will help people easily assess the context and credibility of images. For example, it might show you when a similar version of this image may have first been seen by Google; or show you other pages on the web that use a similar image, including news or fact checking sites.
Search for inspiration with SGE
Sometimes when you're researching a project or topic in Search, you end up looking for writing ideas and inspiration along the way. To help with these longer-running searches, we're introducing written drafts in SGE. You'll be able to make the draft shorter, or change the tone to be more casual.
For example, perhaps you're looking into home improvement projects, like how to convert your garage into a home office. After finding helpful ideas across the web and contractors you'd like to get in touch with, you can ask SGE to "Write a note to a contractor asking for a quote to turn my garage into a home office."
From there, it's easy to export your draft to Google Docs or Gmail when you're ready to add that personal touch. And rest assured that Google Workspace privacy protections carry over into this export functionality.
This new capability will allow you to get even more help as you search and will begin rolling out today to those opted into the SGE experiment in English in the U.S.
We believe that generative AI in Search can help spark inspiration and help you get even more done. We look forward to continued testing and getting user feedback.
You can sign up and share feedback on our generative AI experiments through Search Labs in the Google app (Android and iOS), or on Chrome desktop.