3 new ways to check images and sources online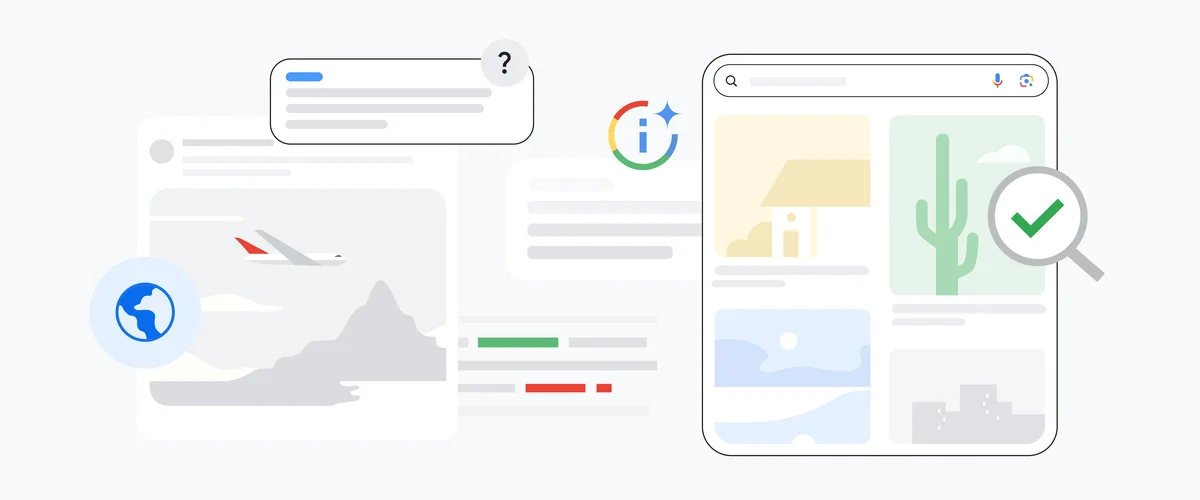 Google Search has built-in tools to help you find high-quality information and make sense of what you're seeing online. Today, we're announcing three new ways you can get more context about the images and sources you're finding.
About this image is now available
Earlier this year, we announced a new feature called About this image, and today, this feature is rolling out to English language users globally in Google Search. About this image gives people an easy way to check the credibility and context of images they see online. Here's what you can discover with this tool:
An image's history: You'll be able to see when an image or similar images may have first been seen by Google Search, and whether it was previously published much earlier on other webpages. This can be helpful if an image is being taken out of context and shared in relation to a current event, but it's actually much older.
How other sites use and describe the image: You can see how an image is used on other pages, and what other sources, like news and fact checking sites, have to say about it. This information can be helpful to assess the claims being made about an image, and to see evidence and perspectives from other sources.
An image's metadata: You'll be able to see metadata - when available - that image creators and publishers have added to an image, including fields that may indicate that it has been generated or enhanced by AI. All Google AI-generated images will have this markup in the original file
An example of how you can use About this image to learn more information about an image of a delightfully crooked house. Image credit: "The crooked house in Sopot" by Topory, licensed under CC BY-SA 3.0
Now, with About this image, you can see that crooked house is actually real, and not a digital illusion. (But you still might want to book those tickets to Poland to see it for yourself, just to be sure!)
You can access this tool by clicking on the three dots on an image in Google Images results, or by clicking "more about this page" in the About this result tool on search results. We'll add more ways to access it in the coming months.
Fact Check Explorer adds image searching
Fact Check Explorer gives journalists and fact checkers a deeper way to learn about an image or topic. Powered by claim review mark up (which helps Google detect and display a fact check), Fact Check Explorer lets users find fact checks which have been investigated by independent organizations from around the world.
This summer, we released a global beta version which lets you upload or copy the URL of any image into the Fact Check Explorer and see if it has been featured anywhere in an existing fact check. This version also provides an overview of the different contexts associated with the image and their evolution over time. Since we released this version, over 70% of our beta users reported the new image features helped reduce their investigation time into an image, helping them bring image fact checks online quicker.
An example of an image search you can do on the beta Fact Check Explorer. The context search highlights how the image has been associated with different locations over time, across the web.
One key request we've received from testers was better integration with their in-house fact-checking solutions. Today we're announcing a beta of Image Search functionality in FactCheck Claim Search API: Soon, approved journalists and fact checkers will be able to search the fact-check image corpus on Fact Check Explorer via an API and integrate the knowledge into their own solutions. This will make it even easier for them to investigate images and build unique products for their readers.
Search Generative Experience powers more information about sources
One of the best ways to evaluate information online is to learn more about the source. Say you stumble upon some cool new hiking boots, but they're from a small merchant you're not familiar with. You might want to do research on the seller – but in some cases, it can be hard to find information about lesser-known sites. Now, we're starting to experiment with how generative AI can do some of that digging for you, to help you search with confidence.
For people who are opted-into Search Generative Experience (SGE) through Search Labs, you'll now be able to see AI-generated descriptions of some sources, supported by information on high-quality sites that talk about that website. We'll showcase links to these sites in the AI-generated description of the source.
These AI-generated descriptions of the source will show up in the "more about this page" section of About this result for some sources where there isn't an existing overview from Wikipedia or the Google Knowledge Graph. At this stage, we're starting small in exploring how this technology can be useful to support and supplement our existing information literacy efforts.
Having easily accessible tools to help people verify what they see online has never been more important. Seven in ten (70%) respondents to a 2023 study led by the Poynter Institute's digital media initiative MediaWise reported not being totally or very confident in their ability to tell when online images are authentic and reliable.
Whether you're checking to learn more about a crooked house or get context about a source you're reading, we're dedicated to building the tools and resources to help you feel more confident about navigating what you're seeing online.