If you've got it, haunt it: Halloween 2020 costume trends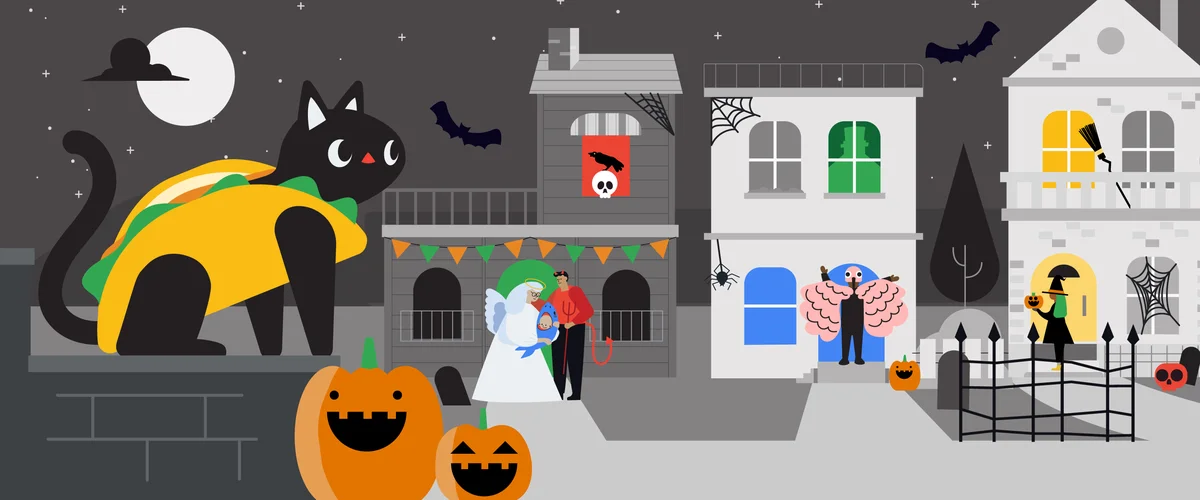 This year's Frightgeist is a real treat. From cats in taco costumes and baby sharks to Supergirl and fun flamingos, we just couldn't wait until Oct. 31 to start the festivities.
No matter how you're celebrating this year, Halloween is the perfect reason to ditch the quarantine couture and get dressed up in some spook-tacular attire. To give you some ideas as holiday prep begins, we took a look at what costumes were trending last month in the United States.


Your favorite frightful fashions
This September's trending Halloween costumes are action-packed: Martial arts gurus and dungeon masters take the lead, followed by Jedis and cowgirls that are out of this world—literally. 


Cobra Kai

Dungeon Master 

The Mandalorian 

Space Cowgirl 

Trolls 

Belle 

Marshmello 

Inflatable shark 

Firefighter

Sanderson sisters 

Cool costumes for kids
Which witch will be the go-to Halloween costume for kids this year? Three of the top 10 trending costumes for kids last month are famous witches. But if that's not your thing, bats and werewolves are two fright-astic options. 


Supergirl 

Flamingo 

Hocus Pocus 

Witch 

Glinda 

Robot 

Maui

Bat 

Sally 

Werewolf 
We also took a look at the most-searched costumes across the U.S. in September, including costumes for couples, babies and pets. 

Thinking of coupling up?
Several classic couples kept their spots in 2020: Bonnie and Clyde, Lilo and Stitch as well as The Fairly Oddparents' Cosmo and Wanda are the top three most-searched couples costumes for the second year in a row. If you want to change it up, options like  "Lydia and Beetlejuice" or "Coraline and Wybie" are new to the list.  


Bonnie and Clyde

Lilo and Stitch

Cosmo and Wanda

Coraline and Wybie

Lydia and Beetlejuice

Mario and Luigi

Woody and Jessie

Angel and Devil

Phineas and Ferb

Sharkboy and Lavagirl
Put your pets on parade 
What's cuter than a cat wrapped in taco or a Corgi dressed as a dinosaur? Last month's most-searched pet costumes will definitely have our pets earning some treats this Halloween—no tricks required.


Cat taco 

Corgi stegosaurus 

Twinkie 

Beetlejuice 

Fish 

Woody dog 

Chucky

Frog 

Pumpkin 

Raccoon 
Babies can say "boo!," too
Lions, tigers, and baby sharks—oh my! Baby animals could make the perfect costume for little ones this Halloween. 


Baby shark 

Baby Yoda

Baby pumpkin 

Boss baby 

Baby dinosaur 

Baby Olaf 

Baby chicken 

Baby tiger 

Baby bat 

Baby lion 
For more of what people are searching in your city and around the country, check out our interactive Frightgeist map. Witch-ing you a Happy Halloween!