3 new ways generative AI can help you search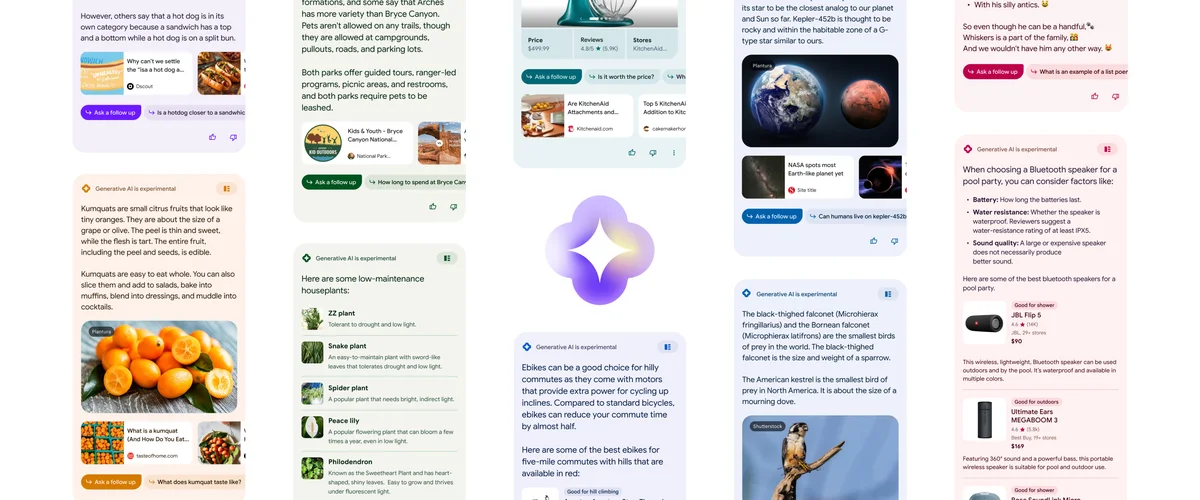 Today, we're starting to open up access to Search Labs, a new program to access early experiments from Google. If you've already signed up for the waitlist at labs.google.com/search, you'll be notified by email when you can start testing Labs experiments, like SGE (Search Generative Experience), Code Tips and Add to Sheets in the U.S. And if you want to opt-in to these experiments, simply tap the Labs icon in the latest version of the Google app (Android and iOS) or on Chrome desktop to sign up. You can also visit the Labs site to check your waitlist status.
Once you're in, the new generative AI powered Search experience will help you take some of the work out of searching, so you can understand a topic faster, uncover new viewpoints and insights and get things done more easily. So instead of asking a series of questions and piecing together that information yourself, Search now can do some of that heavy lifting for you.
Here are three ways you can make your next search simpler with new generative AI capabilities:
1. Easily get up to speed on a new or complicated topic.
Maybe you're starting to map out a decision that you'd typically need to break down into smaller parts, like "Learning ukulele vs guitar." Search will provide an AI-powered snapshot so you can get help understanding what factors to consider. Another example: If you're curious to learn more about starting your own company, try looking up "Benefits of incorporating your business before freelancing." You can quickly get the lay of the land, and then dive deeper with links to articles.
2. Uncover quick tips for your specific questions.
Sometimes you have a very specific question in mind, in which you'd benefit from seeing a variety of content from across the web. If you find your favorite old sweater in the back of your closet but quickly realize it needs some freshening up, search for "How to get an old coffee stain out of a wool sweater?" Or if you're getting ready for an international trip, but need to make sure your documents are up to date, search for "How can I renew my passport quickly?" Now you can easily find pointers for the key info you need to know, or see a range of options available and take the next step with help from the web.
3. Discover a range of products and things to consider while shopping.
Say you're looking for removable wallpaper to spruce up your rental. Simply search for "Peel and stick wallpaper for kitchen" to learn about important factors, like if it's easy it is to remove, and get a list of stylish options, including price, customer ratings and links to purchase. Or try searching for "Bluetooth speaker for a pool party" to see important considerations for that environment, like water resistance and battery life, and a host of options to choose from.
And if you want to explore further, right under the snapshot, you'll see the option to "ask a follow-up question" or select a suggested next step, which will take you into conversational mode.
This experiment is our first step in adding generative AI to Search, and we'll be making many updates and improvements over time. As we continue to reimagine how we can make it even more natural and intuitive to find what you're looking for, we're excited for you to test out these new capabilities and share feedback along the way.