4 ways to shop for your dorm room on Google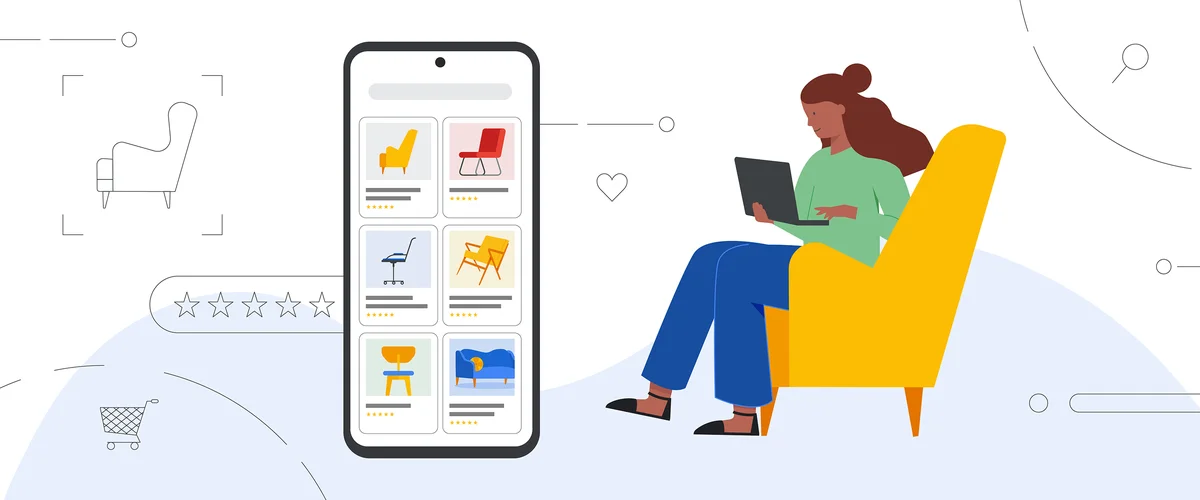 College students are heading back to campus soon. And with a new school year comes new decisions — like what classes to take, what extracurriculars to join, and of course, how to decorate your dorm room.
In fact, according to a recent survey we conducted with Apartment Therapy Media,1 81% of college students are responsible for deciding decor purchases. So we've rounded up some shopping tools to help you easily create your home away from home.
1. Preview furniture in your space with AR
Furniture is a big purchase, and it's hard to envision exactly what certain pieces will look like or how they'll fit in your space. For 77% of college students, design and aesthetics are important factors for outfitting a space, and 84% of students surveyed say it would be very or somewhat helpful to see furniture through augmented reality before buying. AR tools for furniture and decor help you do just that. In Search, just tap product results with the AR icon to see what they would look like in your space.
AR tools for furniture and decor allow you to see products in your space before you buy.
2. Find a specific item with Lens
Twenty-three percent of surveyed college students say their number one pain point when buying a new item for their space is they can't find the specific thing they're looking for. That's where Lens comes in handy, helping you find home products like furniture and decor from a screenshot or photo. And with multisearch in Lens, you can combine images and text to find exactly what you want. Say you love your friend's yellow reading chair but want it in beige. Simply upload or take a photo of the chair with Lens, swipe up and tap on the multisearch bar to add the word "beige." You'll see similar chairs in your preferred color, plus options for where to buy.
Lens helps you shop what you see.
3. Read reviews from other shoppers
Eighty-two percent of surveyed college students say that when purchasing items for their living spaces, functionality and comfort are important considerations. When you click on a product, just scroll to see reviews from experts and other shoppers. With the help of AI, we'll also show you top insights from those reviews so you can easily see, for instance, if a comforter is soft or well-made.
Top insights uses AI to show you the most important takeaways about a product based on user and expert reviews.
4. Look for the best deal with price insights and price comparison
Eighty-two percent of surveyed students also say finding the best deal is important. In fact, 65% of students check the price of items at least four times before purchasing. (The most searched-for deal? Laptops.) Our price insights tool shows the typical price range of an item to help you determine if you're getting a good deal. Meanwhile, price comparison makes it easy to see prices from multiple retailers.
Price insights and price comparison allow you to see the typical price for a product, plus its current price across different retailers.
Back-to-school season is an exciting, and sometimes overwhelming, time of year. So we hope these tools make preparing for it a little easier, and ultimately help you create your perfect space.