5 tips to confidently shop and pay online with Google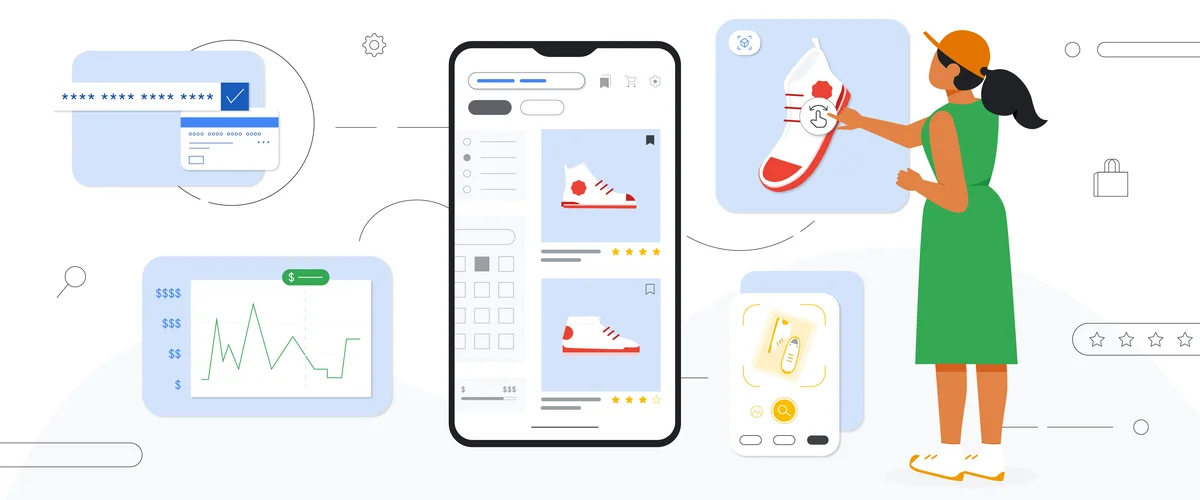 We've all experienced some version of buyer's remorse: You buy something full price, then see it on sale in another store. You buy a beauty product online, then find out it's not the right shade. Or maybe worst of all, you buy something online and your credit card information gets compromised.
These situations are frustrating. So we're sharing five tips to help you feel more confident when you shop and pay online.
1. Find the best deal with price insights and promotion badges.
Just because something's on sale doesn't always mean it's the best deal. In fact, only 50% of shoppers feel confident in their ability to spot a good deal.1 Google's Shopping Graph, which scans and stores more than 35 billion product listings across the web, can help ease some of those anxieties. For instance, the Shopping Graph powers our price insights feature, which shows you how a product's price has changed over time and whether the price for a product is low, typical or high compared to other retailers across the web.
Promo codes are another helpful way to save money, but shoppers say it can be hard to find active ones. Our coupon clipping feature can help you easily identify and use promo codes. Just look for a "special offers" promotion badge on a product, tap the item and "clip" the coupon — or, in this case, just copy and paste it to the retailer's site once you're ready to buy.
Our price insights feature shows the price history and typical price for the product you're searching for.
2. Land the right style and shade using AR.
It's not always possible to get to the store and see something up close before you buy it. That's where AR comes into play. Check out these features when you're shopping on a mobile device:
Home goods 🏡: Furniture can be a big investment, so it's important to make sure a new piece is the right fit for your space. Just search for a product like "armchair," look for the 3D icon and tap "view in my space" to see how pieces from retailers across the web — like Target and Wayfair — will look in your home.

Beauty products💄: Beauty shopping can be fun, but tricky. Among online beauty shoppers, 41% have decided to return an item because it was the wrong shade. So we've launched several AR features to make this process much easier. In just a few taps, you can choose from over 90 brands and 120,000 shades to see what a specific foundation, lipstick or eyeshadow looks like on you or on a model with a similar skin tone. It's easy to use: Search for a product like "Morphe Matte Liquid Lipstick" and tap "try on" to find the right match.

Shoes 👟: Give your potential sneakers a spin… literally. When you search for sneakers from Saucony, VANS, PUMA, Merrell and others, you can spin, zoom and see the shoes in your space to know exactly what they'll look like before they arrive on your doorstep.
3. Search with images using Lens.
Ever spot something you love — maybe a vintage-looking lamp or a unique hat — but can't think of the right words to search for it online? You're in good company: Half of shoppers have tried and failed to find a specific piece of clothing or furniture online after trying to describe it with just words. In those cases, Lens can help you find exactly what you're looking for. Let's say you want a new dress and really loved the one you saw your friend wearing. Just snap a photo of it to see similar shoppable options with useful information, like the price of the dress and merchants that carry it. Or if you want it in a different color, take a photo, add "green," for example, and instantly see similar dresses in your preferred shade.
4. Quickly check out with autofill.
Paying online used to be a pain: You had to find your wallet, take out your credit card and manually enter all your payment information. Now, with autofill on Chrome and Android, checkout is a breeze. If you're signed into your Google Account and you've opted in, your saved shipping, billing and payment details will be automatically filled in with just a tap.
5. Keep your information safe with virtual cards.
Security is incredibly important when it comes to online shopping, which is why we've introduced virtual card numbers for Capital One and American Express cardholders in the U.S. When using autofill, eligible users can opt in to create a virtual card number when shopping on Chrome or Android — keeping their actual card number protected in case of breach or fraud.
Try out these tips the next time you're shopping online to make buyer's remorse a thing of the past.