Here's how online shoppers are finding inspiration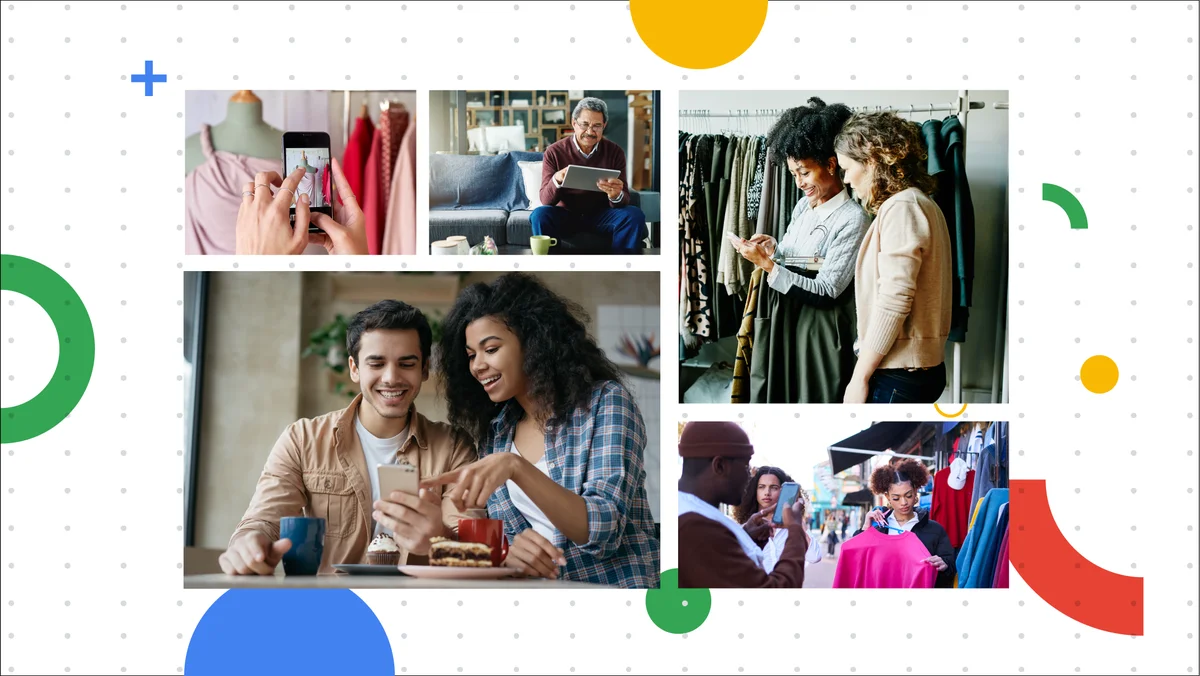 People shop across Google more than a billion times a day — and we have a pretty good sense of what they're browsing for. For instance, our Search data shows that the early 2000's are having a moment. We're seeing increased search interest in "Y2k fashion" and products like bucket hats and ankle bracelets. Also popular? The iconic Clinique "Happy" perfume, Prada crochet bags and linen pants.
While we know what's trending, we also wanted to understand how people find inspiration when they're shopping for lifestyle products. So we surveyed 2,000 U.S. shoppers of apparel, beauty and home decor for our first Inspired Shopping Report. Read on to find out what we learned.
Shopping isn't always a checklist
According to our findings, most fashion, beauty and home shoppers spend up to two weeks researching products before they buy them. Many, though, are shopping online just for fun — 65% say they often or sometimes shop or browse online when they're not looking for anything in particular. To help make online shopping even easier and more entertaining, we recently added more browsable search results for fashion and apparel shopping queries. So when you search for chunky loafers, a lime green dress or a raffia bag on Google, you'll scroll through a visual feed with various colors and styles — alongside other helpful information like local shops, style guides and videos.
Apparel queries on Search show a more visual display of products
Inspiration can strike anywhere
We know shopping inspiration can strike at any moment. In fact, 60% of shoppers say they often or sometimes get inspired or prompted to buy something even when they aren't actively shopping. That can come from spotting great street style: 39% of shoppers say they often or sometimes look for a specific outfit online after they see someone wearing it. Or it can come from browsing online: 48% of shoppers have taken a screenshot of a piece of clothing, accessory or home decor item they liked (and 70% of them say they've searched for or bought it afterwards). Google Lens can help you shop for looks as soon as you spot them. Just snap a photo or screenshot and you'll find exact or similar results to shop from.
Sometimes words aren't enough
We know it can be hard to find what you're looking for using words alone, even when you do have an image — like that multi-colored, metallic floral wallpaper you took a photo of that would go perfectly with your living room rug. Half of shoppers say they often or sometimes have failed to find a specific piece of clothing or furniture online after trying to describe it with just words. And 66% of shoppers wished they could find an item in a different color or print.
To help you track down those super specific pieces, we're introducing an entirely new way to search — using text and images at the same time. With multisearch on Lens, you can better uncover the products you're looking for even when you don't have all the words to describe them. For example, you might be on the lookout for a scarf in the same pattern as one of your handbags. Just snap a photo of the patterned handbag on Lens and add the query "scarf" to complete your look. Or take a photo of your favorite heels and add the query "flats" to find a more comfortable version.
With multisearch on Lens, you can search with both images and text at the same time
Trying before you buy matters
It's not always possible to make it to the store and try something on before you buy it — but it matters. Among online beauty shoppers, more than 60% have decided not to purchase a beauty or cosmetic item online because they didn't know what color or shade to choose, and 41% have decided to return an item because it was the wrong shade. With AR Beauty experiences, you can virtually discover and "try on" thousands of products from brands like Maybelline New York, M.A.C. and Charlotte Tilbury — helping you make more informed decisions. And now, shoppers can try on cosmetics from a variety of brands carried at Ulta Beauty right in Google Search. Just search for a product, like the Morphe Matte Liquid Lipstick or Kylie Cosmetics High Gloss, and find the best shade for you.
Google's AR Beauty experience features products from Ulta Beauty
No matter where you find your shopping inspiration, we hope these features and tools help you discover new products, compare different options and ultimately make the perfect purchase.